CHEAP PRICES FOR RENTAL CARS IN ICELAND:FIREFLY
At Firefly Car Rental Iceland, we believe that the mesmerizing beauty of Iceland should be accessible to all. Whether you are a group of university students eager to explore the rugged terrains, or a large family looking to make the most out of your vacation budget, we have the perfect car rental solution for you.
Why Us? Oh, We're So Glad You Asked!
Adventures on a Budget: Think of us as your go-to buddies for affordable wheels in Iceland. Yes, you heard it right – we're all about those 'cheap rental car Iceland' vibes. From spunky newer models to our reliable older buddies (they're 4-5 years young and still full of zest), we've got a ride just for you, and your wallet will thank you!
We offer Golden Oldies at Unbeatable Low Prices: Now, let's chat about our special squad of older models. These cars are like fine wine; they've aged beautifully, seen some things, and are ready for more adventures. For our mates on a tight budget, these cars are a golden ticket to exploring Iceland without breaking the bank. They're reliable, have a ton of character, and they've been itching to hit the road with you!
A Fleet That Fits You Just Right: And hey, let's not forget about the stellar variety in our fleet! Whether you're a solo traveler needing a nifty economy car, a duo on a romantic getaway looking for something medium-sized, or a big, fun-loving family needing all the space you can get with a full-size car – we've got just the thing. And the best part? You can choose from 2WD for a smooth ride, or 4×4 for a bit of F-road fun, available in both manual and automatic transmissions. We're all about options and making sure you find your perfect travel buddy on wheels!
All Heart, All Authentic, All Affordable: We're not just any car rental place. We're Firefly, and we're here to sprinkle a bit of magic on your Icelandic adventure. We put you, our lovely customer, right at the heart of our world, making sure you feel right at home, all while keeping things as affordable as a cozy little cabin in the woods.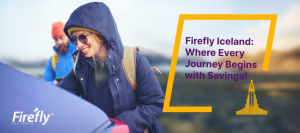 Unforgettable Journeys with a Dash of Firefly Magic!
Connecting Hearts and Landscapes: Ready for a heart-to-heart with Iceland's jaw-dropping landscapes? That's what we're here for! We're all about creating journeys that are as unforgettable as that one summer night with the mid-night sun. Drive through the enchanting fjords, dance under the Northern Lights, and roam the wild terrains with us by your side.
Your New Besties in Icelandic Car Hire: Our dream? To become your go-to pals in Icelandic car hire. Fueled by heaps of passion for top-notch customer service and unwavering love for affordability, we're here to guide you, laugh with you, and make sure your Icelandic road trip is the stuff of legends.
So, What Are You Waiting For? Your Icelandic Adventure Awaits!
Kick-start your Icelandic journey with your new friends here at Firefly Car Rental. Affordable? Check. Unforgettable? Double check. Full of heart and charm? Triple check! Discover Iceland's magic at your own pace and create stories that will be told for generations to come.
Ready to make some memories? Book your adventure with Firefly Car Rental now, and let's hit the road, friend!
Where to find Firefly car rental in Iceland?
Nestled inside the hustle and bustle of Iceland's main gateway, the Keflavik International Airport (KEF), you'll find our friendly Firefly team eagerly waiting to set you up with the perfect ride. Just look for the Hertz Car rental desk INSIDE the KEF international airport when you arrive – that's where the magic happens, and your adventure begins!