If you plan to be in Iceland from September to April, then you may be lucky enough to spot the Northern Lights during your stay. The Aurora Borealis is a natural phenomenon that requires significant solar activity and clear skies, but if you hit the jackpot it's a breathtaking sight that will stay in your memory for the rest of your life. One of the great advantages of renting your own car is the freedom it gives you to go where you please. So if luck is on your side, you'll only need fuel in the tank and a sense of adventure to experience this incredible phenomenon.
Here are five places to visit while the green and purple ribbons dance overhead.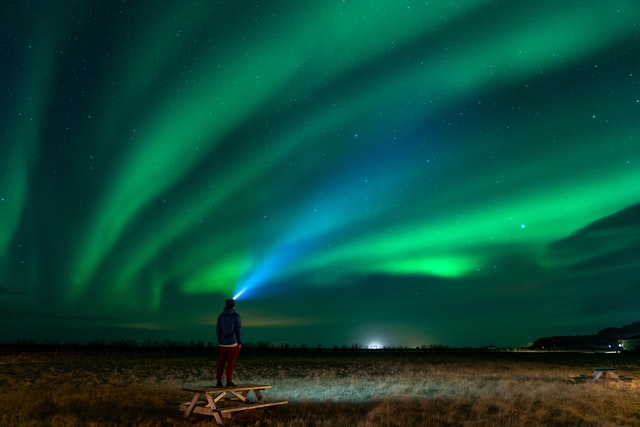 1. Jökulsárlón Glacier Lagoon
The white icebergs take on a ghostly form as they bob silently under the night sky. As your eyes adjust, they form a delightful backdrop to the Northern Lights. Photographers will also head to nearby Diamond Beach. There, the icebergs are motionless on the beach, making it easier to get your shot in perfect focus. It's only a short stroll between the two, so you should be able to watch the Aurora dance over the water and the beach in the same evening.
2. Kirkjufell
The combination of towering Kirkjufell and the pretty waterfalls that sit in front of it give a sense of scale and perspective to this scene. Add the Aurora Borealis overhead and it's not hard to see why so many people flock to this picture-postcard locale if there's a promising forecast. As an added bonus, it's easily driveable from Reykjavik, so as long as you are happy to share the experience, this is a popular choice.
3. Arctic Henge, Raufarhöfn
Up in the far north eastern corner of Iceland is Arctic Henge. It's a bit of a trek to drive up here, but particularly if you're here in spring or autumn it's a doable excursion. When you arrive, you'll find there's nothing to obstruct the view of the horizon and night sky, making this oversized sundial the ideal spot to see the Northern Lights too. Up here, there's no light pollution to obscure the sky, so turn off your car headlights and let your eyes adjust to the glorious darkness.
4. Siglufjörður
One of North Iceland's prettiest villages is Siglufjörður. Once this was a busy place whose quaysides and jetties thronged with those employed in the herring processing industry. Today, it's a much sleepier place, but nestled beside the water and surrounded by steep hills, it's a fabulous place to wait for the Aurora Borealis to make an appearance. Position yourself in front of the Sigló Hótel and keep your fingers crossed they show up.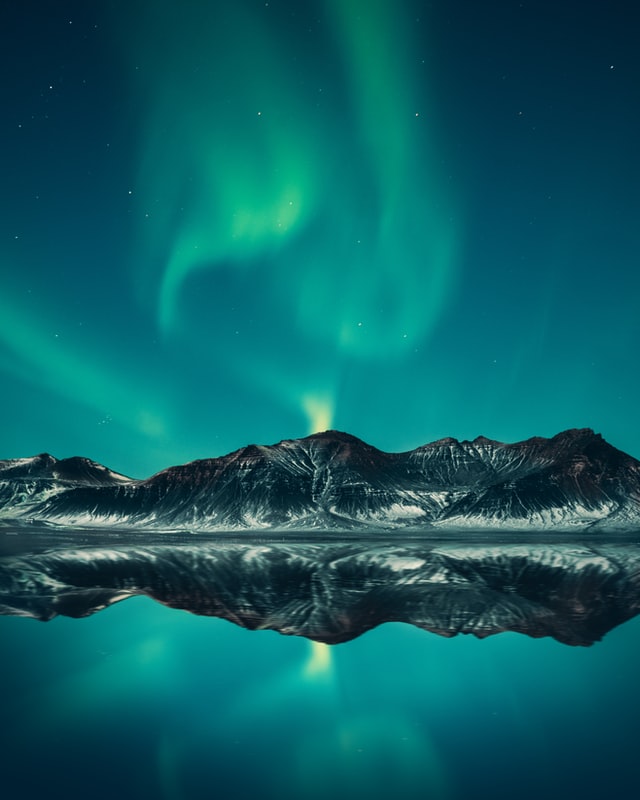 5. Thingvellir National Park
The country's most iconic National Park is our final choice for a place to hunt for the Northern Lights. Like Kirkjufell, it's close enough to Reykjavik for an evening excursion. You'll only need to drive for an hour or so to reach the car park; though the visitor centre will be closed as it's after hours, there's nothing to stop you venturing into the gorge and positioning yourself at one of the viewpoints to wait for the Aurora to arrive.
These spots are especially good for admiring the Northern Lights but in reality, anywhere in Iceland that's dark with an uninterrupted view of the night sky will give you the opportunity to see them if conditions are right.