Traveling Iceland with kids is an unforgettable experience full of magical moments like horseback riding on black sand beaches, spotting puffins along the coast, and splashing around in the Blue Lagoon. Iceland is an inherently family-friendly travel destination with tons of activities that are suitable for both young children right up to teenagers.
Icelanders famously leave babies outside in their strollers while doing the weekly grocery shopping or taking a nap at home, a practice that dates back decades. This is just one testament to locals' laidback parenting style and a result of Iceland being one of the safest countries in the world and their easygoing parenting style.
Iceland is one of those destinations that is tricky to plan a last minute trip to. It typically requires a decent amount of preparation and planning, especially if you'll be traveling with children. Here's everything you need to plan the perfect family getaway to the Land of Fire and Ice!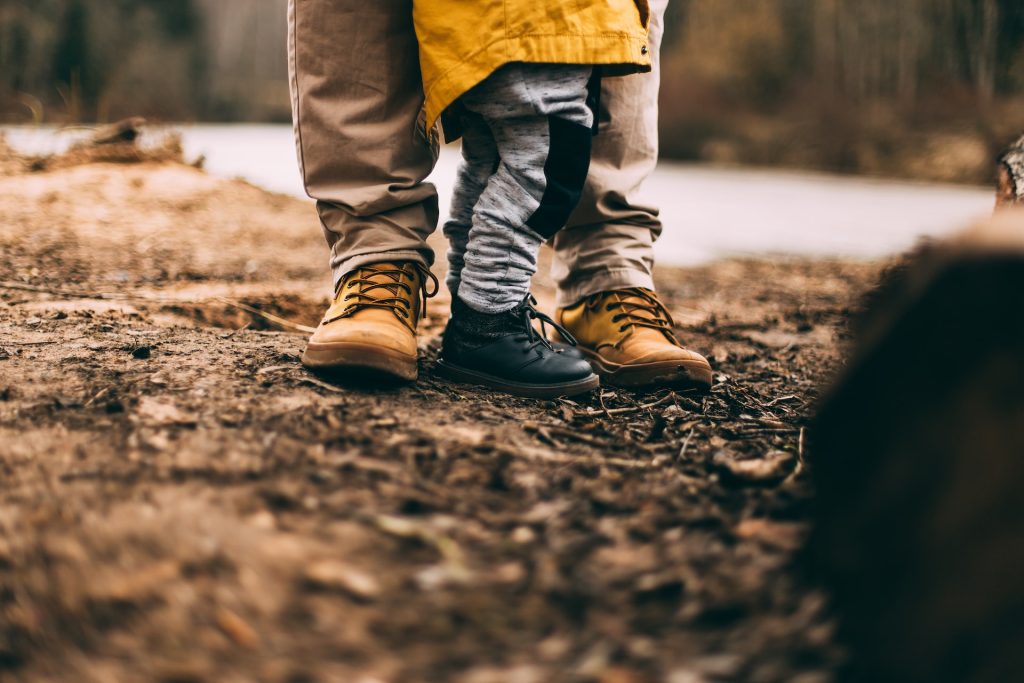 Quick Answer to Why Iceland is a Great Destination for Kids
Iceland is a great destination for kids because it's one of the safest countries in the world, inspires awe through its incredible natural sights, and has endless options for fun, family adventures. Whether your kids love to play in the pool or have a fascination with animals, a trip to the Land of Fire and Ice can be one of discovery and wonder for you and your family.
Preparing for Your Trip to Iceland with young Kids
A trip to Iceland can entail quite a lot of preparation and planning depending on the time of year you want to go. Winter will require weather appropriate clothing and gear that can be bulky, like dense winter coats and snow boots, especially if you're packing for the whole family.
Weather in winter can also be prohibitive for many activities that are great for kids, including puffin and whale watching, but does have its own charms like the Northern Lights. If you do decide to visiting Iceland with kids and the entire family in winter, don't forget to bring all your winter gear including gloves, hats, boots, thermal underlayers, and long coats.
Summer visitors can pack typical warm weather clothing but should bring rain jackets and a thick sweater or two as temperatures can still dip in the evenings. If you decide to visit in July or August, be prepared that prices can be almost double what they are in shoulder season and that attractions, car rentals, and accommodation sell out months (even years) in advance.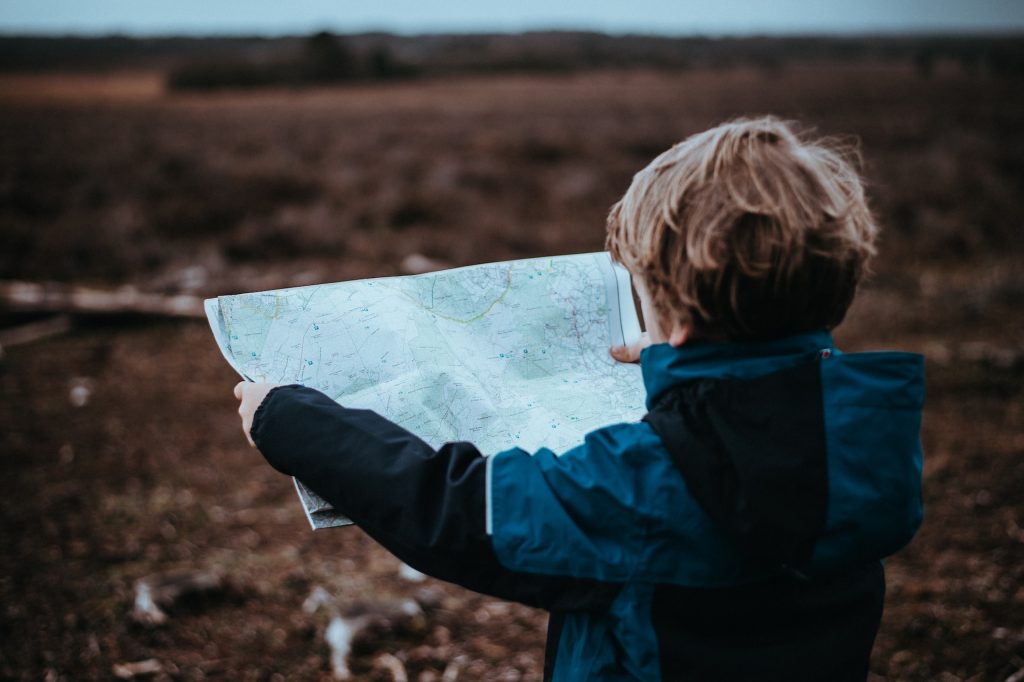 Traveling to Iceland with Kids
For Americans, traveling to Iceland with children can either be a breeze or a long and arduous journey, depending on which side of the U.S. you live on. Those on the east coast or near Chicago will only have to endure a 6 hour flight, often without any layovers. The west coast is a different story and requires a 12+ hour flight that will surely include at least one layover, if not two.
Those traveling from Europe can have a flight as short as 1 hour for those living in the U.K. or Ireland, while further flung locations like Istanbul can reach Iceland in less than 12 hours with just one layover.
Overview of how to plan your itinerary
Planning your Iceland itinerary depends on whether you plan to arrive in summer or winter. Winter travelers will find virtually no crowds and prime Northern Lights viewing conditions, but they won't be able to partake in activities like whale watching or horseback riding. Summer generally has mild, beautiful weather and an endless list of fun things to do but can also bring high prices and crowded attractions.
Luckily, travel distances are relatively short across the board and even far flung destinations, like Akureyri, are less than 5 hours by car. Rest stops and gas stations are plentiful throughout Iceland if you're planning to do a road trip along the famous Iceland route 1 Ring Road.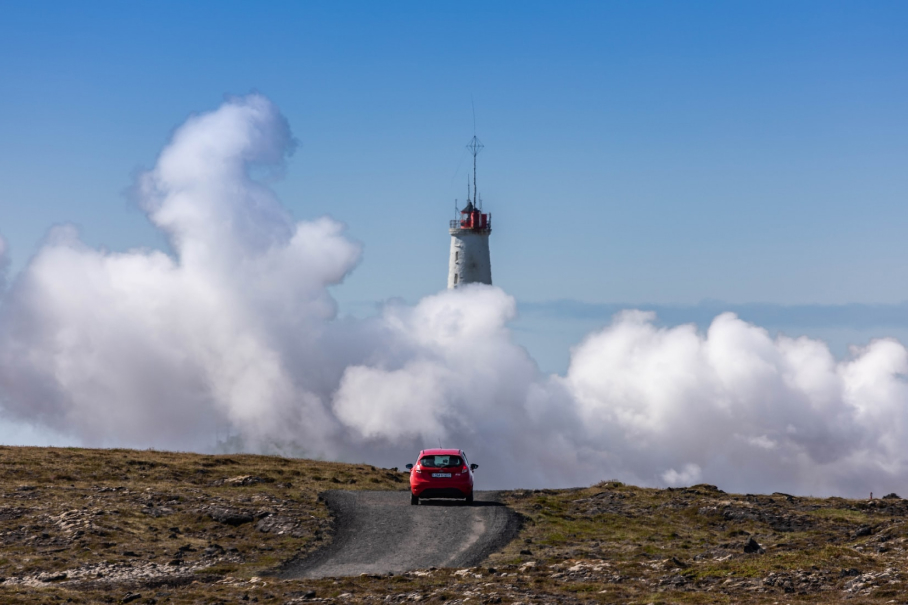 Accommodation Tips for Families
Picking the perfect place to stay in Iceland isn't just about finding a cozy bed and nice amenities – it's also a bit of a juggling act with your budget. Let's face it, no one wants to be caught off guard by the sometimes wild swings in accommodation prices that can happen with the changing seasons.
Getting the lowdown on these ups and downs ahead of time can be your secret weapon for a wallet-friendly trip. Who doesn't love saving a few bucks, right?
Seasonal Rate Variations
Summer:
Summer, especially between June and August, is peak tourist season in Iceland. During this time, the country experiences almost 24 hours of daylight, and the weather is more accommodating for various outdoor activities. Consequently, accommodation rates are at their highest.
You can expect to pay a premium for hotels, guesthouses, and vacation rentals due to the increased demand. Booking well in advance is highly recommended to secure your preferred accommodation and to explore possible early booking discounts.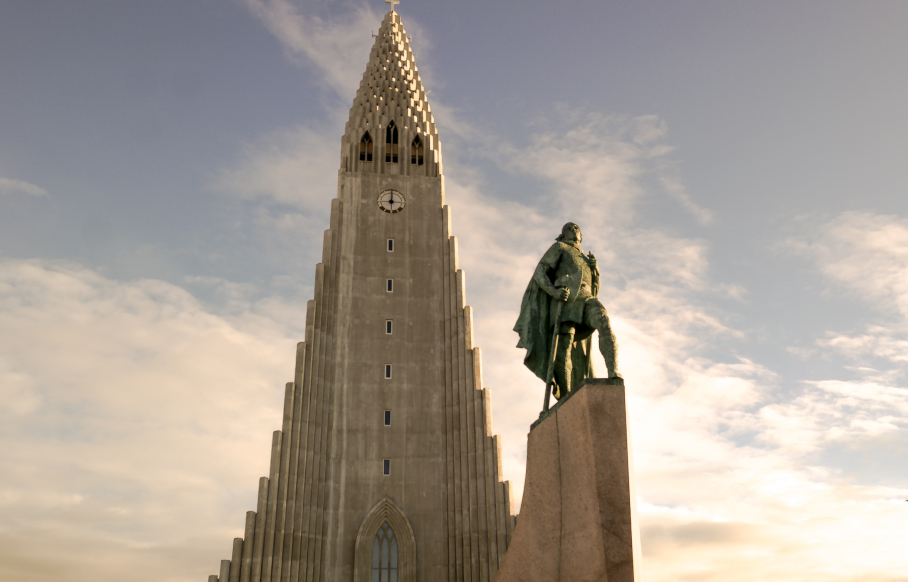 Winter:
Winter in Iceland is characterized by the mesmerizing Northern Lights, a spectacle that attracts numerous visitors. While not as busy as the summer months, certain periods, especially around Christmas and New Year, can see a spike in accommodation prices. However, in general, winter offers more competitive rates compared to the summer months.
Spring and Autumn:
These shoulder seasons can offer a sweet spot for families looking for budget-friendly accommodation options. The rates are typically lower, and you still get to enjoy a range of activities. Spring offers the blossoming natural beauty, while autumn showcases a palette of fall colors across the Icelandic landscape.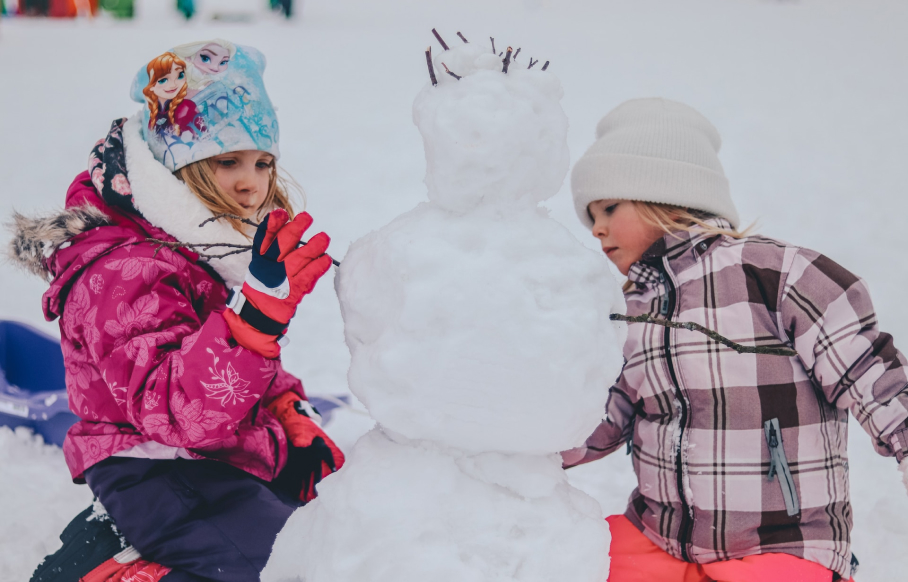 Iceland travel accommodation Tips for Families
Budget Accommodations: Look out for family hostels and guesthouses, which often provide budget-friendly rates and family rooms. These establishments also offer communal kitchens, allowing you to prepare your meals and save on dining costs.
Vacation Rentals: If you're rolling with a bigger crew or just looking for that homey vibe, vacation rentals can be a real game changer. They're often easier on the wallet and come with the bonus perk of a kitchen for some home-cooked meal magic – talk about major savings!
Package Deals: Keep an eye out for accommodation packages that include additional services like meals or tours. Such packages can sometimes offer a more economical option, especially during the peak season.
Packing Essentials for Families
Traveling to Iceland with children requires thoughtful packing to ensure both the adults and the little ones are comfortable, safe, and entertained throughout the journey. Here's a more detailed list that caters to the needs of every family member:
For Adults:
Clothing: Layered clothing including thermal tops and bottoms, waterproof jackets, and comfortable walking shoes.
Accessories: Sunglasses, hats, gloves, and scarves to protect against the elements.
Documents: Passports, IDs, insurance documents, and any required travel permits or reservations.
For Kids:
Clothing: Extra sets of clothes considering their propensity to get dirty or wet. Include warm jackets, waterproof pants, and boots for outdoor activities.
Entertainment: Portable games, coloring books, or tablets to keep them occupied during travel.
Safety: Child harnesses or identification bands with contact information for added security in crowded areas.
Health and Safety:
Medications: Prescriptions and basic over-the-counter medications like pain relievers and something for colds or allergies.
First-Aid Kit: Include band-aids, antiseptic wipes, sunburn relief, and rehydration salts.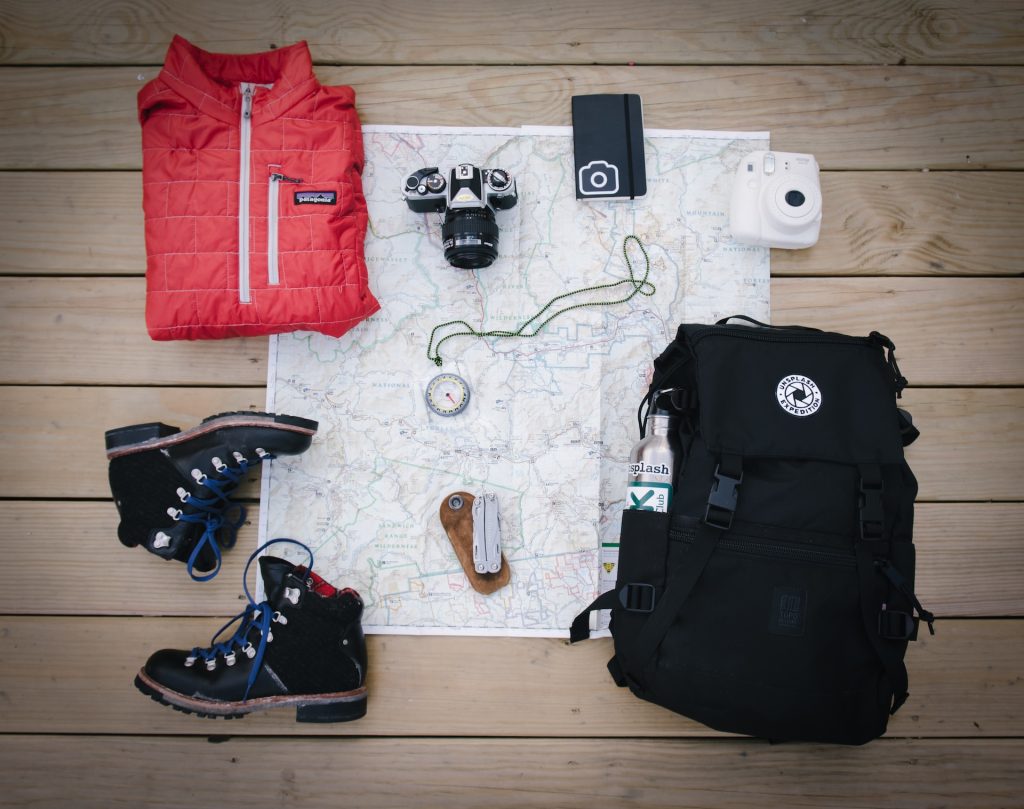 Top Things to Do in Iceland with Kids
Renting a car is a great way to have greater flexibility when traveling with kids in Iceland and allows you to go wherever the road may take you – or head back to the hotel if the little ones tire out. This freedom can be essential as traveling by bus through Iceland can take hours longer than driving.
If you're planning to leave Reykjavik, renting a car is the best option! Rental car agencies, like Firefly Iceland Car Rental, are equipped with infant, child, and booster car seats that are great if you don't want to lug these bulky items on your flight. Prices per day for child seats range from just $11 to $43, depending on what you'll need.
Best Activities to do with kids in Iceland:
Road tripping Iceland is one of the best ways to see the country! The Ring Road, which circumnavigates the entire country in a loop, is a legendary road trip in the country and a great way to see and explore Iceland with kids.
While you might equate road tripping as nightmarish with little ones in tow, Iceland's short distances to beautiful sights makes it great for traveling with children of any age. Renting a car gives families the flexibility to stop whenever they want and head back to the hotel at a moment's notice.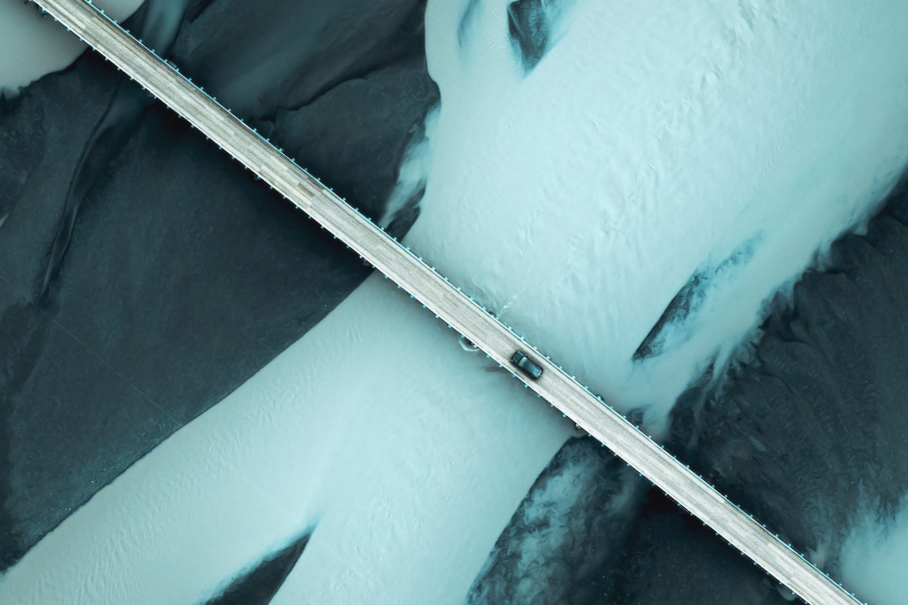 Icelandic horses are one of a kind, descended directly from horses that arrived with the Vikings. Their short, stocky stature and friendly demeanor make them perfect for horseback riding with children. You can go horseback riding all over the country but one of the most unique backdrops is the stunning black sand beaches just outside the town of Vik.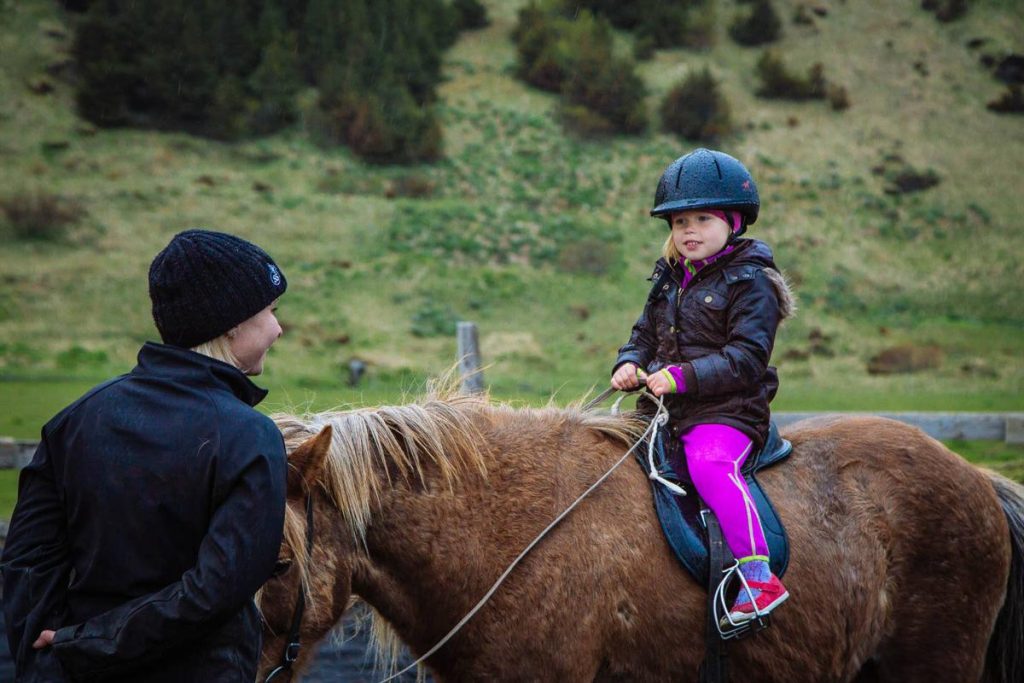 May to August is puffin season in Iceland! Visitors can take a boat tour out to see these colorful birds or seek them out along cliff areas around the country. Some of the best places to see them are Dyrhólaey Lighthouse near Vik, the Tjörnes Peninsula in the north, and Elliðaey Island off the Snæfellsnes Peninsula.
Lundey, an island just off the coast of Reykjavik is one of the easiest areas to reach from the capital where it's possible to see puffins although the colony here can be quite small and elusive.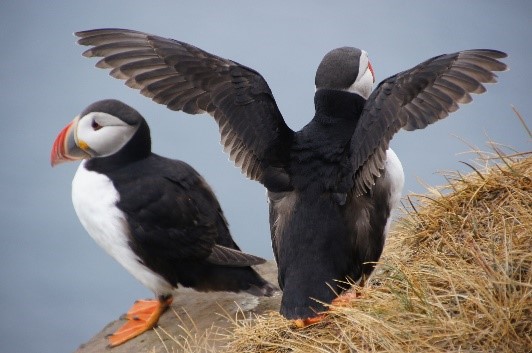 Whale watching tours leave right from Reykjavik, as well as along Iceland's southern coast. The season for seeing whales is from April to October, although it is possible to see them year-round winter whale watching tours are often freezing. Types of whales you and your family might see include humpbacks, minke whales, sperm whales, and blue whales, as well as several species of porpoise (including orcas) and dolphins. Be sure to bundle up and bring your rain gear, even in summer!
For older kids in their teenage years, exploring the majestic lava tunnels in Iceland is an exciting and educational experience. These underground wonders are formed by flowing lava that cools and hardens on the surface while still molten underneath, leaving behind a hollow tube. One of the most famous lava tunnels is the Raufarhólshellir, located just a short drive from Reykjavik.
Venturing into these ancient formations, visitors are greeted by an array of colors created by different minerals found in the rocks. Your family will marvel at the icicles and otherworldly formations adorning the ceilings and walls, offering an insight into the powerful geothermal forces that shaped Iceland's landscape. It's a natural museum that vividly illustrates geological processes and ignites the imagination.
Just a heads up – hitting the lava tunnels is typically a better fit for the teen crowd. There's often an age limit because, well, safety first! It can get a bit tricky with uneven grounds and low ceilings. Plus, you'll need to be somewhat nimble to navigate through. So, it's a good idea to give the tour operators a ring to get the scoop on age and health requirements to make sure everyone's in for a safe and fun time!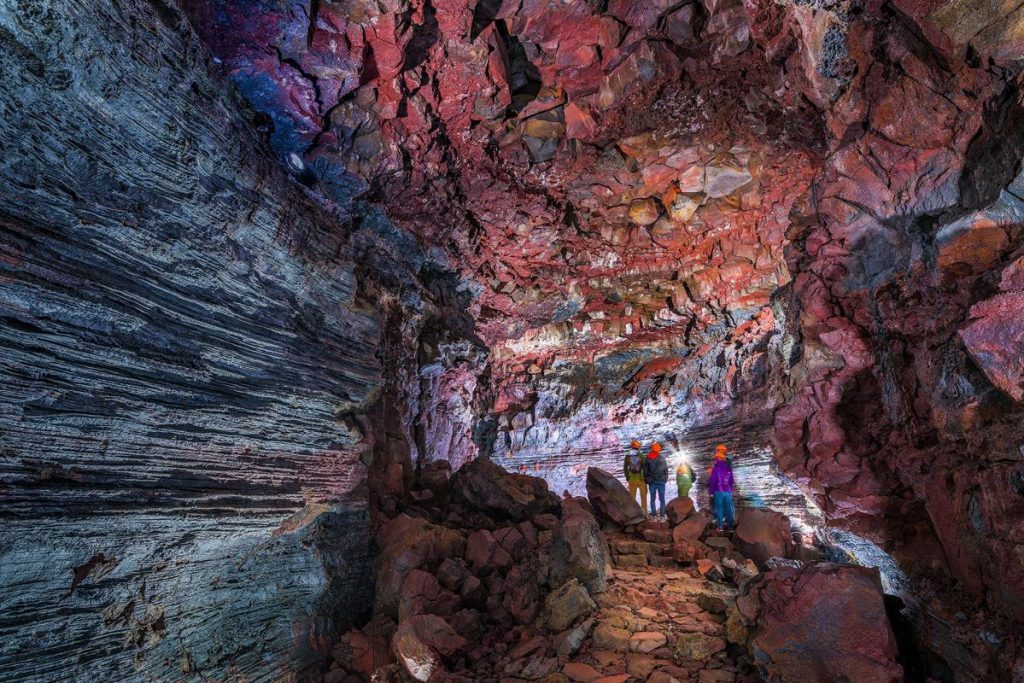 You might be wondering to yourself, how are we going to swim in a place with freezing cold sea water? Almost every town in Iceland has a geothermally heated swimming pool that's perfect for children to splash around at any time of year. Some even have fun features like water slides. Even hot springs and the famous Blue Lagoon are suitable for children, just be sure to check the temperature of some hot springs ahead of time to be sure they're safe for little ones.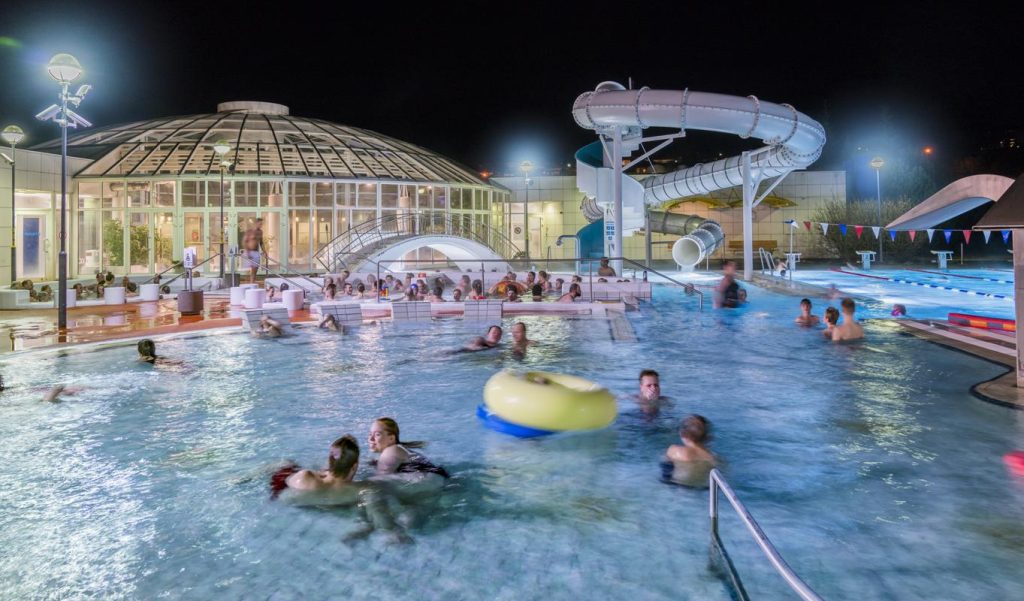 Best Iceland destinations to visit with kids
Iceland's capital city, Reykjavik, is a wonderful base for families exploring the Land of Fire and Ice. Exciting activities like riding in a Viking boat, whale watching, and the Whale Museum of Iceland are all at your fingertips in the center of this small town.
Day trips to places like the Golden Circle and the Snaefellsnes Peninsula can help round out your family's experience. No matter what you have in mind for your family's trip, from whale watching to hot spring dipping, it's likely that it's right on Reykjavik's doorstep.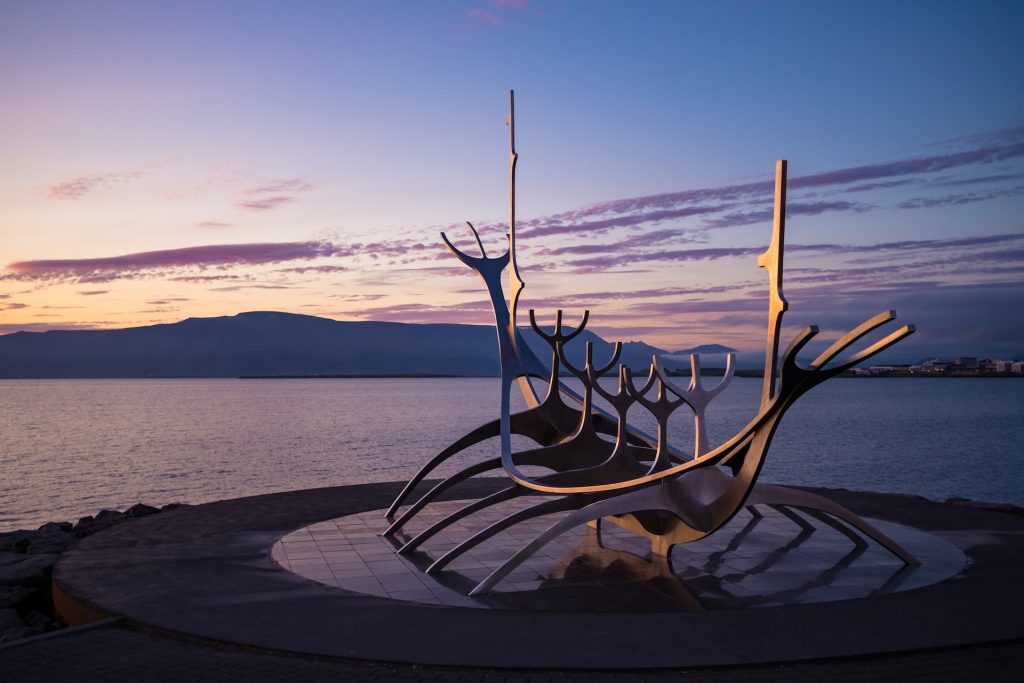 Taking a trip around Iceland's Golden Circle is perfect for families. Just a short drive from Reykjavik at less than 1 hour, the Golden Circle makes for a great day trip. Renting a car is the best option to explore this area but it's also accessible via a tour group from the capital. Adventures along the circle include Þingvellir, where the Vikings held huge councils and the North American and Eurasian plates are pulling apart, Gullfoss, and Geysir, spouting into the sky.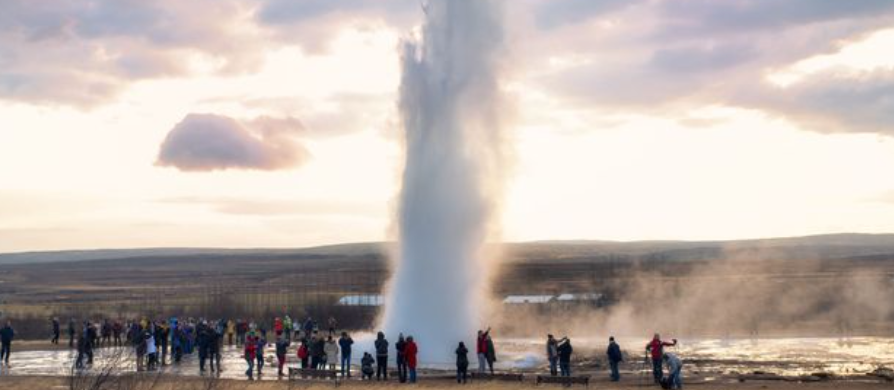 While the Snaefellsnes Peninsula is a bit further afield than the Golden Circle, it also makes for a great day trip or add on to a trip to Reykjavik. A two hour drive north, this mystical area is perfect for older children and teenagers as it's a bit more rugged and remote. Families can bond over sampling hákarl, Icelandic fermented shark, at the Bjarnarhöfn Shark Museum, hike on top of a real glacier at Snæfellsjökull National Park, and visit the otherworldly Kirkjufell Mountain, which once starred in Game of Thrones.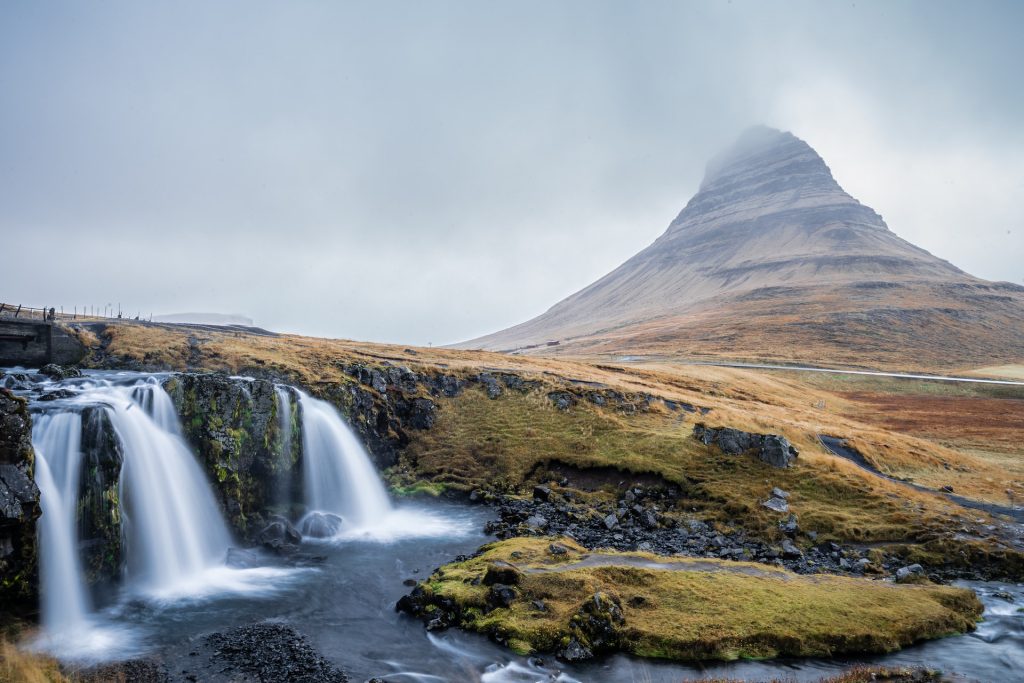 If you're looking to experience Iceland's iconic black sand beaches on your family getaway, look no further than Iceland's South Coast. Best explored from a nearby base like the town of Vik, this area of Iceland is about 2.5 hours or more from Reykjavik.
It's a good stop along the way for those traveling the Ring Road and families can seek out the puffins that nest near Dyrhólaey Lighthouse, swim in the Vik community geothermal pools, or drive out to the nearby Jökulsárlón Lagoon. Keep children close if you decide to visit the famous Reynisfjara Beach which can have deadly sneaker waves.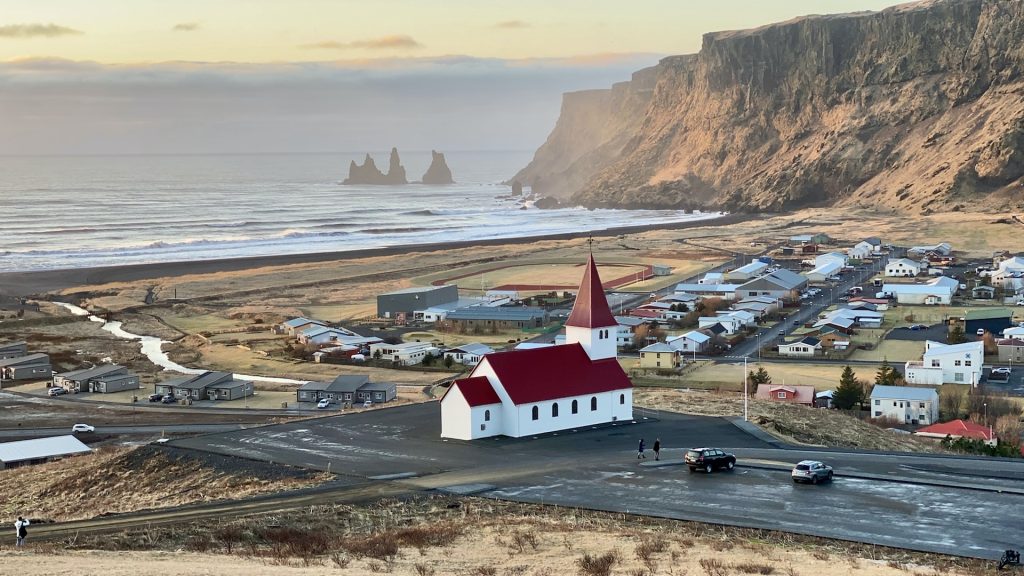 Budget Tips for Family Travel in Iceland
Planning and budgeting are essential aspects of enjoying an unforgettable yet affordable family holiday in Iceland. Here are refined tips to navigate your Icelandic adventure economically:
Secure Your Accommodations and Flights Early:
Especially crucial for the summer season, early bookings ensure availability and often come at a more competitive price.
Explore the Adventure of Camping:
Families looking for an adventure can opt for camping during the summer, a choice that is as cost-effective as it is exhilarating, provided you're equipped for the chilly nights.
Choose Affordable Rental Cars for Convenient Exploration:
We provide a variety of rental cars that combine quality and affordability. With options including well-maintained older models at lower prices, families can explore Iceland's diverse landscapes at their own pace without breaking the bank.
Opt for Accommodations with Kitchen Facilities for Self-Catering:
Preparing your meals can be a significant cost-saver, making accommodations with kitchen facilities a wise choice for families.
Dine at Local Eateries to Enjoy Authentic Cuisine at Friendly Prices:
Avoiding the tourist traps and choosing where the locals eat can lead to discovering authentic and budget-friendly dining options. Perhaps Icelandic hot dogs can be on that dining option list.
Include Free and Low-Cost Natural Attractions in Your Itinerary:
Iceland is replete with stunning natural attractions and parks that are free to explore, offering budget-friendly options to witness the country's mesmerizing beauty.
Set a Daily Expenditure Limit to Manage Your Budget Effectively:
Involving the whole family, especially older children, in maintaining the budget can be educational and helps in keeping the expenses in check.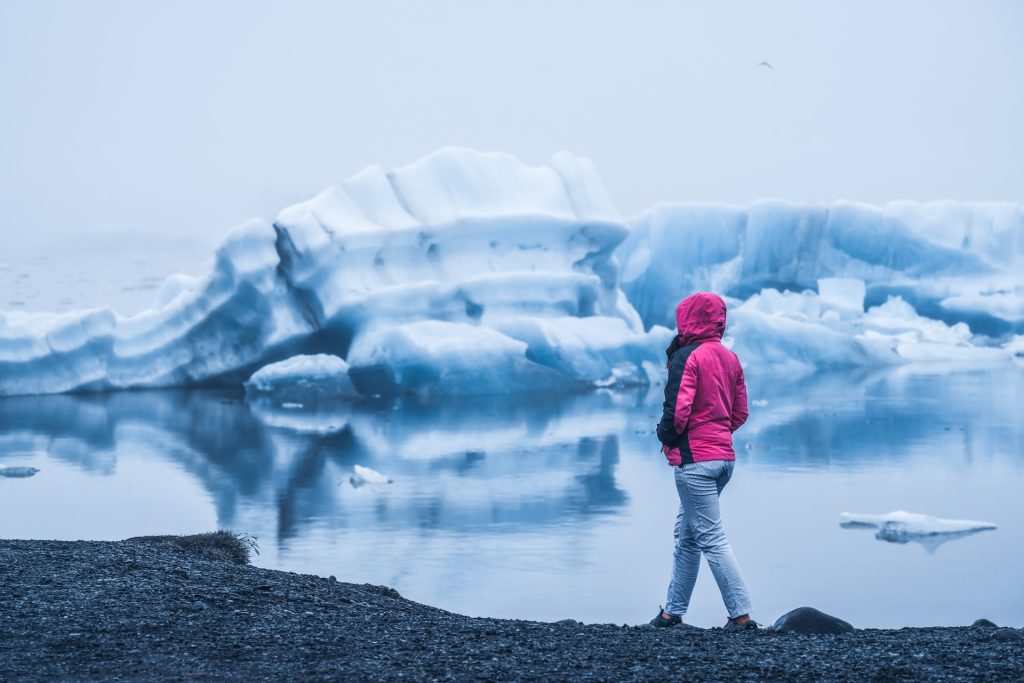 Conclusion
Iceland with kids is never a bad idea and might just be the most memorable family trip you ever take! From hunting for puffins along the craggy shoreline to horseback riding on the famous Icelandic horses, you're sure to make memories that will last a lifetime.
Book your rental car through Firefly Iceland Car Rental for your family explorations through the country and added flexibility in your itinerary that is invaluable.