Iceland is frequently touted as one of the most beautiful places in the world. One of the best ways to explore this stunning, island country is by car. Many of the best natural sights, the stars of the show, are right off the famous Ring Road that circumnavigates the island.
A road trip not only affords travelers the freedom to stop when they see something interesting or veer off-the-beaten-path to seek out hidden gems, but it also allows plans to change in an organic way. Here's your ultimate seven day Iceland itinerary – by car!
Why Renting a Car is the Best Way to Explore Iceland
Renting an affordable car in Iceland for your explorations and travels through Iceland allows visitors added flexibility that is invaluable. Not only will you be able to set your own pace, you'll also have room in your agenda for spur of the moment stops, or to skip something you're not interested in, along the way.
A rental car gives self-drivers the freedom to explore off-the-beaten-path attractions, especially if you visit in summer and rent a 4×4 vehicle. It also has great cost saving benefits when compared to guided tours, whether you're sharing the overall price with your fellow travelers or going solo.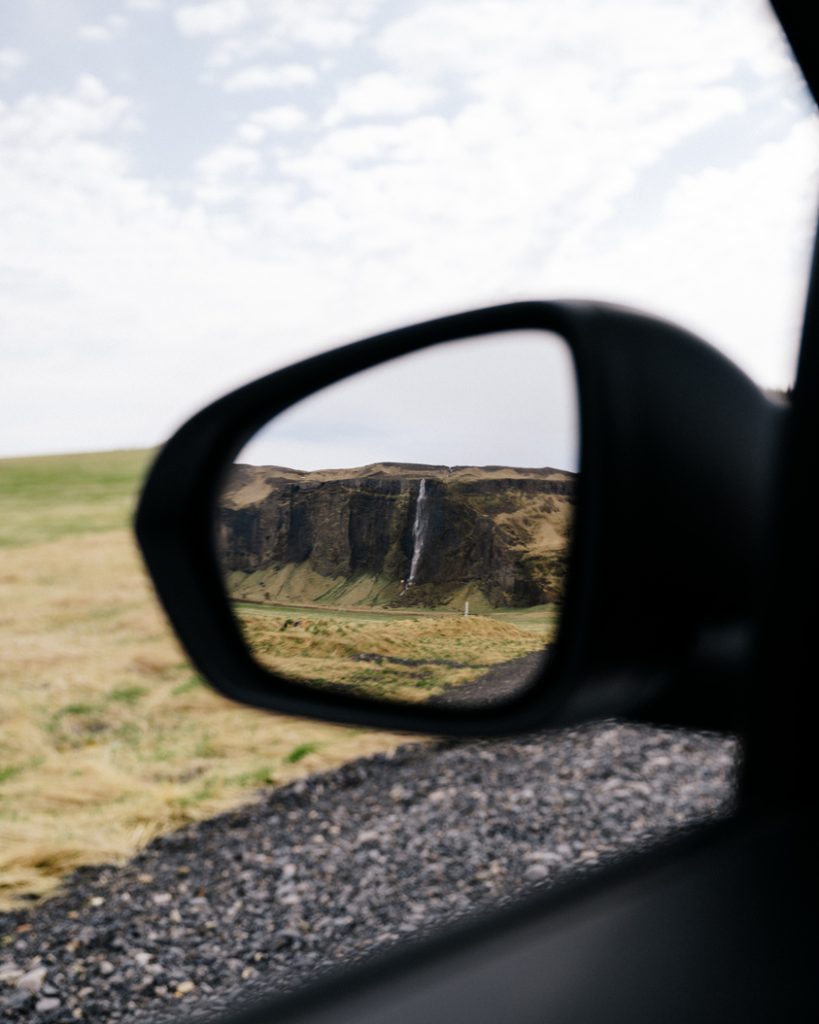 Preparing for Your Trip to visit Iceland
Before jumping into your 7-day journey through the land of fire and ice, there are a few things to consider to ensure a seamless travel experience. Iceland is known for its unpredictable weather, which can change rapidly from sunny skies to heavy rains and even snowstorms, depending on the season. Pack appropriate clothing layers to adapt to these changes.
Currency, language, and cultural nuances are other essential aspects to take note of. While many people speak English in Iceland, learning a few basic phrases in Icelandic can enrich your travel experience. Also, make sure to notify your bank of your travel plans to avoid any hassles with card transactions overseas.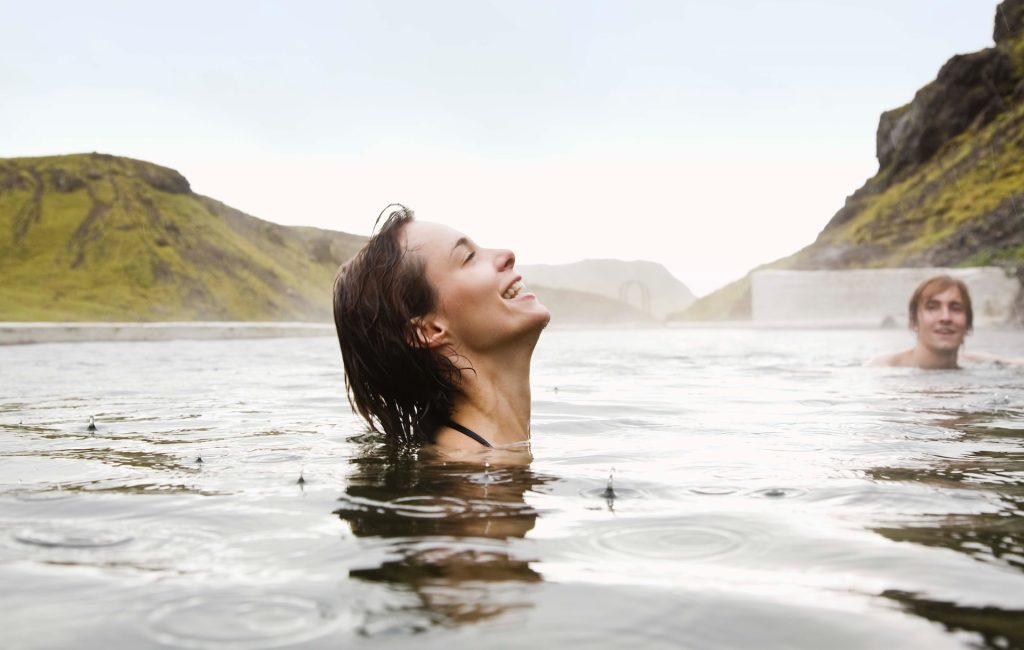 Driving in Iceland: things you need to know
Exploring Iceland by car is one awesome adventure. The country's Ring Road goes all around the island, showing off its incredible sights. But, driving in Iceland can be tricky, and being ready for it is super important.
The weather here can change in a blink. You might get fog, rain, or snow even when it's summer. So, checking the weather and road conditions on Iceland's official weather website is a must-do every day before you hit the road.
Keep in mind that your driving time each day might change a lot because of the weather. Some days, you'll zoom along smoothly and quickly. Other days, bad weather might make you go slower and be extra careful. Planning for this is key to a chill and safe driving trip.
Choosing the right car for your road trip is a big decision. Think about how many buddies you have with you and when you're hitting the roads in Iceland. You need a sturdy, reliable car to handle all sorts of weather. Here at Firefly Iceland, we've got a bunch of cars for you to pick from, making sure you find the perfect one for your driving trip.
Even with its ups and downs, hitting the road in Iceland is totally worth it. The roads are well-kept, and the signs are clear, making it easy to find your way. With a rental car from Firefly Iceland, you get to explore at your own pace, making every turn in the road a cool new adventure.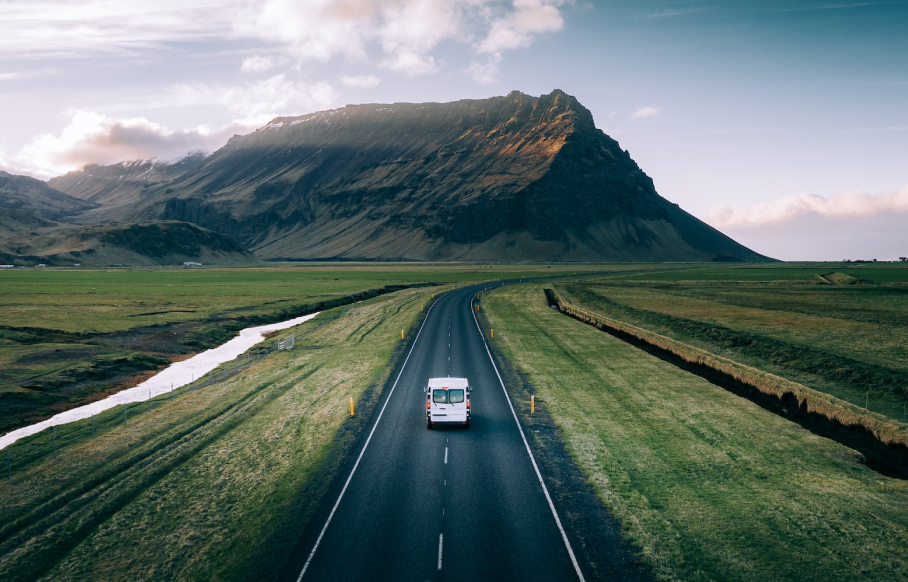 7-day drive Iceland Itinerary route map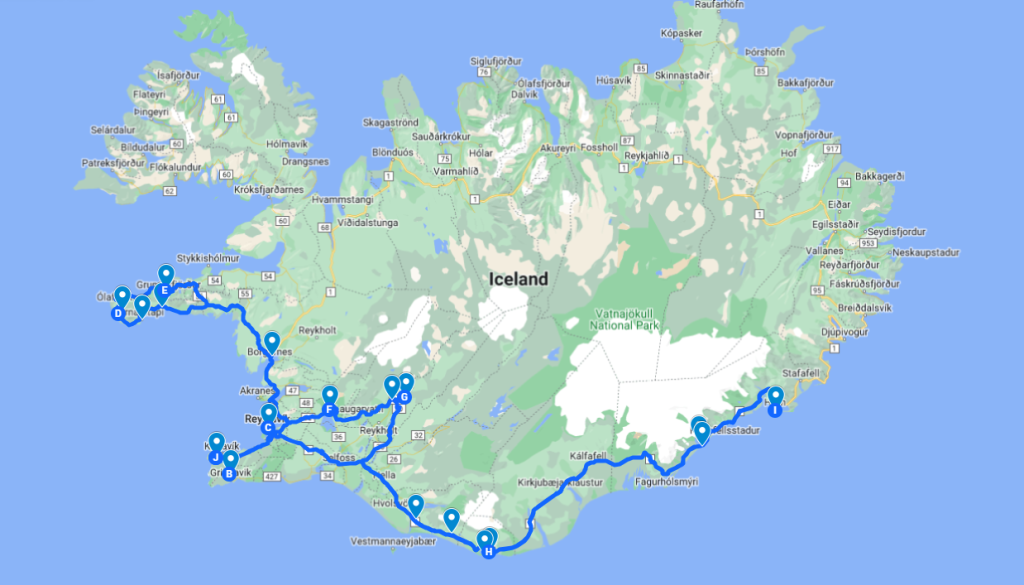 Day-by-Day 7-Day Iceland Itinerary:
Many travelers are limited to a week or so of vacation. Visitors to Iceland will be happy to know that a seven day Iceland trip is the perfect amount of time to see the country! Here's the perfect seven day road trip itinerary for Iceland.
Day1: Arrival in Iceland and Reykjavik Exploration
Day one begins with your arrival to Iceland. Travelers flights will land at the Keflavik Airport (KEF). This is where the largest proportion of rental car agencies are in the country, including Firefly Iceland.
Once you have your car, it's time to hit the road! Drive towards the capital, Reykjavik, for your first stop of the trip and to get your bearings. If you're feeling worn down from your long flight, a pit stop at the Blue Lagoon is along the way, only a few minutes drive from the airport. This is a wonderful way to kick off the trip with a bit of R&R.
If you have time, take the day to explore Reykjavik's main attractions. The stately Hallgrimskirkja Church is a must-see and the Perlan Museum, situated on the only hill in town, gives visitors a bird's-eye view of the colorful city center. Pop by the Harpa Concert Hall to see this glass, architectural wonder and for beautiful panoramas of the harbor. Last but not least, fuel up for your big trip with the famous Icelandic hot dogs at the legendary Bæjarins Beztu Pylsur and ask for the works.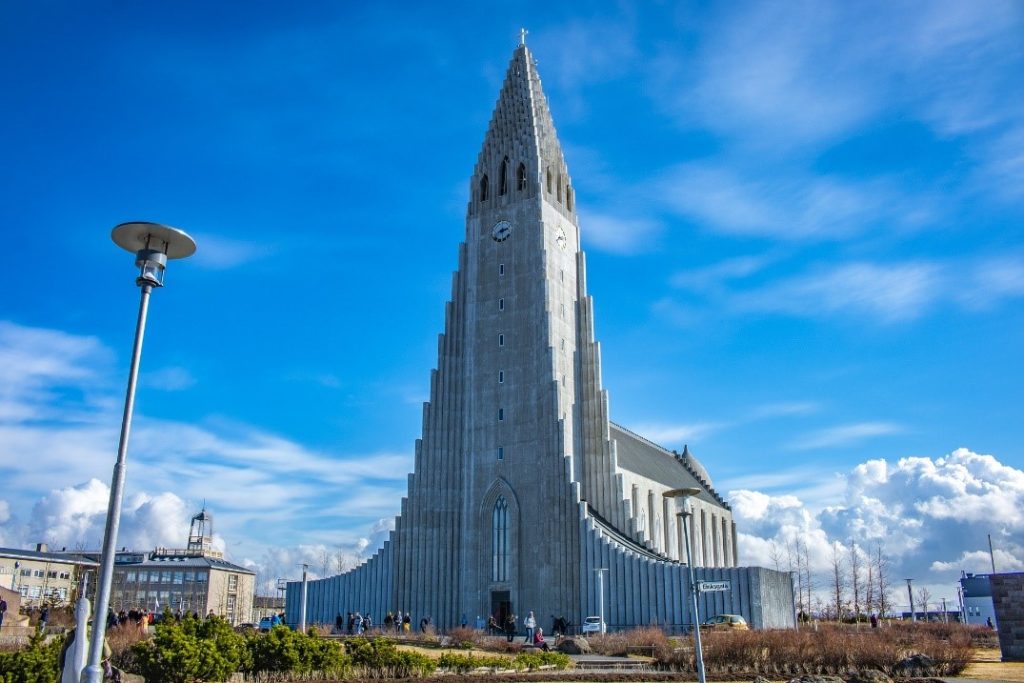 Day 2: Snaefellsnes peninsula
Day two of your one week road trip through Iceland has you headed towards the mystical Snæfellsnes Peninsula. You'll probably come to find throughout your trip that many Icelanders believe in the huldufólk, also known as "hidden folk" that resemble elves or fairies. Be on the lookout for these magical creatures as you drive through the stunning landscape.
Some of the best pit stops to make today include Búðakirkja (The Black Church of Búðir) or a fishing village like Arnarstapi or Hellnar for cliffside strolls. The Djúpalónssandur Beach offers sprawling views of the craggy coast, unique pebbles, and remnants of historic shipwrecks while the expansive beach near Langaholt has beautiful, golden sand. Adventurous travelers may want to check out the Vatnshellir Cave Tour with 8,000-year-old lava tubes. You can also travel a bit further afield to one of the more isolated, tiny coastal towns like Stykkisholmur.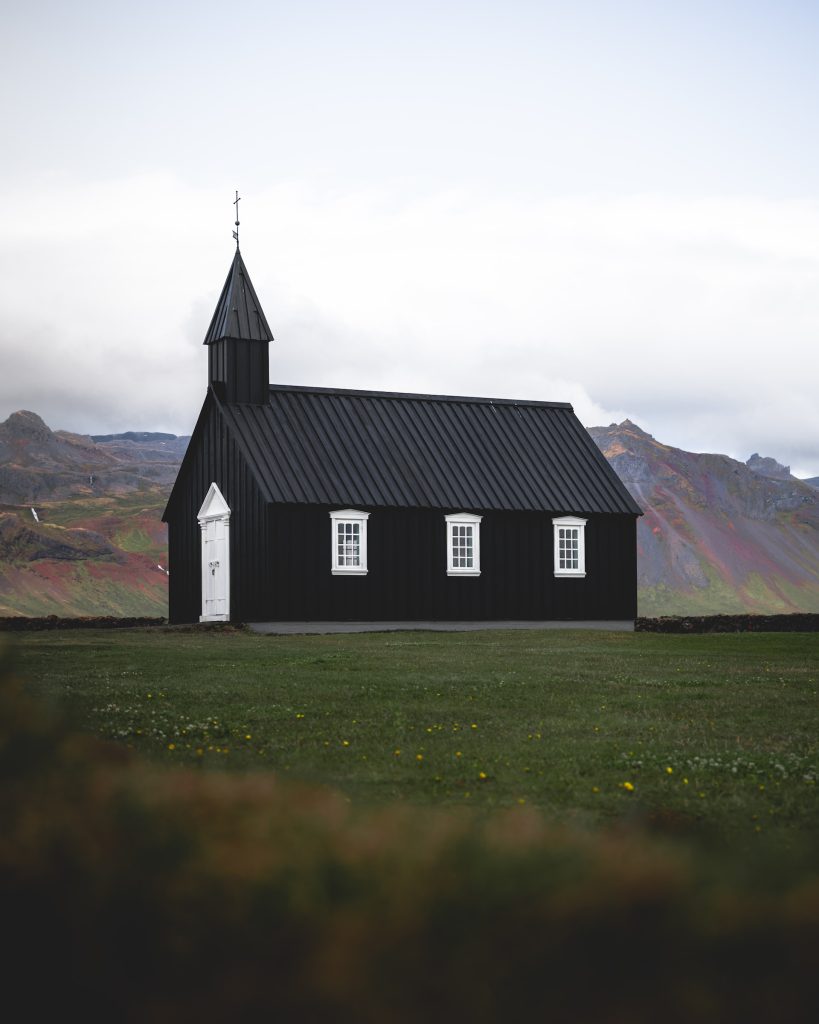 Day 3: Snæfellsnes Peninsula 2+ head to Golden Circle area
With so much to see, this magical part of Iceland deserves another day. You can't visit the Snæfellsnes Peninsula without seeing the iconic Kirkjufell Mountain, complemented by the pretty Kirkjufellsfoss, a small waterfall. This might be one of the most famous sites in all of Iceland and well worth the trip. Next it's time to get up close and personal with the Snæfellsjökull Glacier, a snow-covered, 700,000-year-old volcano, in Snæfellsjökull National Park. You can hike right on top of this behemoth on a guided tour or snap some pictures from several viewpoints along the way.
Once you've had your fill of Snæfellsnes, make the two hour drive to the Golden Circle. This is another good opportunity to spend the night in Borgarnes to break up the drive. You could also make a pit stop back in Reykjavik for an overnight or make your way onto the Golden Circle itself to the town of Laugarvatn.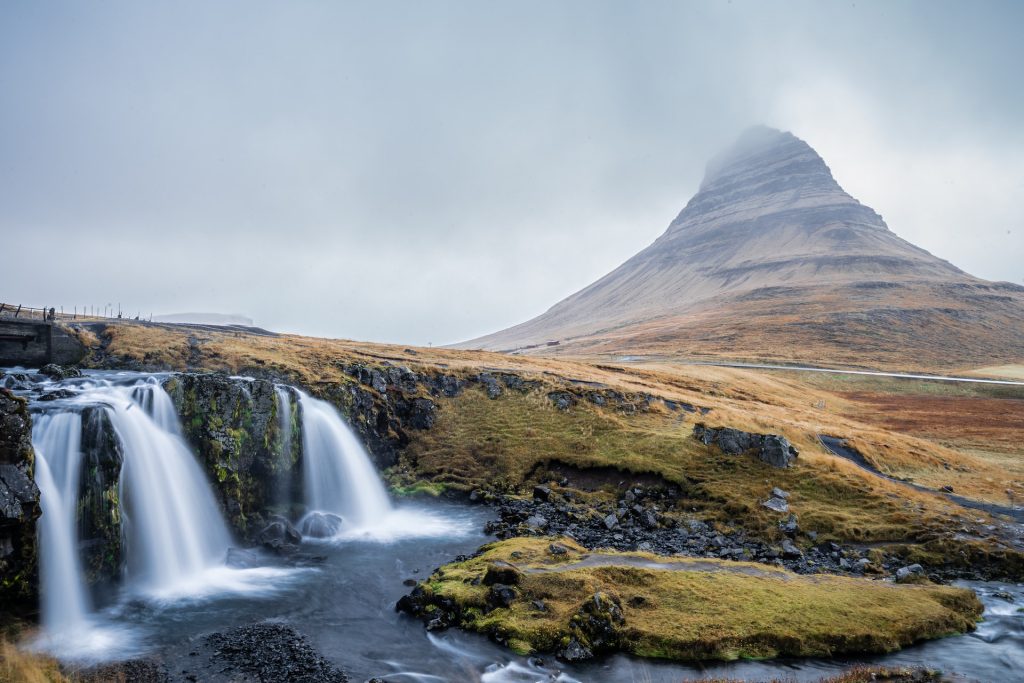 Day 4: The Golden Circle
Having reached the Golden Circle, prepare yourself for a journey into the heart of Iceland's natural beauty and cultural heritage. Besides the famous spots like Þingvellir National Park and Geysir Geothermal Area, several lesser-known gems are worth exploring.
Begin your fourth day at the historic Þingvellir National Park. This UNESCO World Heritage site was where the Vikings held countless assemblies. The name itself translates to "Assembly Plains" and describes what this area was to the first peoples of Iceland – a place to voice their opinions or worries and to state the news. This area also happens to be where the North American and Eurasian tectonic plates are pulling apart. Visitors can actually snorkel between this geographic wonder at the Silfra Fissure – with wetsuits of course!
Next up on this circular route is the Geysir Geothermal Area. All other geysers are named for the famous one that you can find right here, if the name sounds familiar! The most powerful and active geyser is Strokkur, erupting in all its glory every 5-10 minutes. Just a short drive away is the mighty Gullfoss Waterfall and a sight to behold in winter or summer. Don't miss out on the steaming bowls of lamb stew at Gullfoss' Visitor Center.
Consider adding a visit to the Kerid Crater Lake, a volcanic crater filled with aquamarine water, surrounded by red volcanic rock. It's a mesmerizing sight that further elevates the magical experience of the Golden Circle.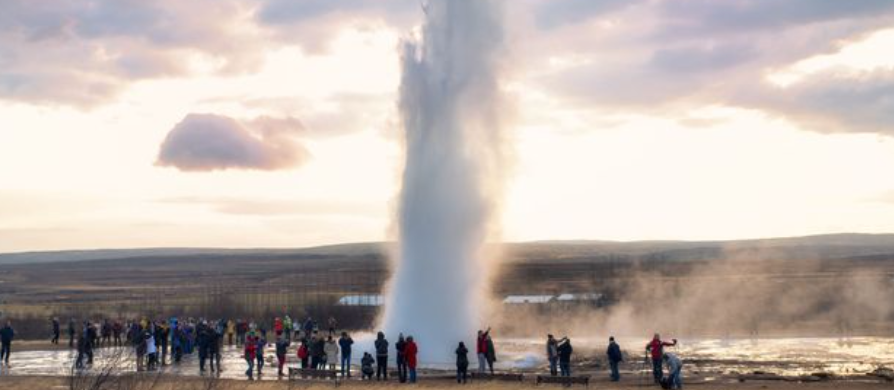 Day 5: South Coast of Iceland
Day five kicks off with a two hour drive to Iceland's Southern Coast along the famous Ring Road. The first stop on the way is Seljalandsfoss Waterfall, a whopping 197 feet tall. Be sure to bring your rain gear! Visitor's will have the chance to walk behind this waterfall for stunning views and rainbows in the mist. Just 27 minutes down the road is the Skógafoss Waterfall which travelers are able to ascend for bird's eye views of its majestic cascade.
This afternoon, head to the famous black sand beaches at Reynisfjara. This iconic beach has midnight colored sand and striking basalt rock columns, only adding to the area's dramatic scenery. Be extra careful at this spot as powerful sneaker waves have been known to kill visitors. The Dyrhólaey Arch and Lighthouse offer up expansive views just down the road – and the potential to see a puffin or two! If you're still itching to explore further, check out the Fjaðrárgljúfur Canyon.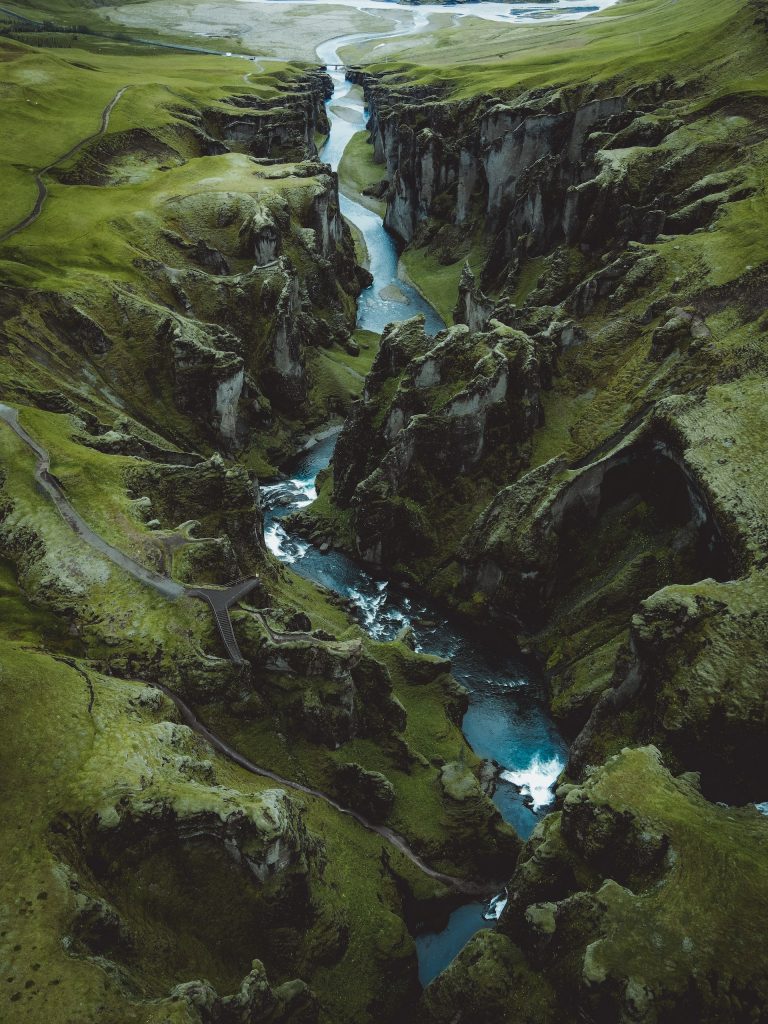 While Vik is renowned for its black sand beaches and dramatic coastal views, the town also serves as a gateway to several exciting adventures. Consider joining a guided tour to explore the nearby Katla Ice Cave, a mesmerizing natural wonder that offers visitors an intimate look at the dynamic and powerful Icelandic landscape.
Near Vik, you'll also find the Mýrdalsjökull Glacier, home to the infamous Katla Volcano. Embark on a snowmobiling or glacier hiking tour to explore this awe-inspiring environment up close.
The pipsqueak town of Vik makes for a wonderful place to spend the night. Stop by Black Crust Pizzeria for a delicious homage to your day of exploring the black sand beaches.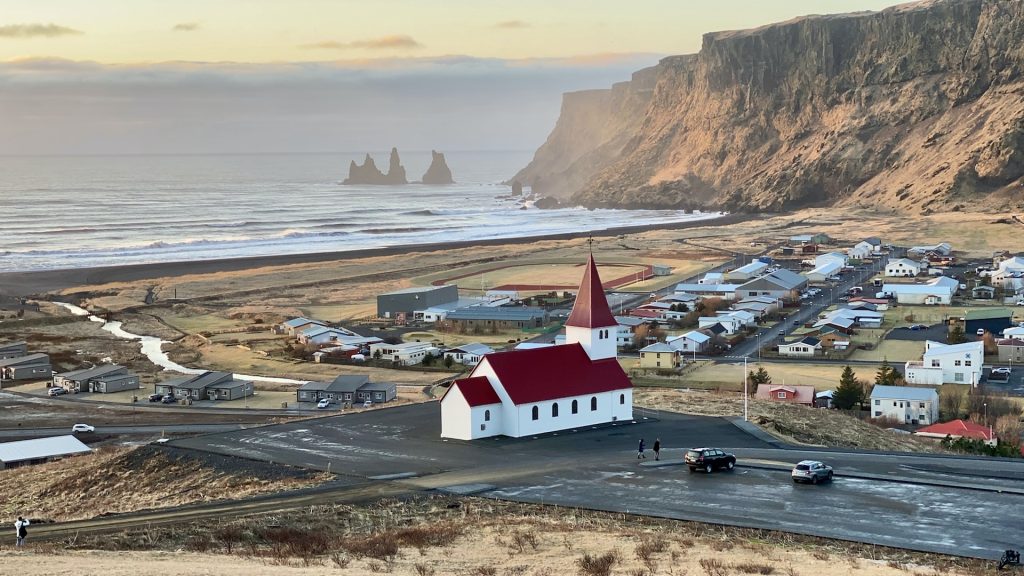 Day 6: Jökulsárlón Glacier Lagoon and Diamond Beach and Return to Reykjavik
It's day six and your last full day in the Land of Fire and Ice! Start your grand finale with a visit to the Jökulsárlón Glacier Lagoon. Take the time to marvel at the icebergs floating lazily in the crystal clear water. You can even get up close on a boat tour alongside them. The Diamond Beach is a must-see to witness the glittering icebergs wash ashore on the black sand beach that surrounds the lagoon, creating a mesmerizing contrast. If you love photography, you might want to spending more time to explore this area for some great photos.
Depending on the season and how much time you have left, consider ice caving or hiking on Iceland's largest glacier, Vatnojökull. Iceland is not only about glaciers, waterfalls, black beaches and volcanoes. It's also a paradise for wildlife enthusiasts. En route back to Reykjavik, consider making a detour to the Fjallsárlón Glacier Lagoon, a quieter alternative to Jökulsárlón, offering stunning views and wildlife spotting opportunities.
Head back to Reykjavik this evening for one last night in the capital. It's almost a five hour drive from Jökulsárlón, an important factor to keep in mind for planning purposes.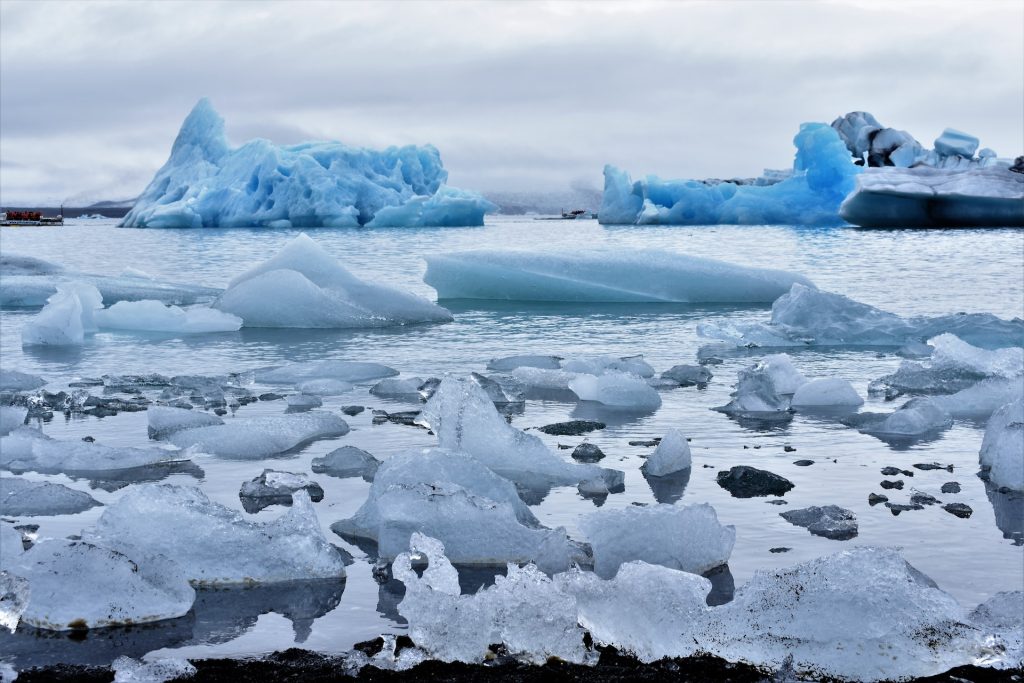 Day 7: Return to Keflavik, Car Return, and Departure
Today is your last day on your seven day Iceland itinerary. Spend the morning relaxing at one of Reykjavik's cafes or grabbing an Icelandic sweater – they're famous! Then it's time to head back to the airport in Keflavik, just under an hour's drive. If you didn't get the time to visit the Blue Lagoon on day one, this could also be a great opportunity and the perfect send off. Return the car and it's time to wave goodbye to Iceland from your window!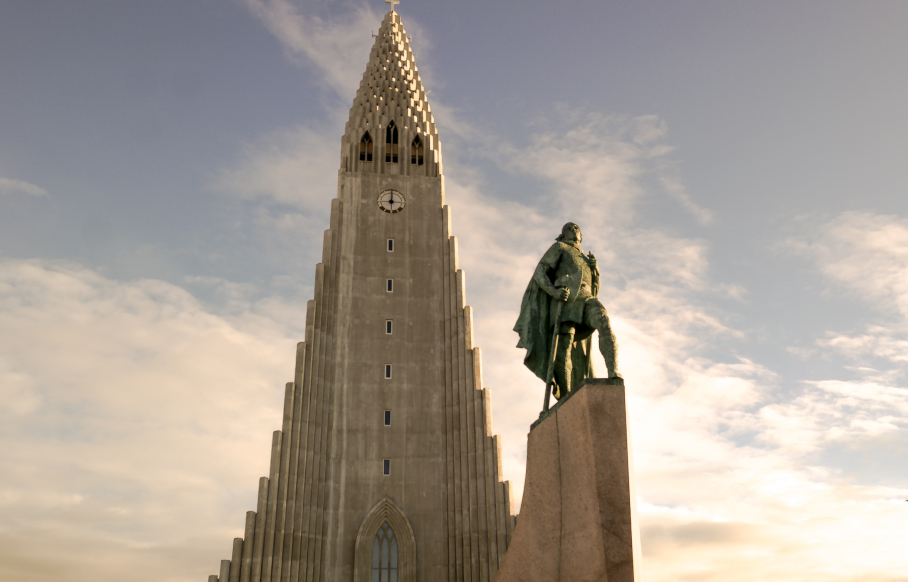 What Else You Can Do Within the 7-Days in Iceland: Best Activities to Consider
While exploring Iceland in 7 days gives you ample opportunity to see its most famous sights, there are plenty of additional activities you might want to consider adding to your itinerary to make your trip even more memorable. Depending on your interests and the time of year you visit, here are some top activities to consider:
1. Witness the Northern Lights during northern light season in Iceland
One of the most magical experiences in Iceland is witnessing the Northern Lights, or Aurora Borealis. These stunning light displays are visible from September to April, with the peak season being from November to February when the nights are darkest. To maximize your chances of seeing the Northern Lights, head to a location with little light pollution, away from the city lights. Some popular spots of seeing the northern lights in Iceland include Þingvellir National Park and the Reykjanes Peninsula. Remember to check the aurora forecast, dress warmly, and bring your patience; nature operates on its own schedule.
2. Go Whale Watching in Reykjavik
Iceland's waters are home to an impressive variety of whale species, making it one of the best places in the world for whale watching. Tours are available from Reykjavik and other coastal towns, with the peak season running from April to October. You might spot minke whales, humpback whales, or even the mighty blue whale. Alongside whales, there's a good chance you'll see dolphins and a variety of seabirds. Make sure to bring warm clothing, as it can get chilly out on the water.
3. Explore a Glacier with a guided tour
Glaciers cover about 11% of Iceland's landscape, and exploring these frozen giants is a must-do for adventure seekers. Popular activities that requires joining an Iceland local tour include guided glacier hiking, ice climbing, and even ice caving in the winter months. Vatnajökull National Park is home to some of the country's most accessible glaciers. Ensure you're equipped with the right gear and consider hiring a guide to ensure a safe and informative experience.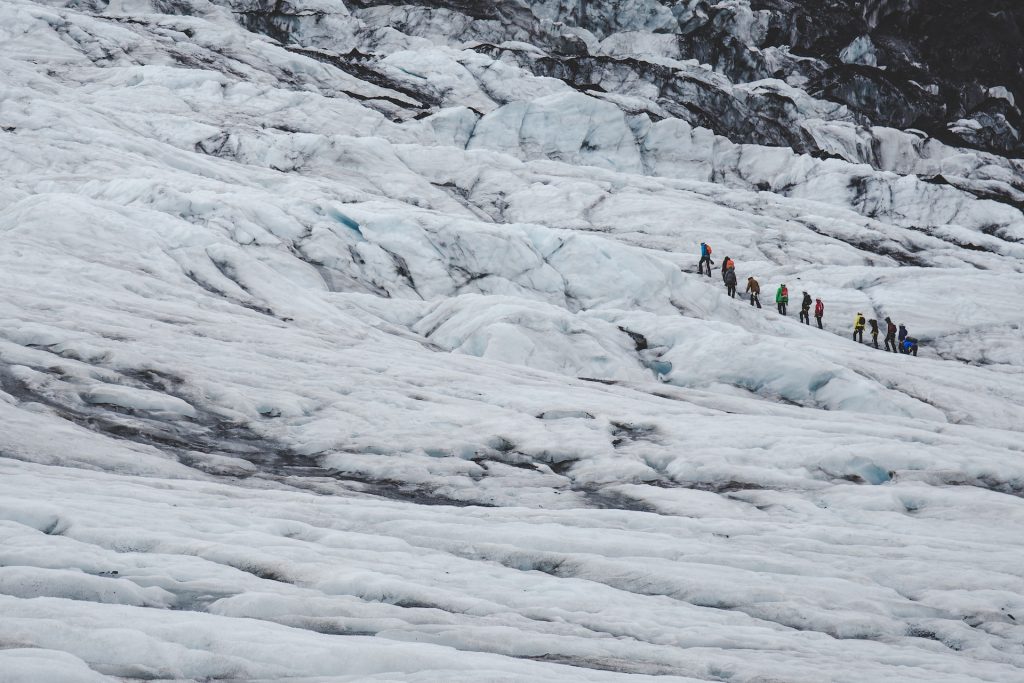 What to Bring for a 7-Day Road Trip in Iceland
Preparing for a 7-day road trip in Iceland involves meticulous planning to ensure that you have everything needed for a safe, comfortable, and enjoyable experience. Iceland's unpredictable weather and varied terrain require travelers to be well-equipped. Here's a comprehensive packing list to cater to all your needs during this enchanting journey.
Clothing and Apparel
Iceland's weather can be quite unpredictable, so layering is key. Include the following in your luggage:
Waterproof Jacket and Trousers: Essential for rainy days and visiting waterfalls in Iceland.
Thermal Layers: Lightweight yet warm clothing for extra insulation.
Sturdy Footwear: Waterproof boots for trekking and exploring diverse terrains.
Accessories: Hats, gloves, and scarves to protect against the cold, especially during evenings and nights.
Equipment and Gadgets
To capture the awe-inspiring landscapes and navigate your route efficiently, consider packing:
Camera: With extra batteries and memory cards to capture Iceland's breathtaking scenery.
Power Bank: Ensure your devices are always charged, especially while on the road.
GPS or Map: For navigation, especially in remote areas where mobile signals can be weak.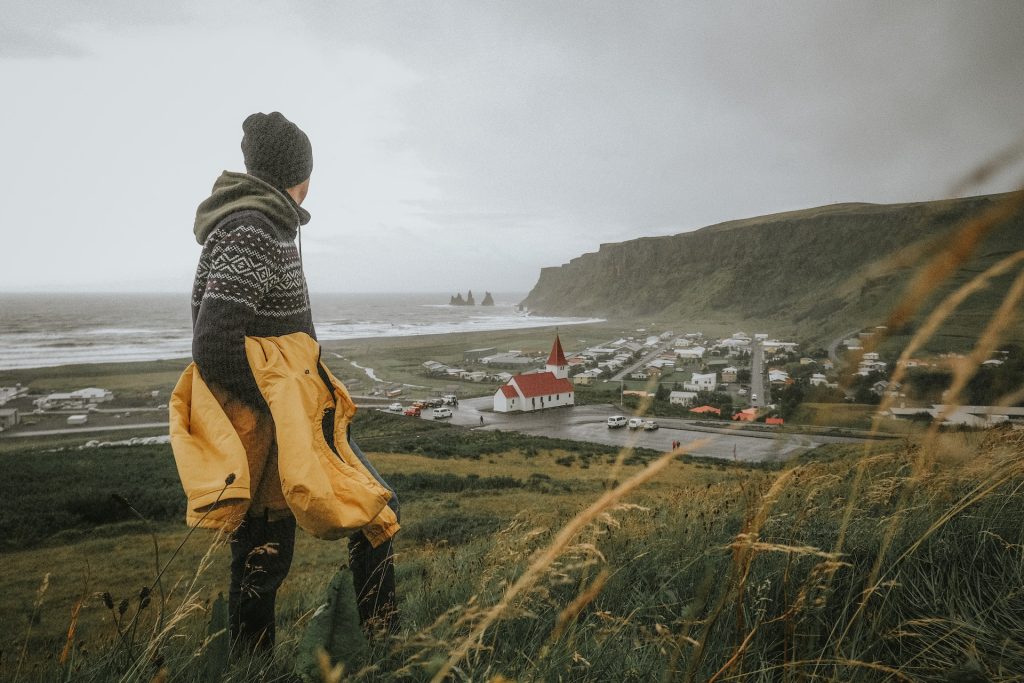 Why is Firefly Car Rental your best cheap car rental in Iceland?
Exploring the captivating beauty of Iceland doesn't have to come with a hefty price tag, thanks to Firefly Iceland Car Rental . We pride ourselves on understanding exactly what travelers are looking for: a dependable, affordable means to journey through Iceland's breathtaking landscapes and vibrant cities. Here's why countless adventurers choose Firefly for their car rental needs:
Exceptionally Low Rates with rental cars in Iceland
At Firefly, we believe that exploring Iceland should be accessible to everyone, regardless of budget. That's why we offer some of the most competitive rates in the industry, ensuring you can navigate the country's wonders without draining your wallet. Our selection of older model cars provides a budget-friendly solution, fitting the needs of those seeking a very cheap rental car option in Iceland.
Perfect for Budget-Conscious Explorers
Whether you're a student setting out on a backpacking trip, a family looking to maximize your vacation budget, or a solo traveler eager to explore, Firefly is the smart choice. By saving on your car rental, you free up more of your budget to experience all that Iceland has to offer, from its geysers and glaciers to its rich cultural heritage.
Dependable Vehicles at Unbeatable Prices
Opting for a budget car rental doesn't mean you have to compromise on reliability. Each car in our fleet is rigorously maintained and thoroughly checked to ensure your safety and comfort on the road. At Firefly, we provide not just unbeatable prices, but peace of mind as well.
Flexibility to Suit Your Adventure
Every traveler's journey is unique, and we've tailored our rental options to accommodate your individual needs. Whether you're planning a short city break in Reykjavik or an extended road trip around the island, Firefly provides flexible rental terms and straightforward agreements.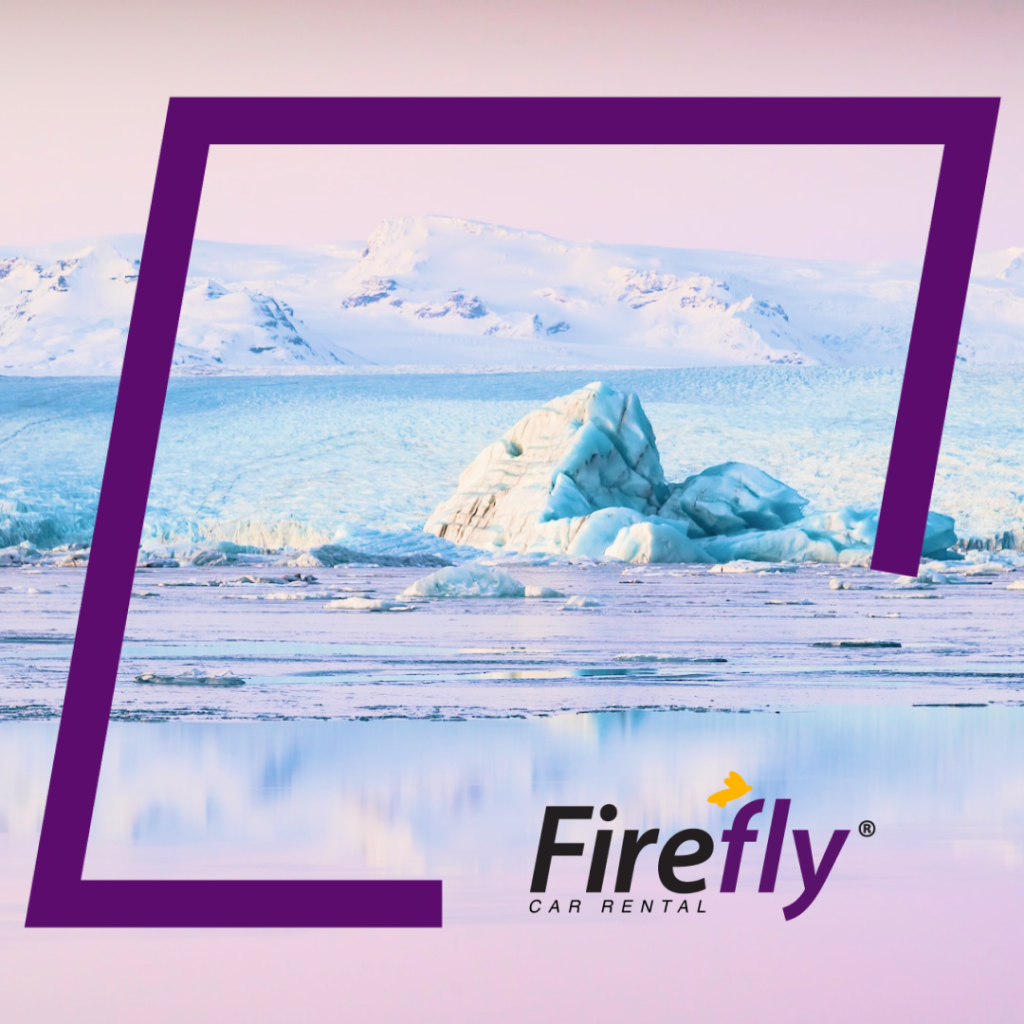 Conclusion
Traveling Iceland by car is the best way to see this beautifully rugged country. The freedom travelers have from behind the wheel can't be matched on big box tours.
Be sure to book your rental car through Firefly Iceland Car Rental for inexpensive rates and a huge fleet of reliable vehicles, from 4×4's to economy cars. Now is the time to take your trip to Iceland from dream to reality!