February begins a month of transition in Iceland. Sure, it's still deep winter, but daylight hours are starting to slowly increase and average temperatures climb a whopping 1° higher on average. This is also a wonderful time to take part in the myriad of winter weather activities like ice caving, snowmobiling, ice skating, and, of course, seeing the northern lights! Despite snowy conditions, it's also possible to rent a car and get out into Iceland's countryside.
This is everything you need to know about visiting Iceland in February.
What is the weather in Iceland in February?
February, a true winter month in Iceland, often paints the landscape with a white canvas, making it a popular time for photographers and nature lovers to experience the country's ethereal beauty. On average, Reykjavik, the capital, witnesses an impressive snowfall of over 16 inches. As you venture into the more remote and higher-altitude areas, this accumulation can intensify, leaving trails and mountain passes covered with deep blankets of snow.
The mercury predominantly swings between 38°F (3.3°C) during the daytime and dips to a chilly 28°F (-2.2°C) at night. While these numbers might seem bearable, the real feel can be drastically different. Factors such as biting wind chills and damp precipitation can accentuate the cold, at times plunging temperatures below zero, making every moment outdoors a bracing experience.
Visitors must exercise caution as blizzards and snow squalls are common. These can not only hamper visibility but also transform roads into icy pathways, thus vigilance with weather updates becomes pivotal, especially for those with plans to drive.
One of the most notable shifts this month brings is in the hours of daylight. While January offers a mere 5 hours, February graciously extends this to over 8 hours, allowing travelers more time to bask in the beauty of Icelandic landscapes. Dawn starts breaking around 10:00 am at the onset of February, but as the month progresses, early risers will be greeted by the sun's rays closer to 8:30 am.
The evening twilight, which initially starts drawing curtains around 5:00 pm, gradually stretches, allowing the sun to linger till 6:45 pm by the month's end. This increment in daylight not only makes sightseeing more accessible but also adds a touch of warmth to the otherwise cold winter month.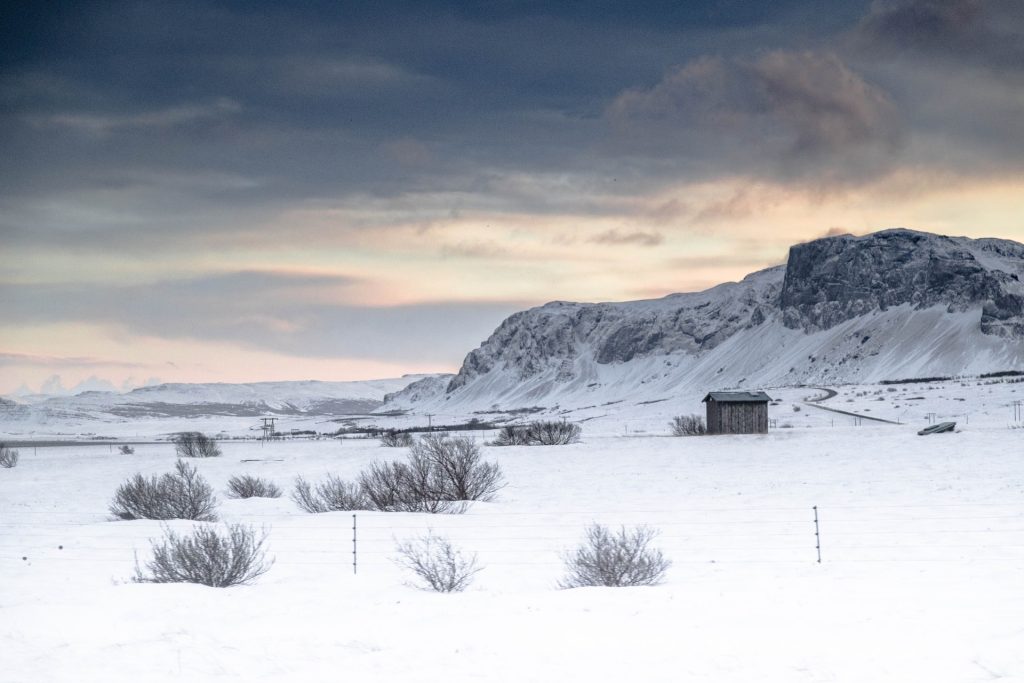 What to Wear in Iceland in February
Iceland isn't even thinking about starting to thaw out in February. It's still months away from consistent above freezing temperatures! With this in mind you'll need to pack for blustery winter weather. Thick winter coats, insulated gloves, hats, and scarves are all essential.
Waterproof snow boots and wool socks are also a given. If you plan on getting out in nature, it's also a good idea to bring snow pants or some type of windbreaker pants. A thermal base layer is also a basic necessity.
That being said, you'll also probably want to pack flip flops and a bathing suit! If you plan on visiting thermal spas, like the Blue Lagoon, or snorkeling in the world famous Silfra Fissure, you're going to need them.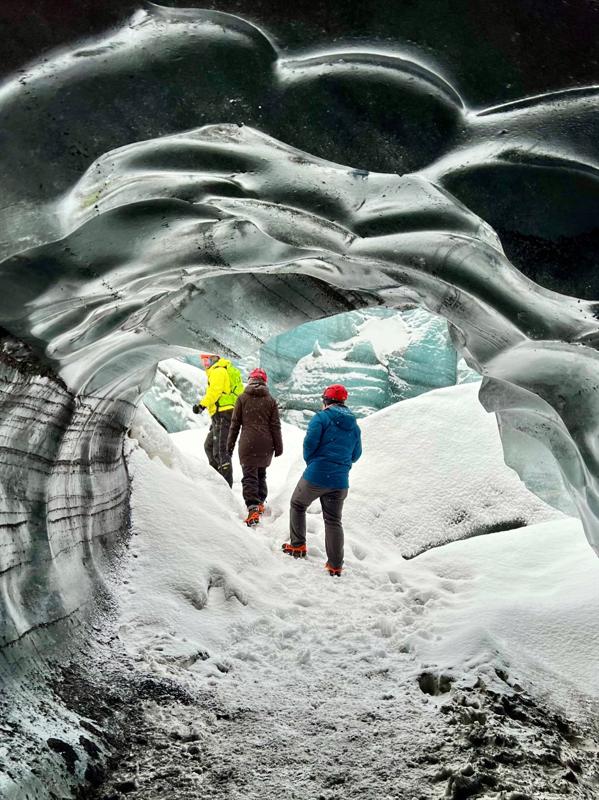 Additional Clothing Tips for February in Iceland
Beyond the basics, it's wise to adopt a 'layering' approach when dressing for Iceland's February weather. Layering provides flexibility, allowing you to adjust according to the conditions of the moment. Start with moisture-wicking materials close to the skin to keep perspiration at bay and follow with insulating layers like fleece or down. Moreover, if you're engaging in activities like hiking or snowmobiling, a waterproof and windproof outer shell can offer invaluable protection against the elements.
For those eager to capture the breathtaking landscapes, consider touchscreen-friendly gloves; these allow you to operate cameras and smartphones without exposing your fingers to the cold. Furthermore, UV-protected sunglasses and a broad-brimmed hat can be quite beneficial on days when the sun reflects off the snow, intensifying its glare.
And if you're thinking about soaking in the geothermal waters or taking a dip in one of Iceland's many swimming pools, remember to pack a quick-dry towel and a waterproof bag to store your wet swimsuit. Every little preparation can make your Icelandic adventure comfortable and memorable!
Recap: Packing Essentials for Iceland in February
Cold-Weather Basics:
Thick winter coats
Insulated gloves
Winter hats and scarves
Waterproof snow boots
Wool socks
Snow pants or windbreaker pants
Thermal base layers
Additional Recommendations:
Layering approach with moisture-wicking materials, insulating layers, and a waterproof outer shell
Touchscreen-friendly gloves for device use
UV-protected sunglasses
Broad-brimmed hat for sun glare on snowy days
Flip flops for thermal spas
Bathing suit for geothermal hot springs
Quick-dry towel
Waterproof bag for wet swimsuits
Can you see the northern lights in Iceland in February?
February is a great month to see the northern lights in Iceland. While daylight hours have started to increase, there's plenty of darkness and nighttime to see the aurora borealis clearly. Peer up for colors like verdant green and occasional brilliant purples and pinks! If you happen to rent a car, drive out and away from light pollution for an even better chance at catching a glimpse.
Best Things to Do in Iceland in February
It's freezing cold but February in Iceland can be a magical winter wonderland! From hot spring hopping under the northern lights to road tripping the Golden Circle, here are three of the best things to do in Iceland in February.
1. Visit the Golden Circle
Iceland's Golden Circle is the perfect day trip from the capital Reykjavik and a great option if you plan on renting a car but don't want to drive too far! This route connects popular sites like Thingvellir National Park – the home of the Vikings – as well as the Geysir Geothermal Area and Gullfoss Waterfall.
At certain times of year, the Gullfoss Waterfall is completely frozen. A magnificent sight to see! The route is only 140 miles (230 kilometers) long and would take 3 hours to drive if you didn't stop at all.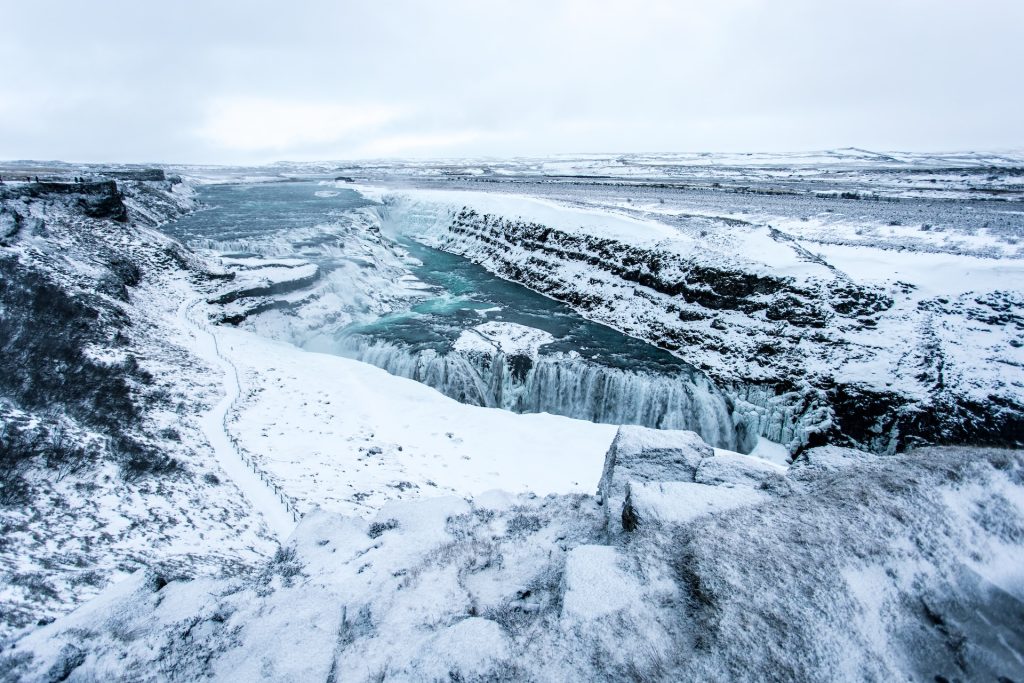 2. Marvel at the South Coast's Beauty
The south coast, particularly near Vik, reveals a contrasting beauty in February. The dramatic black sand beaches, like Reynisfjara, set against a snowy backdrop, create an otherworldly spectacle. It's an ideal spot for photographers and nature enthusiasts alike.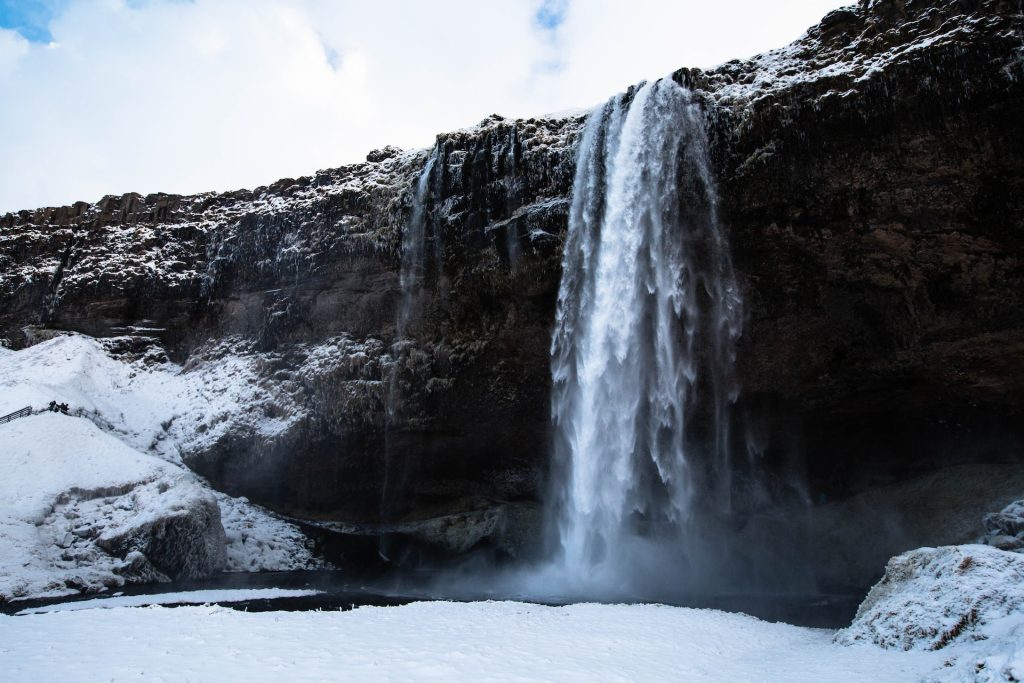 3. Snorkeling in Silfra Fissure
Did you know that Iceland has one of the top dive sites in the entire world? The Silfra dive sitecan be snorkeled at any time of year due to high-tech wetsuits that insulate body temperature. But the truly unique feature of this natural phenomenon? Silfra is a fissure between the North American and Eurasian tectonic plates, slowly pulling apart at a rate of 2 cm a year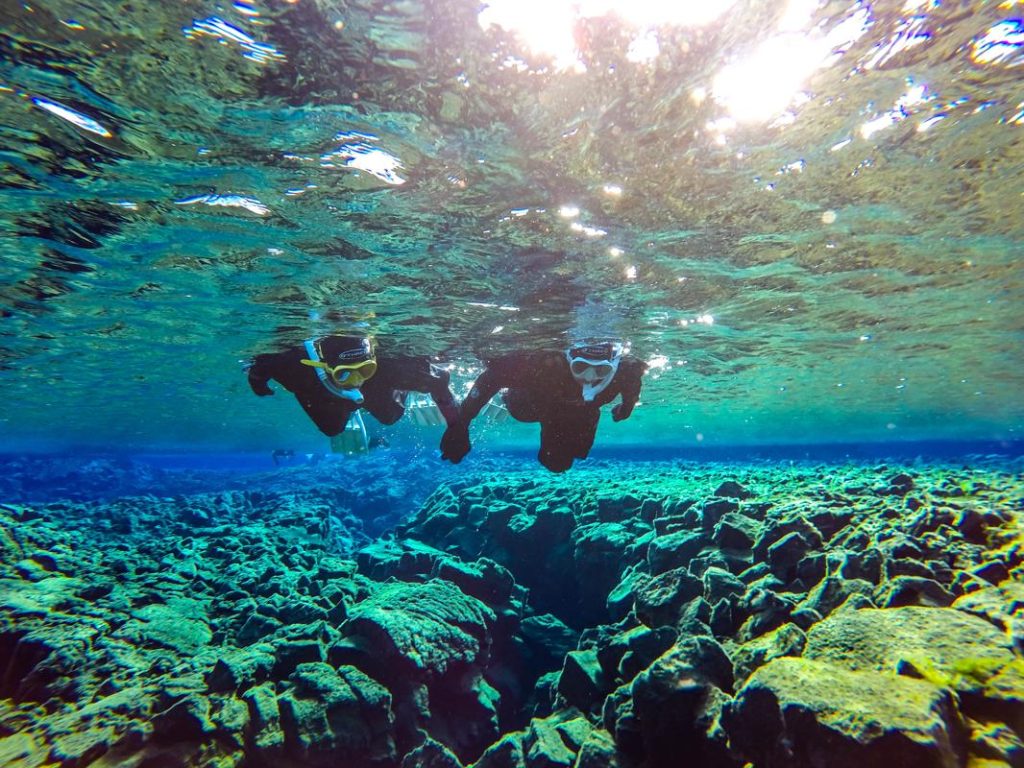 4. Road Tripping the Ring Road / Route 1
Driving Iceland's Ring Road is one of the most iconic road trips in the world. The route can be easily driven within a week and actually takes just 17 hours if you weren't going to stop at all. February can be a bit of a difficult time to complete the entirety of Route 1 but it's also possible to complete beautiful portions like the Snæfellsnes Peninsula or the southern beaches near Vik.
We can't stress enough that driving in winter in Iceland is only for experienced drivers! You'll need a 4×4 vehicle and snow chains to drive safely. Hazardous road conditions and severe winter weather can make driving around Iceland in winter especially dangerous. It's a good idea to check road closures and conditions on Iceland's official website, road.is .
Essential Driving Tips for Iceland's Ring Road in Winter
Advanced Preparation: Before embarking on your journey, ensure that your vehicle has been serviced and is in prime condition. This includes checking the tires, brakes, lights, and the heating system. Any issue, no matter how small, can become significant in winter conditions.
Updated Navigation System: Although the Ring Road is well-signposted, having a GPS with the latest map updates ensures you stay on track. Remember, sometimes road closures or detours might not be visibly marked due to snow.
Weather Patterns: Familiarize yourself with Iceland's specific winter weather patterns. Knowing the signs of an impending storm or blizzard can be crucial. Using apps or websites that provide real-time weather updates in Iceland is advisable.
Daylight Hours: Keep in mind the "hours of daylight" during February. With limited daylight, plan your driving during the brightest times of the day. This not only provides better visibility but also enhances the beauty of the landscapes you pass.
Packing Essentials: Carry extra blankets, water, snacks, a flashlight, and a first-aid kit. If you get stranded, these items can be lifesavers. Also, consider a portable battery or charger for your devices.
Respect the Environment: Iceland's nature is pristine but delicate. Stick to marked roads and trails. Driving off-road is illegal and can damage the environment for years.
Emergency Services: Familiarize yourself with Iceland's emergency services and have their contact details saved. In case of any emergency, the number to dial in Iceland is 112.
Local Insights: Chat with locals or staff at accommodations about the day's journey. They often have firsthand knowledge about road conditions and can offer invaluable advice.
Remember, while the Ring Road promises breathtaking vistas, especially with the snow-capped landscapes in February, safety should always be the top priority. Adjust your plans based on weather conditions and always prioritize well-being over any destination or sightseeing spot.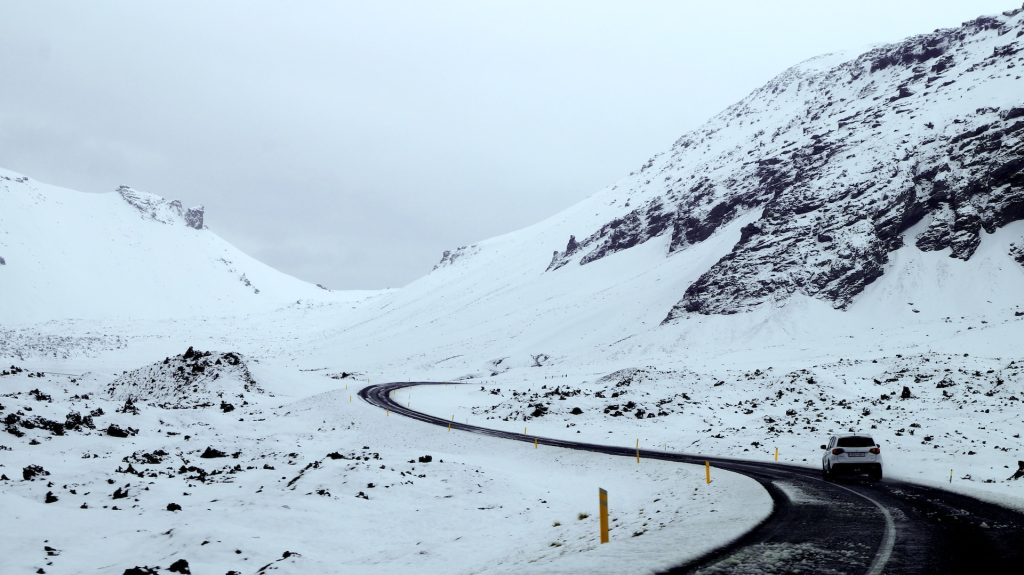 5.Indulge in Iceland's Geothermal Pool Culture
Experience warmth amidst the winter by diving into Iceland's geothermal swimming pools. It's not just about relaxation; it's a dive into Icelandic culture. Engage in hot tub conversations with locals and soak in the soothing warmth of these natural baths.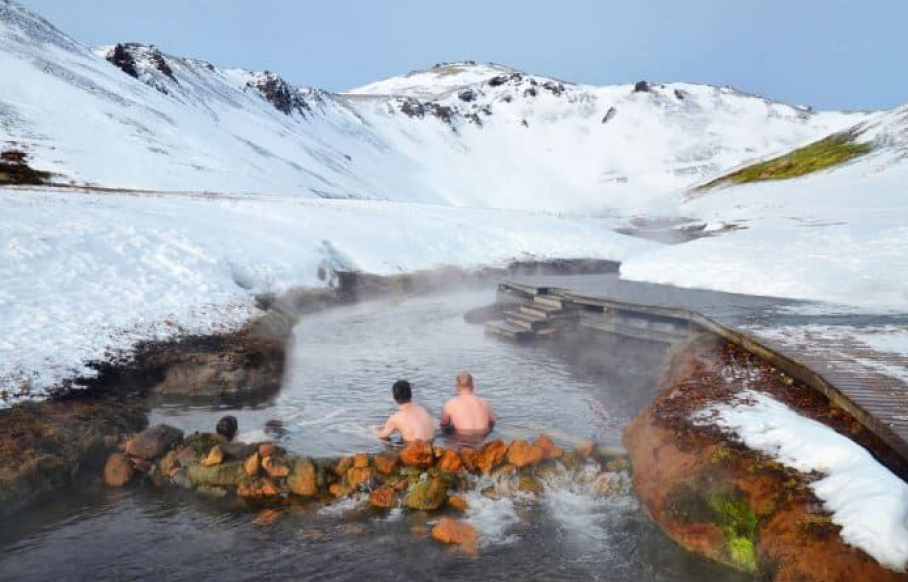 6. Enjoy the Reykjavik's Winter Lights Festival
Reykjavik in February is not just about the cold; it's about celebrating the light amidst the darkness. The Winter Lights Festival is a glowing testimony to this spirit, illuminating the city's structures, including the iconic Harpa Concert Hall. The festival also celebrates the culture with special 'museum night' and 'pool night' events, offering a blend of entertainment, history, and modern living.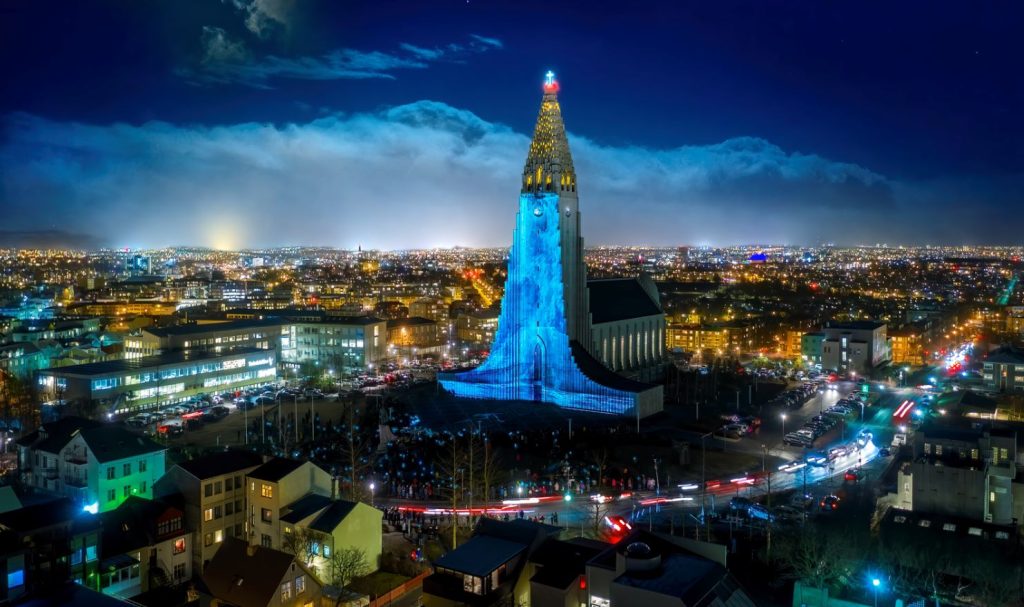 Photo from Winter lights festival website
7. Join a Northern Lights Tour if you can't see the northern lights yourself
February offers ample dark skies for the mesmerizing display of the northern lights. Opt for a guided tour to find the best, least light-polluted spots. Knowledgeable guides, coupled with the comfort of warm beverages, promise an unforgettable aurora watching experience.
Iceland in February
February is a wonderful month to visit Iceland! The northern lights are happily dancing above visitors' heads and unique activities like ice caving, glacier hiking, and snowmobiling are finally on offer.Book your rental car today with Firefly Iceland Car Rentals for amazing deals!