You might be familiar with the famous Blue Lagoon, but have you ever heard of Iceland's Forest Lagoon? As one of Iceland's newest natural geothermal spa, Forest Lagoon is cementing the Land of Fire and Ices reputation as having some of the most unique spas in the world.
Tucked away on Eyjafjörður, one of Iceland's longest fjords, guests will be immersed in the peace and tranquility of nature while relaxing in one of the most beautiful hot springs in the country.
Spa-goers will love the contemporary architecture and feel of Forest Lagoon with its sharp lines that are complemented by wood and cement accents but the true star of the show? The thermal infinity pools, surrounded by pine forests that overlook distant mountains. From getting there in the first place to how much it costs, here is everything you need to know about Iceland's Forest Lagoon.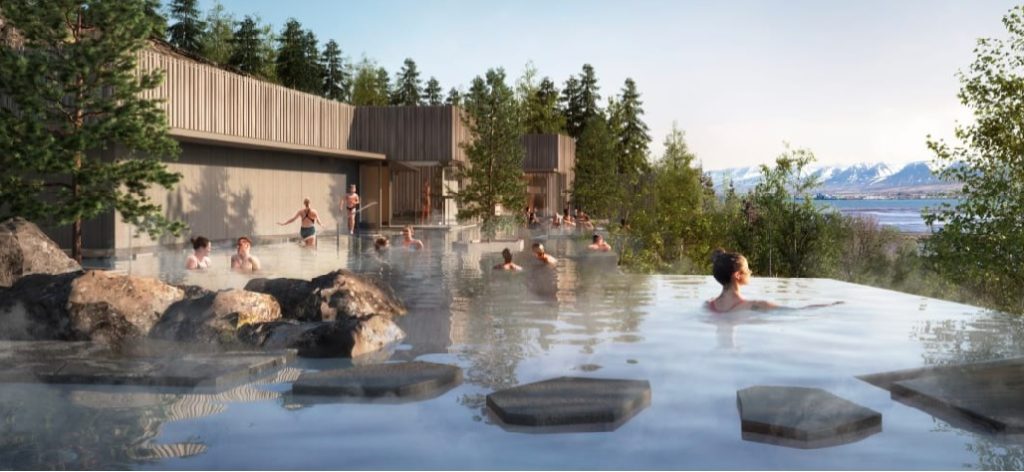 What is Forest Lagoon iceland?
Located just outside of Iceland's capital of the north, Akureyri, Forest Lagoon is tucked away in the north of the country. Opened in 2022, Forest Lagoon is an off-the-beaten path alternative to the glitz and glamor of Iceland's other popular spas.
Unlike the Blue Lagoon, which is manmade, Forest Lagoon is heated from a geothermal spring that originates in Vaðlaheiði Mountain, just behind the facility itself. The Forest Lagoon offers guests traditional spa experiences like a Finnish Sauna and outdoor cold pool, while providing a truly unique atmosphere in which to enjoy them.
Above all, Forest Lagoon is a geothermal water spa with hot spring water that has been harnessed into a beautiful oasis that sits in the heart of stunning scenery.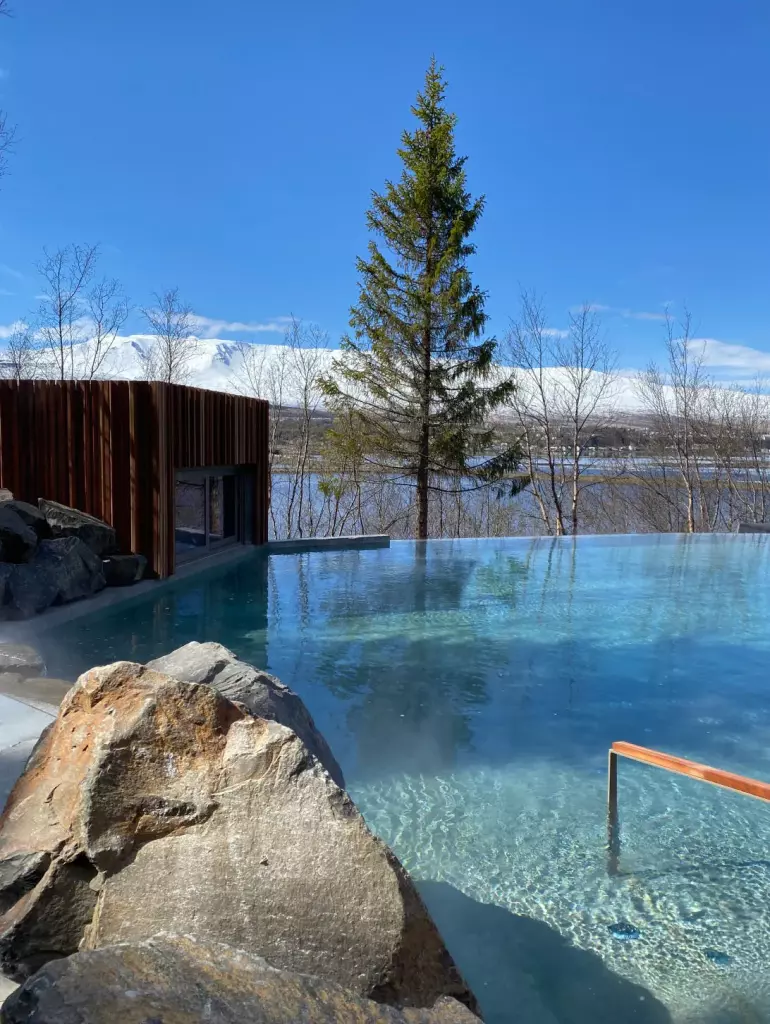 Where is Forest Lagoon Iceland located?
Forest Lagoon is located at the address, Vaðlaskógur 605, 605 Akureyri, Iceland. While the spa itself is actually situated in the tiny town of Eyjafjarðarsveit, its address is linked to Iceland's "Northern Capital" of Akureyri, which sits just across from the city.
How to get there?
Getting to Forest Lagoon is fairly easy, especially if you plan on renting a car. The Forest Lagoon is only a five minute drive and 2.2 miles from downtown Akureyri, although it's quite a haul from the capital of Reykjavik. Located around the halfway point for the Ring Road, this makes for a wonderful stop midway through your road trip. If you want to drive straight from Reykjavik to Akureyri, it takes about 5 hours without stopping along the way.
There is also a free shuttle bus known as the Forest Lagoon Bus that leaves from the town of Hof multiple times a day and the Berjaya Akureyri Hotel once a day.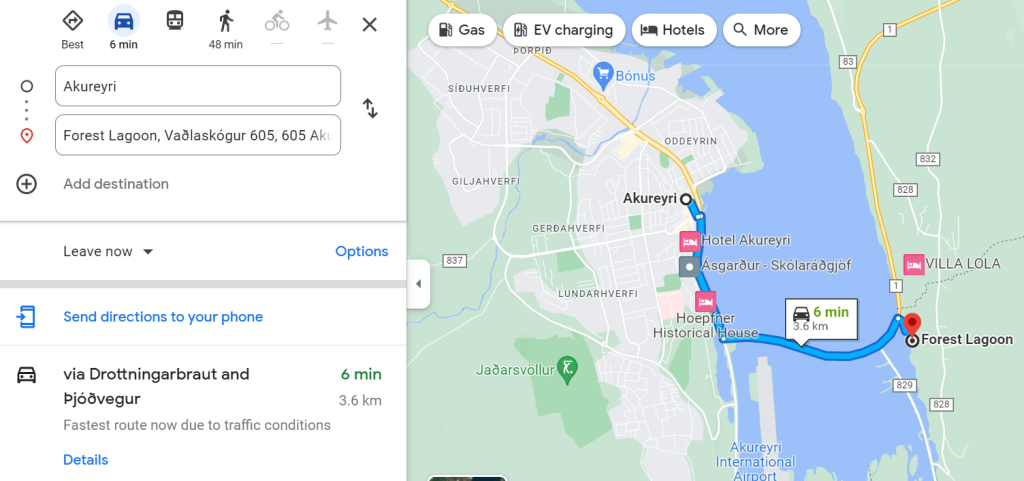 How much for entry?
Entrance fees to Forest Lagoon are $48 (6,590 ISK) for adults, $36 (4,990 ISK) for the elderly (67+), $24 (3,290 ISK) for children ages 6-15, and free for children under the age of 6. If you don't bring your own towel they can be rented onsite for $6.57 (900 ISK) per person.
What's special about this spa?
Forest Lagoon has many features that make it particularly special among Iceland's many thermal spas and pools but Forest Lagoon's hallmark is its location. Hidden among a pine forest along Iceland's longest fjord, Forest Lagoon is situated in the very heart of northern Iceland's countryside. Guests will also love the main infinity two geothermal pools with an indoor entrance that protects from icy temperatures, Finnish Sauna, cold plunge pool, and swim-up bar.
Enjoy a delicious, healthy, and home cooked meal at Forest Bistro which offers traditional Icelandic dishes like lamb soup, Icelandic Grettir cheese, and smoked trout alongside worldwide favorites like pancakes, pasta, pizza, and cake.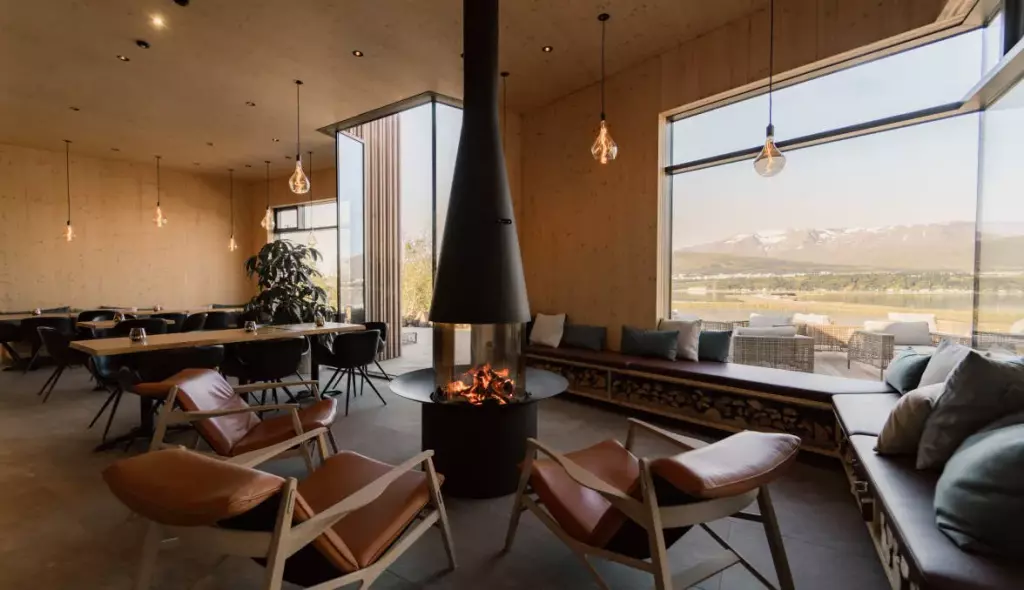 Worth it?
Considering the often exorbitant fees to experience the Blue Lagoon, Forest Lagoon feels like an absolute steal in comparison. Combine sweeping, mountain views with state-of-the-art facilities and delicious food served onsite and you have a wonderful spa experience. You should consider visit the forest lagoon if you are planning to visit the North Iceland.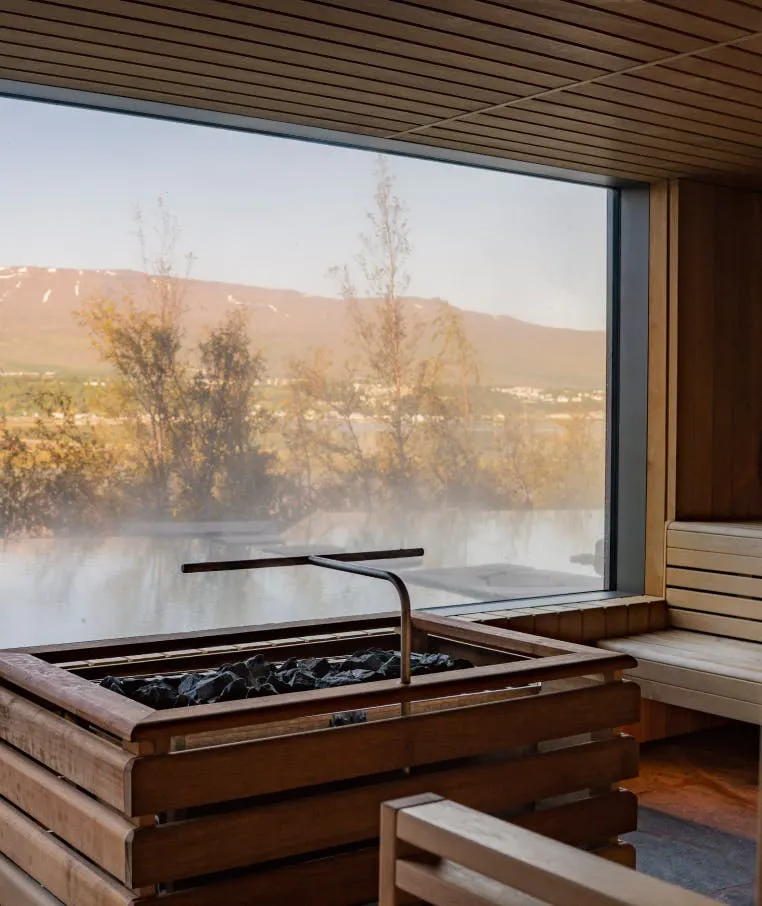 Conclusion
Ultimately, Forest Lagoon is one of the coolest new things to do in Iceland! Visitors to the Land of Fire and Ice who are looking to relax and soak away their troubles in the unbridled natural scenery that is legendary in Iceland should look no further. Relax in the thermal, outdoor pools, thaw out in the sauna, and fuel back up with a bite to eat from their Forest Bistro to top off your experience.
Reaching the Forest Lagoon by rental car is one of your best options and provides flexibility to see all of Iceland's stunning natural sites and scenery along the way. Plan to rent an inexpensive car and have Iceland at your fingertips with Firefly Iceland Car Rentals, one of your best options for cheap but reliable car rentals in Iceland.