Tucked away on the very eastern edge of Iceland, Seydisfjordur is known for its vibrant cultural and off-the-beaten-path destination. It's historic significance, isolated beauty, and tight-knit community lend a unique vibe. Best explored with a rental car, Seydisfjordur is only reached by a solitary, rural road.
Those who love hidden gems will delight in having the freedom to uncover the natural nooks and crannies of this little village. This is the ultimate guide to Seydisfjordur!
Where is Seydisfjordur?
Nestled among the fjords, on the true edge of Eastern Iceland, Seydisfjordur is a town in East Iceland which evokes a sense of mysticism in its geographic location alone. It's name indicates its location along the side of the fjord of the same name, reaching back out to the Atlantic Ocean. There are with approx 700 people live in Seydisfjordur.
There is only one road that goes in and out of Seydisfjordur, further adding to both its isolation and allure. Route 93, also called Seydisfjardarvegur, runs 16.5 miles to Edilsstadir.
The map in and out of Seydisfjordur

In fact, many small towns in the East Fjords are reached by a solitary road built solely for the town. You may notice if you're spending time in town or near the harbor that a ferry also comes in the small port. This is known as the Seydisfjordur-Hirtshals ferry which runs between Denmark, Faroe islands and Iceland and takes about 2 days.
Seydisfjordur's remote location is one of the reasons that its crucial to have a rental car for exploring. Buses run between the town of Egilsstadir and Seydisfjordur every day, except Sundays. This will only get you about 25 minutes down the road. It can take up to 22 hours to reach Reykjavik by bus from Seydisfjordur.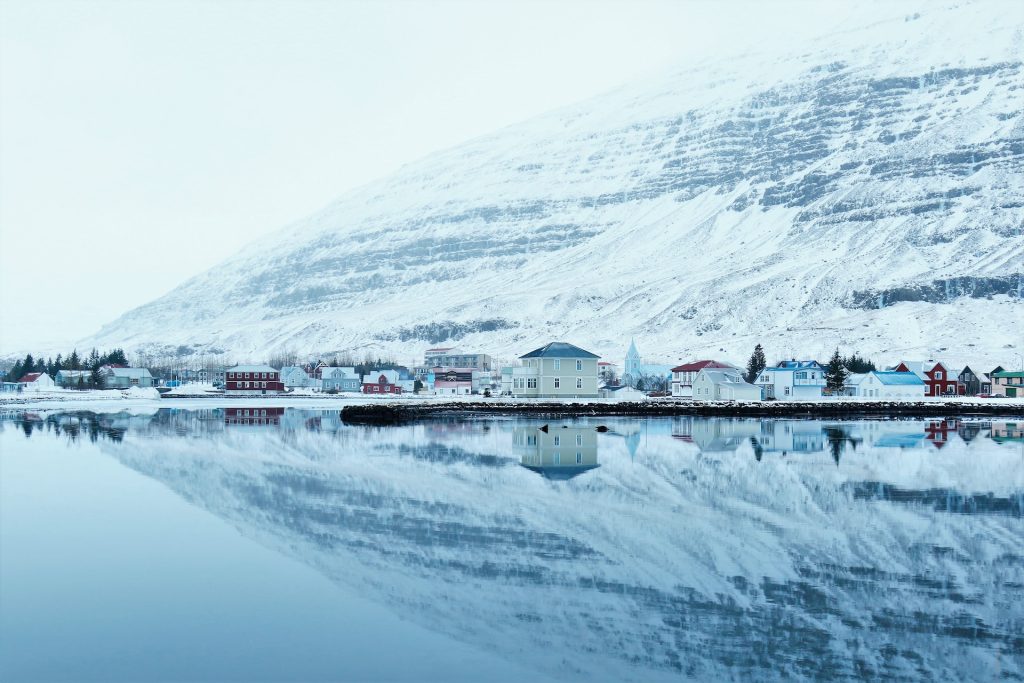 The Weather in Seydisfjordur: What to Expect
Seydisfjordur sees similar weather to the rest of Iceland. Summers are very mild, and sometimes downright chilly, with temperatures hovering around 60°F for a high and 45° as a low. Winter sees the frigid temperatures you would expect from Iceland with highs around 36° and lows near 24° although it can dip well below freezing.
Visitors can expect plenty of precipitation year-round, but especially in September and October. The best time to visit in terms of fair weather is from June to August. If you're on the hunt for the Northern Lights, October to April is ideal as daylight hours wane to just four hours in January.
Things to Do in Seydisfjordur Iceland
For being such a small town, there's a surprising amount of things to do in Seydisfjordur. Both natural and cultural attractions are plentiful and you could easily fill up two or three days with fun activities. Many visitors travel to Seydisfjordur to see the Blue Church and Rainbow Road alone!
1. See the Blue Church with the rainbow path and museums
Seydisfjordur is tone of the center for visual art and contemporary art in Iceland, hosting the notable Skaftafell Art Center and the vibrant LungA Art Festival in July, where the town is taken over by innovative works of local artists. This artistic vibe extends to music with the Blue Church Concert Series and the unique Tvisongur, an open-air structure on a bluff showcasing Icelandic musical traditions through wind.
The end of June brings the Midsumarnott Festival, filled with art, music, and street food. History enthusiasts can delve into the town's past with a visit to Þórarinsstaðir, revealing a Medieval church and supporting Seydisfjordur's claim as one of Iceland's original settlements, while the Fjardarsel Power Plant Museum offers a glimpse into the history of Iceland's oldest power plant.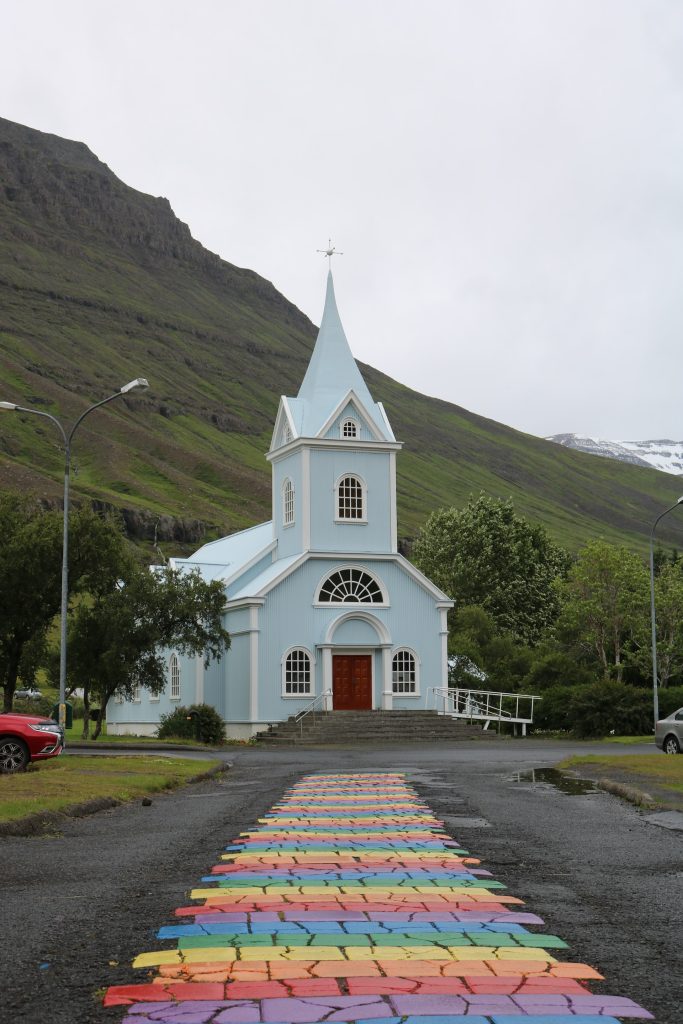 2.Visit the local swimming pool
No Icelandic town is complete without its swimming pool and Seydisfjordur isn't an exception to the rule. Head to the town Swimming Hall to splash around or get in a few laps. This is a rite of passage in Iceland!
3.See the waterfalls or go skiing in winter!
Outside of town there are waterfalls, fjords, and mountains to explore. Nature lovers can head out to the Gufufoss Waterfall, a stunning cascade of water not far from the city center and accessible by car. The Skalanes Nature and Heritage Center is also close to town, located at the mouth of the fjord in a beautiful landscape.
Just across the water is the Streitsviti Lighthouse, helping to guide the town fisherman home safely. In winter, many visitors take to the Stafdalur Ski Station to hit the slopes. Seydisfjordur is also a great place to see the Northern Lights, reflected in the serene water of the fjord.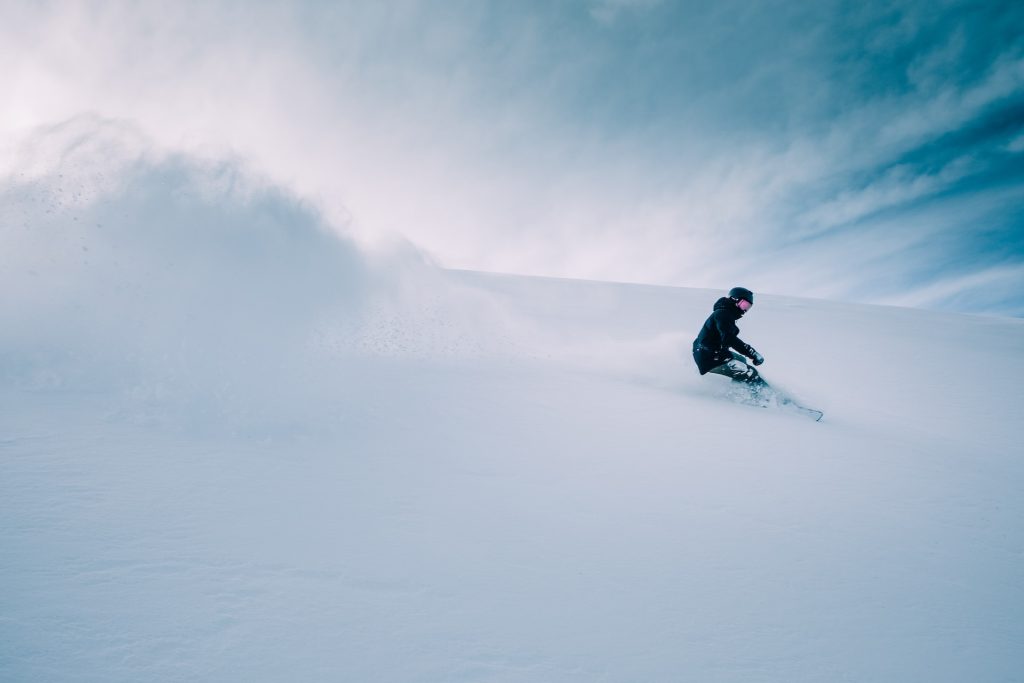 4. Enjoy an Icelandic meal!
As far as restaurants go, there are only a few places to grab a bite to eat in Seydisfjordur. Pop by the Skaftfell Bistro, connected to the art center, and dishing up delicious traditional food like fresh caught Icelandic fish, as well as pizza, coffee, and alcoholic beverages, all served in a cozy setting.
The Kaffi Lara El Grillo Bar is named for the only WWII attack on Iceland, happening right in the fjord outside! Come here to grab a drink and delicious meal, like leg of lamb or ribs, chat up the locals, and take in the atmosphere.
Read more: 6 Best Cheap Eats in Iceland: grab a bite for $15 or less
Tips for Driving in Seydisfjordur
Just 27 miles off the famous Icelandic Ring Road, Seydisfjordur is a great option for a road trip. Few travelers venture out to the East Fjords, making them even more special and seemingly undiscovered among tourists. Always double check Icelands road conditions via road.is before driving especially during inclement winter weather or fog.
Keep in mind that Icelanders drive on the right side of the road and motorists must where a seatbelt, drive with their headlights on at all times, and strictly avoid using cell phones while driving. It's also illegal to drive off-road anywhere in Iceland and visitors who do will face hefty fines.
If you do decide to rent a car, it's important to make sure that you have the proper safety features and insurance that you'll need to make the long and rural drive out to Seydisfjordur from Reykjavik. Firefly Iceland Car Rental can help with all of the necessary preparations for your trip.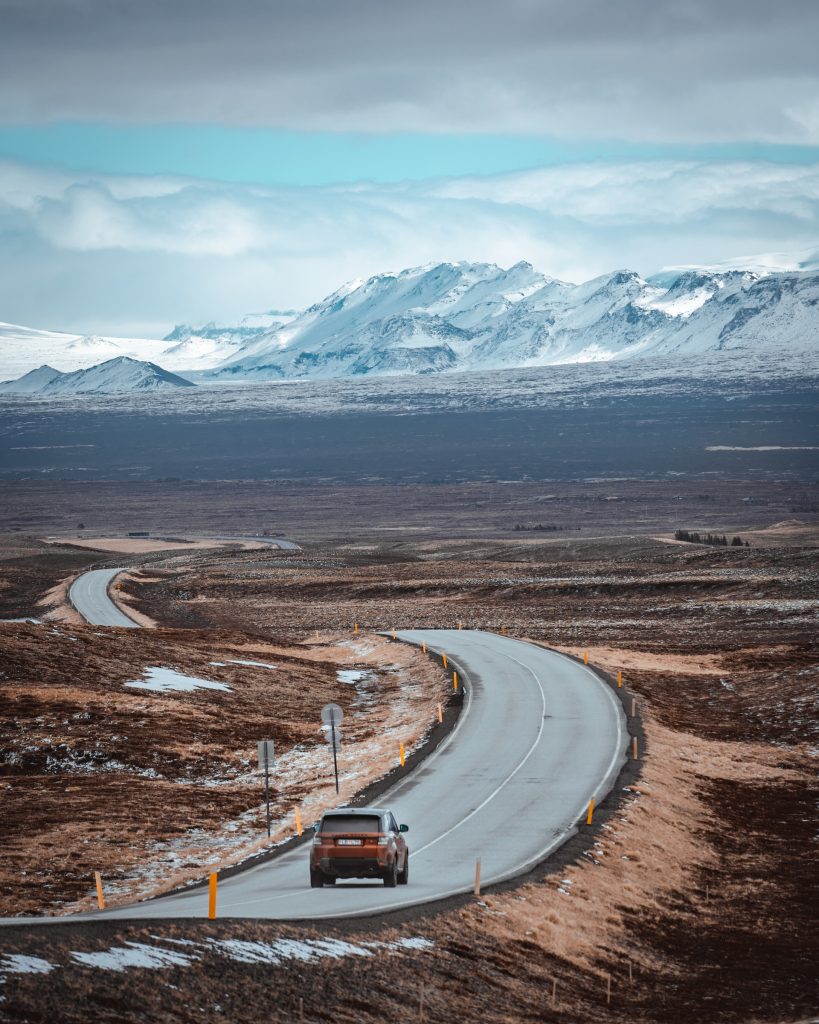 Conclusion
Seydisfjordur is an enticing art community on the edge of Iceland, and you'll certainly be immersed in its magical atmosphere on a visit to this far-flung town. You'll want to experience the remote corners of Iceland by rental car, giving you the ultimate freedom. Make your next trip both affordable and memorable by booking your rental car through Firefly Iceland Car Rental. Contact or visit Firefly Iceland Car Rental for more details and bookings.