If you plan to be a summer visitor to Iceland then you might be curious to explore the country's interior. The central Icelandic highlands cover a significant proportion of Iceland's area, yet receive a tiny fraction of the visitors that loop the ring road. Vast, rugged and unspoilt, mountainous and partially covered by glaciers, the highlands are a challenging region to tour, yet you'll be hard-pushed to find landscapes as spectacular as this anywhere else in the country. Nowhere is that better demonstrated than at Landmannalaugar.
What and where is Landmannalaugar?
Landmannalaugar forms part of the Fjallabak Nature Reserve in the southern highlands. It sits on the edge of the Laugahraun lava field, which itself was formed in an eruption that occurred in 1477. One of its undisputed highlights are a series of rhyolite peaks.
This rock is known for its multi-hued appearance. So many different colours can be seen in the rock – blue, red, yellow and green among them. These blue peaks overlook mountain lakes and the overall impact of the landscape is striking. The area is also geothermally active, as so much of Iceland is.
Here, you won't find fancy spas; instead, prepare yourself for steaming geothermal rivers and geothermal hot springs. They've been used for centuries by weary travellers, even back in the days when access across the highland area was on foot or on horseback. Some refer to Landmannalaugar as the People's Pools but whatever you call it, this place is a gem and a must for intrepid travellers.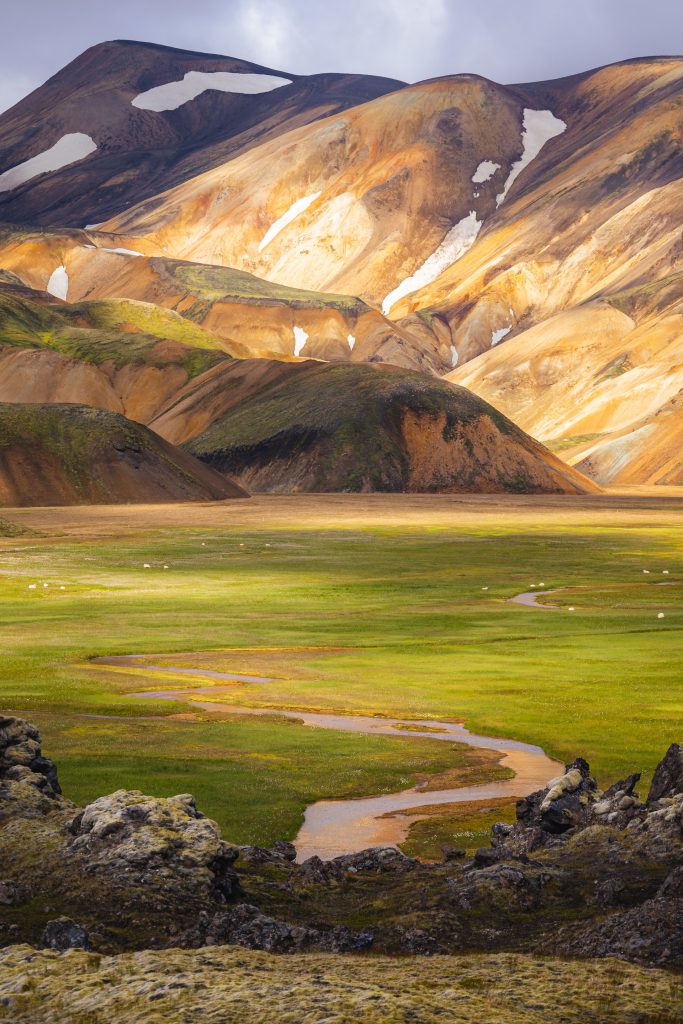 When is the best time to visit?
Landmannalaugar is most easily accessed during the summer months. The F roads that lead into Iceland's mountainous interior are closed in the off season when heavy snow falls make them impassable and strong winds make driving dangerous. It's hard to say precisely when the roads are open as this varies each year according to what the weather is doing.
If spring has been exceptionally mild, there's a chance the F roads might open as early as May, while if it's been a harsh winter, you might have to wait until June or even, occasionally, as late as July. Summer is brief, up here, and the season is correspondingly short.
By October the barriers and signs indicating that the F roads are closed have appeared for the winter. Sometimes, it happens as early as September. As you can see, peak season in Landmannalaugar is therefore exceedingly short, so plan your trip for July or August if you want to give yourself the best chance of getting up there. But even then, keep a close eye on the weather.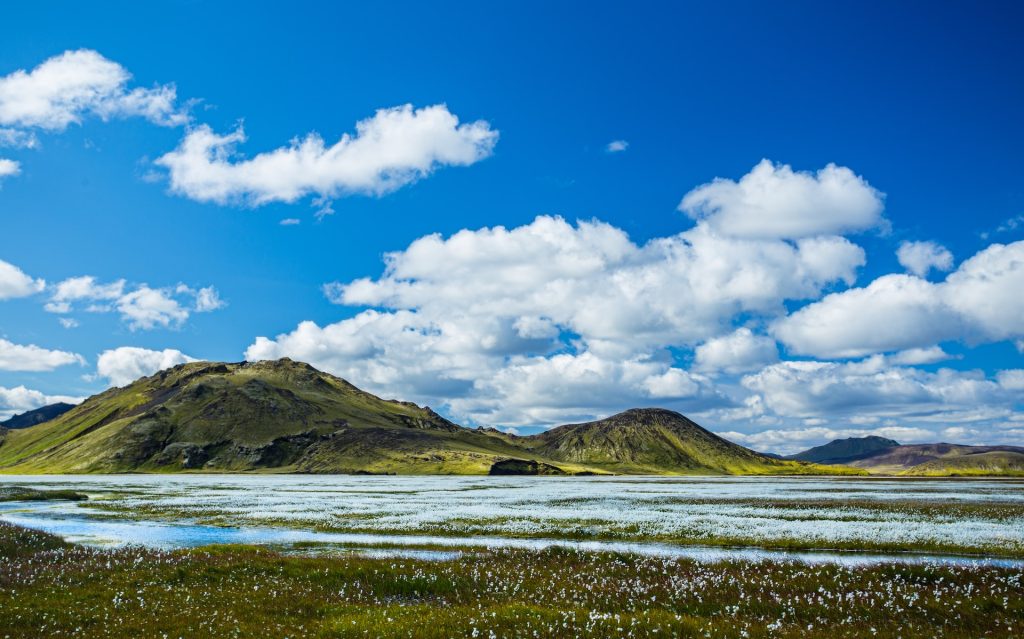 Can I drive myself?
That too isn't as straightforward an answer as you might like. The F roads leading to Landmannalaugar and the highlands in general aren't as smooth and well-maintained as, say, the ring road. They can be dirt tracks or gravel, sometimes severely rutted or potholed and may even require water crossings.
As you can appreciate, this doesn't make them suitable for all types of vehicles, even in summer. If you have chosen to rent a 2WD, then you can forget about driving yourself up to Landmannalaugar.
Instead, even if you are a confident and skilful driver, you are still going to need a high clearance 4WD SUV that's classed as capable of tackling these hazardous roads. Don't be tempted to wing it: if you damage a vehicle that isn't insured for these roads you'll be facing a pretty hefty bill.
You can reach Landmannalaugar from various directions. For instance, coming from the south, you could pick up the F208 heading northbound about half an hour east of Vik. The road is named the Fjallabaksleið Nyrðri. This route is a scenic one, with the option of hiking to waterfalls such as Huldufoss and Ófærufoss along the Eldgjá Canyon.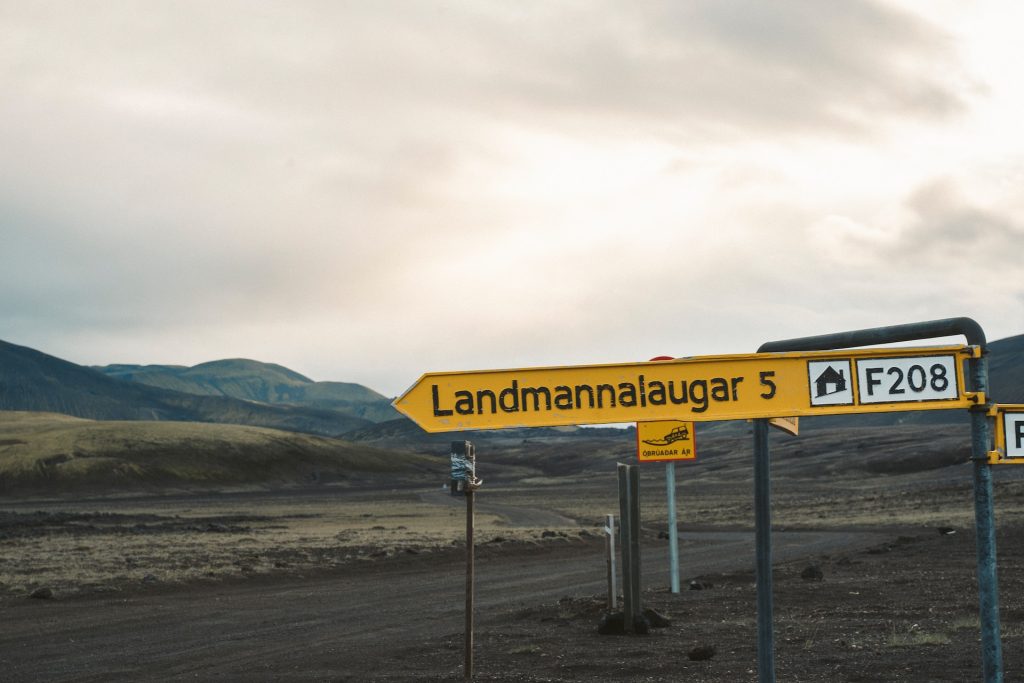 However, note that this is a challenging drive as it involves several river crossings where the water can be quite deep. It's vital that you read the small print in your rental agreement to make sure you understand the insurance coverage before setting out on a route such as this. Don't risk it if you're not covered.
Coming from the west via Routes 26 and F225, aka Landmannaleið, you'll find the road less extreme, though there's still a river crossing to navigate. Popular stops include Rauðfoss waterfall and the Ljötipollur Crater. The latter is a flooded explosion crater whose name translates as ugly puddle (though it's anything but ugly).
The final part of this route takes you down the F208 and then the F224 to get you to Landmannalaugar. There's a river crossing here too, but there's also parking so you can leave the car here and cross via a pedestrian bridge to reach the Landmannalaugar campsite if you need to.
Some travellers prefer to book super jeep tours, which typically run year-round, but this can be very expensive. There's another, more affordable, option, if you're keen to leave the driving to someone else for a day or more. Reykjavik Excursions operate a Highland Bus service between mid-June and mid-September.
This runs between Reykjavík and Landmannalaugar once a day, calling on the way at towns like Selfoss and Hella, and is the cheapest way of getting up there. If you return the same day, you'll get about four and a half hours up there, though this area rewards those who stay longer.
So, if you're keen to stay up there overnight, then perhaps you might prefer to tag on this part of your itinerary to the beginning or end of your trip. You can still use a rental car part for the rest of your tour where the roads are better.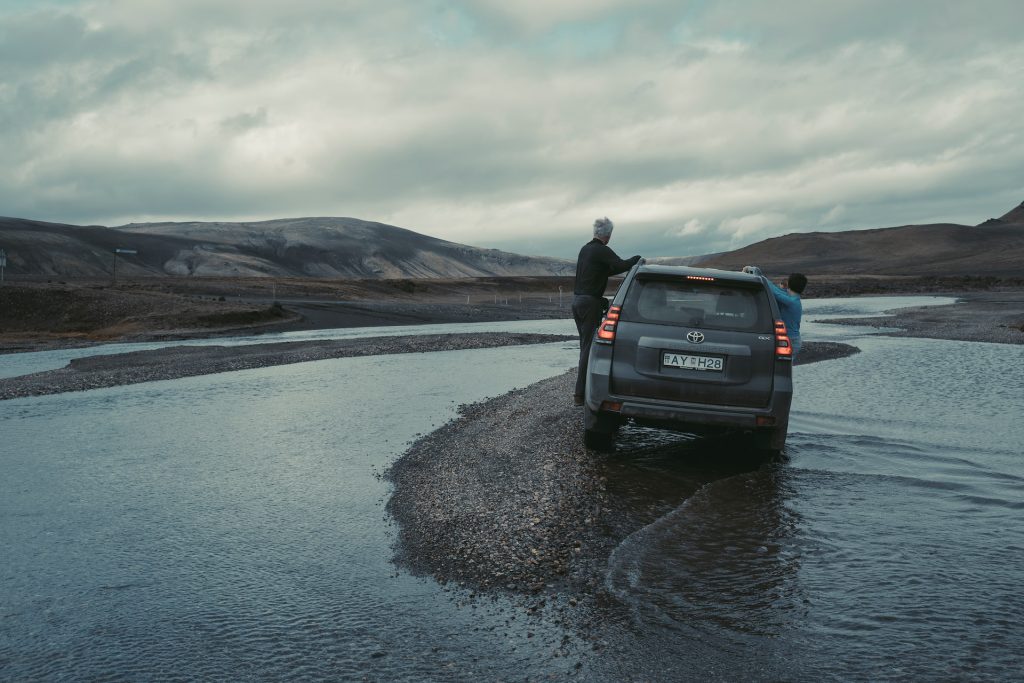 What is there to do and see at Landmannalaugar?
One of the main reasons people come to this part of the highlands is for the hiking trail and there are a plethora of trails to choose from. If you didn't already see it on the way in, the Ljötipollur Crater is possible, as is the Laugahraun lava field if you're keen to see a colourful volcano called Brennisteinsalda, whose name translates as sulphur wave.
As well as bearing sulphur stains, the rock has a reddish tinge due to the iron content and there's plenty of ash and moss about as well. This loop trail is a good way to get a feel for the volcanic landscape and appreciate the geothermal activity that continues to influence this part of Iceland. Nearby, you'll find Bláhnjúkur. If you climb this on a clear day you should be rewarded with views of multiple glaciers.
Experienced walkers might wish to combine Brennisteinsalda and Bláhnjúkur into one long day. Long distance hikers won't be able to resist tackling the Laugavegur Trail which links Landmannalaugar with Þórsmörk and Skógafoss waterfall to the south. It's not for the faint-hearted but it's a remarkable hike if you're fit and able to do it.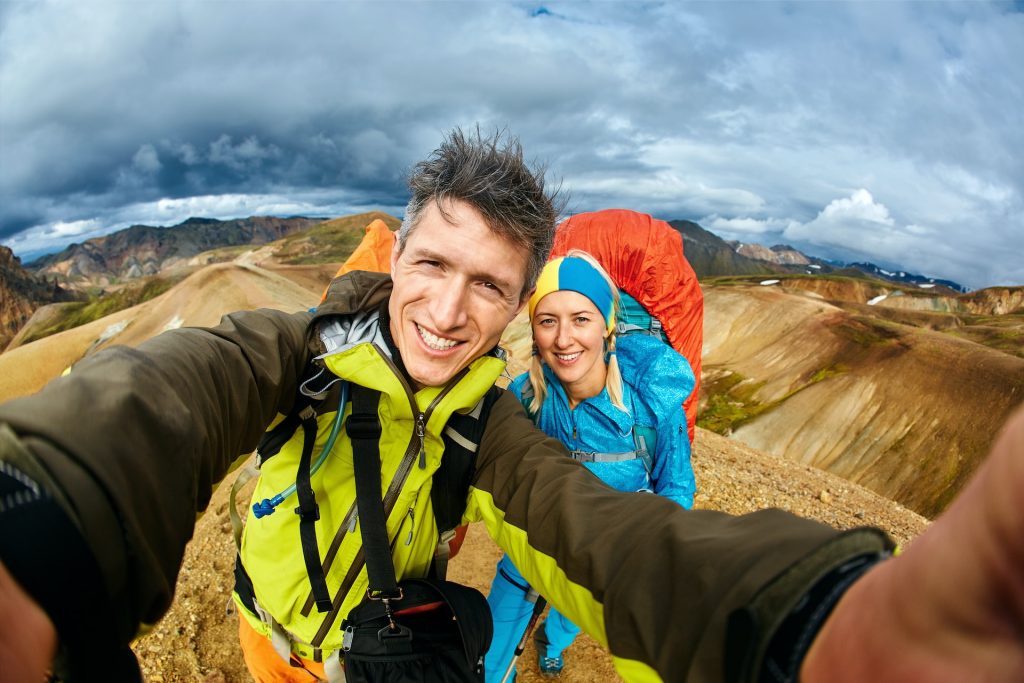 Horse riding is another possibility. If you're comfortable in the saddle, then why not book a horseback tour of Landmannalaugar? Typically such tours last five or six days and you'll need to be an experienced rider to cope with the long hours in the saddle.
This definitely isn't a ride that's suitable for a novice. You'll traverse a diverse range of landscapes including lava field, rhyolite mountains pastures and riverside trails, taking in sights such as Mount Hekla.
When you reach Landmannalaugar itself, you'll be able to soak in the warm water of its geothermal pool which will soothe any aching muscles. Wooden boardwalks lead over to the geothermal pools from the cabins and campsite area. It's one of the most iconic wild geothermal pools in the country and a must-do for any visitor.
The water's quite shallow and like any natural hot spring, the temperature can vary considerably in different parts of the pool so always employ an abundance of caution and never get into water if you're unsure of the temperature.
Catch and release fishing trips can also be arranged in this part of the highlands. You should have a reasonable chance of hooking Arctic char or brown trout. Choose your lake carefully; for example, both can be caught in Frostastaðavatn but you'll only find trout in Ljótapollur.
In winter, so long as you can get up here when the roads are closed (i.e. in a super jeep or by snowmobile), it's possible to ski. Trails lead into Landmannalaugar if you're an experienced cross-country skier. You'll need five-season gear and plenty of stamina.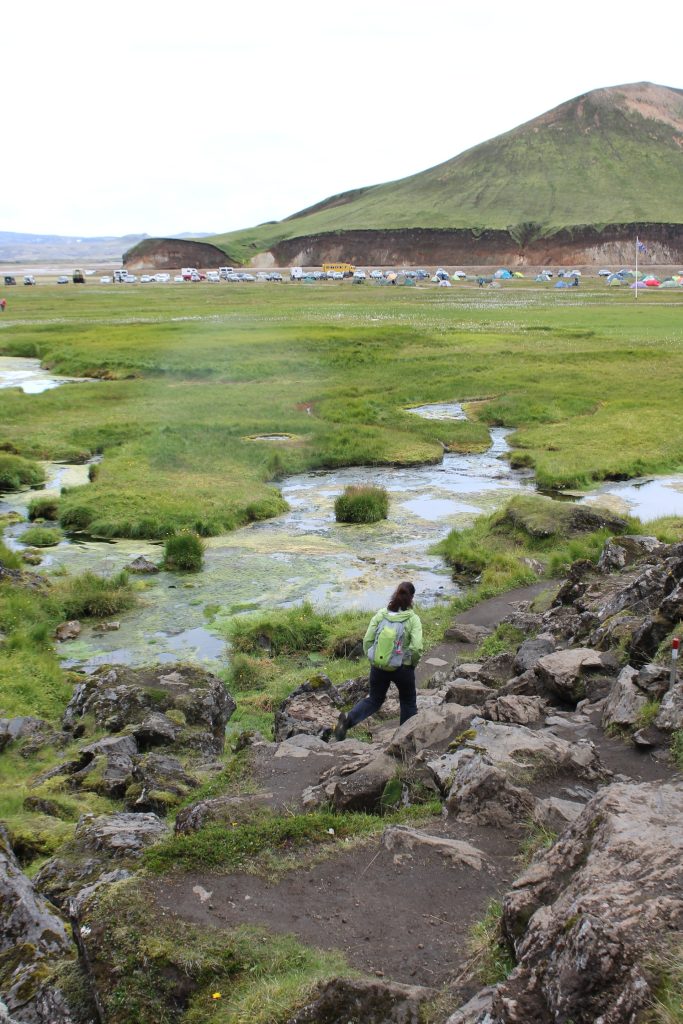 Where can I stay overnight or buy provisions?
It's possible to stay in the cabin (i.e. the mountain hut) building during the summer at Landmannalaugar. The cabin is run by the Íslands Tourist Association; it is large enough to sleep 78 people in four dorms (one large, three small) over two floors.
You'll sleep in a bunk bed; this is communal living and you'll need to bring your own sleeping bag. Prices vary according to which you book, though to get the best price you'll need to be a member of the Íslands Tourist Association as that qualifies you for a discount. Book in advance online. As well, there's a sizeable kitchen where you'll find gas and water as well as cutlery and tableware.
Camping pitches are also available at a much cheaper price – a bargain as they have a fabulous view of the mountains. The ground's hard and if you can't bang a tent peg in they'll lend you rocks instead. There's a separate toile block that can be used by anyone who's up here.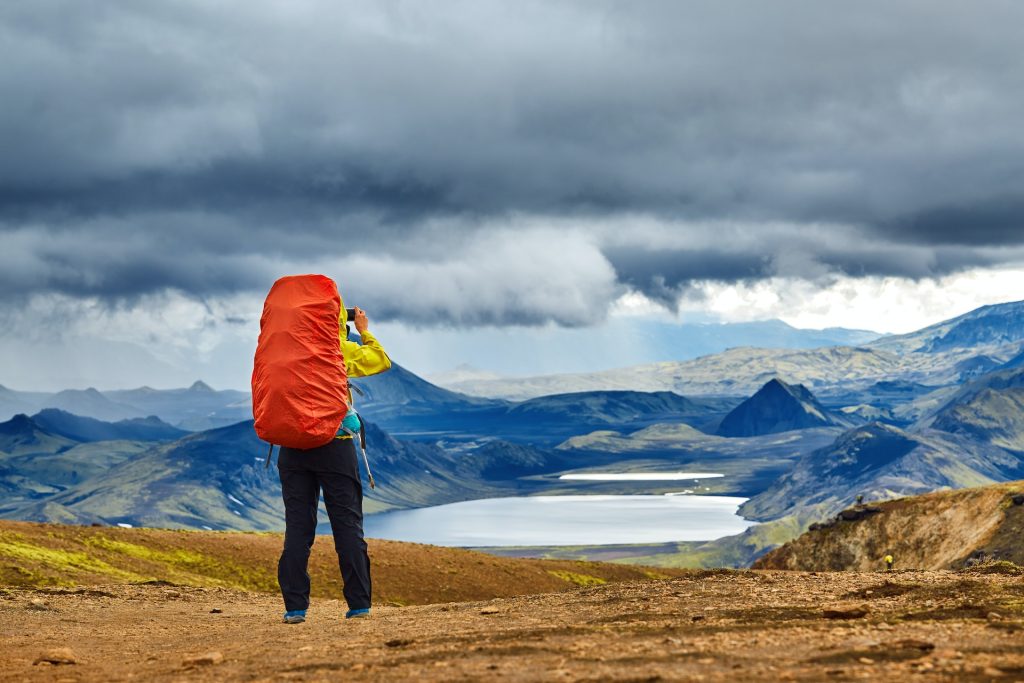 Note that day trip visitors need to pay a facility fee (which is included for overnight cabin visitors) to use the toilets, picnic benches and grills. However, showers are charged separately.
There's no restaurant up at Landmannalaugar so overnighters opt for self-catering out of necessity. Provisions can be purchased at what's affectionately known as the Mountain Mall. This is actually two repurposed buses that now serve as a supermarket during the summer peak season.
As well as food, you'll find portable barbecues, toiletries, towels, clothing such as gloves, hats and ponchos – all the basic necessities if you're feeling peckish or have been caught out by Iceland's notoriously changeable weather conditions. The Mountain Mall also doubles as a café if you're in need of a hot drink.
Are you tempted to visit? Landmannalaugar – not to mention the highlands in general – is truly epic. Relatively few travellers have the privilege of visiting this extraordinary place so if you're lucky enough to have the opportunity, you should definitely slot it in to your Icelandic road trip itinerary. Why not take a look at the cars available from Firefly and get started on your preparations right now?