Iceland becomes a winter wonderland in December. Black sand beaches coated in a light layer of snow, frozen waterfalls, and pop-up blizzards may all make an appearance on your trip.
Visitors willing to brave the cold will be well rewarded with the chance to see Iceland's stunning landscapes encased in ice and snow. They'll also likely have all the major sites to themselves. Another factor to contend with for December in Iceland is that the country comes alive with Christmas festivities!
This is everything you need to know about visiting Iceland in December.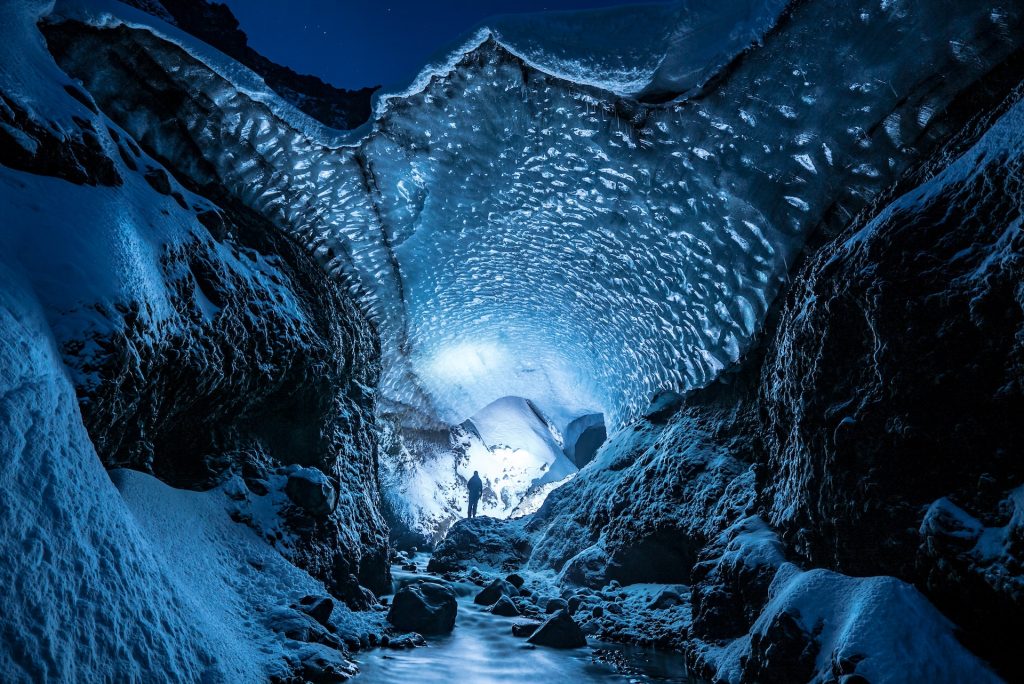 What is the weather in Iceland in December?
December is the heart of winter in Iceland. Believe it or not, this is the snowiest, darkest month of the entire year.With over 20 inches of snow on average and yet, still almost 3 inches of rain, you can imagine that things get a little dicey when it comes to the weather.
Embrace the Chill
The cold is a part of the Icelandic experience in December. While it might be chilly, the frost-covered landscapes provide a unique, picturesque view that you won't find during other times of the year.
Temperatures only reach a high of 37°F (2.7°C) and a low of 28°F (-2.2°C), but can plummet even further depending on the weather. Sunlight maxes out at just four hours a day in December with the sun rising in Reykjavik at 11:00 am and setting between 4:00 and 5:00 pm (14:00 and 15:00). In general, December in Iceland have the shortest days of the year in Iceland.
Driving conditions will begin to be treacherous on some roads. It's recommended to rent a 4×4 vehicle and to put snow chains on your tires if you plan on driving far.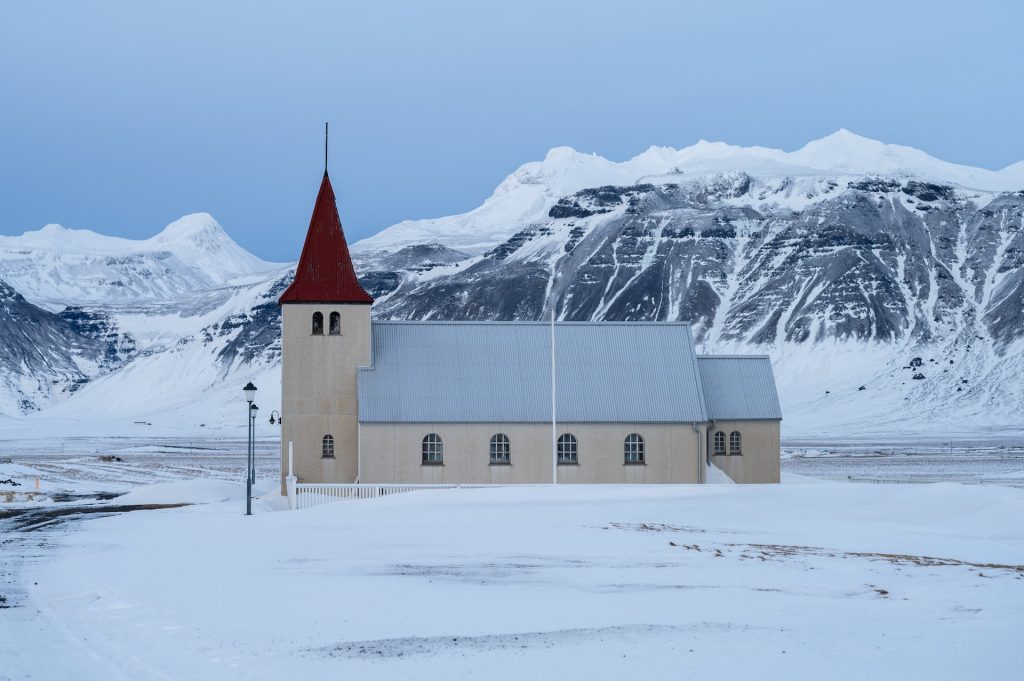 What to Wear in Iceland in December
December in Iceland is downright frigid. You'll need to pack accordingly to stay toasty warm for a trip during this month.
All the winter essentials like a hat, gloves, and scarf are must haves. Waterproof, insulated coats that extend down to your knees are ideal for keeping the biting wind at bay.
Layer Up!
Layering is crucial when visiting Iceland in December. Consider packing a mix of merino wool and synthetic clothing. These materials are not only warm but also quick drying which is a bonus in the damp weather.
As far as shoes go you'll need waterproof, preferably insulated boots. Even in Reykjavik, the snow can pile up and normal tennis shoes simply won't cut it. Also consider bringing along a thermal base layer, ideal for keeping your core body in.
Can you see the northern lights in Iceland in December?
Can you see the northern lights in Iceland in December? Absolutely!
December is one of the best months for viewing the northern lights. While witnessing this verdant blazes of light dance across the sky is subject to solar activity and weather conditions, December's darkness brings about excellent conditions for seeing the aurora borealis. Cold weather often means clear skies, at least while the snow holds off. Pair this with a location far from light pollution and you just might see them dancing above your head.
Tip: Booking a guided Northern Lights tour can increase your chances of a sighting. Local experts know the best locations and times to catch this spectacular phenomenon.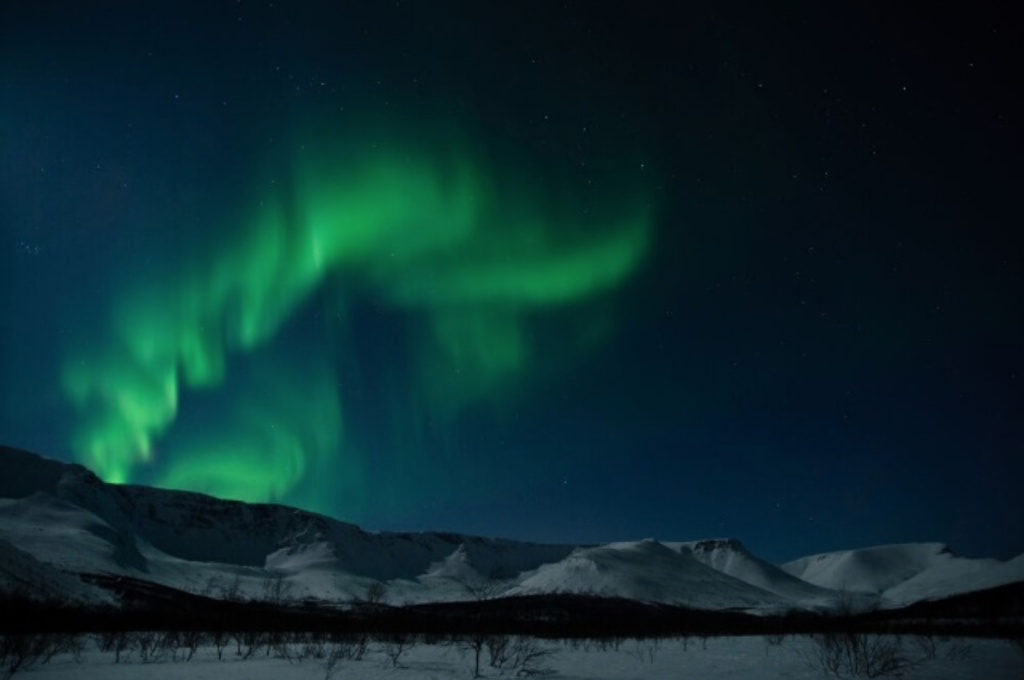 Best Things to Do in Iceland in December
On first glance December might seem like a bad time to visit the Land of Fire and Ice. Snow starts to cover the streets and darkness seems to engulf this small island country. What most visitors don't realize is that life doesn't stop in Iceland because of the cold!
Here are some of the best things to do in Iceland in December.
1. Christmas in Iceland
December is a time of celebration in Iceland as the Christmas season begins. Reykjavik, the country's capital, becomes a shimmering beacon with Christmas lights adorning the streets, houses, and public spaces, creating a magical ambiance that can captivate anyone.
Reykjavik comes alive with Christmas festivities like their Christmas Markets, which are a treasure trove of handcrafted goods, festive treats, and the aroma of mulled wine. Delicious Christmas Buffets offer an array of traditional Icelandic dishes, providing visitors an opportunity to indulge in local culinary delights.
Yet, the celebrations don't just stop at Christmas. As December draws to a close, Icelanders eagerly await New Year's Eve. This night is marked by an astounding display of fireworks, especially in Reykjavik. Almost every Icelander lights up the sky with fireworks, turning the city into a mesmerizing display of colors. After the fireworks, families and friends gather to enjoy the first morning of the New Year together, often sharing stories, laughter, and hopes for the year ahead.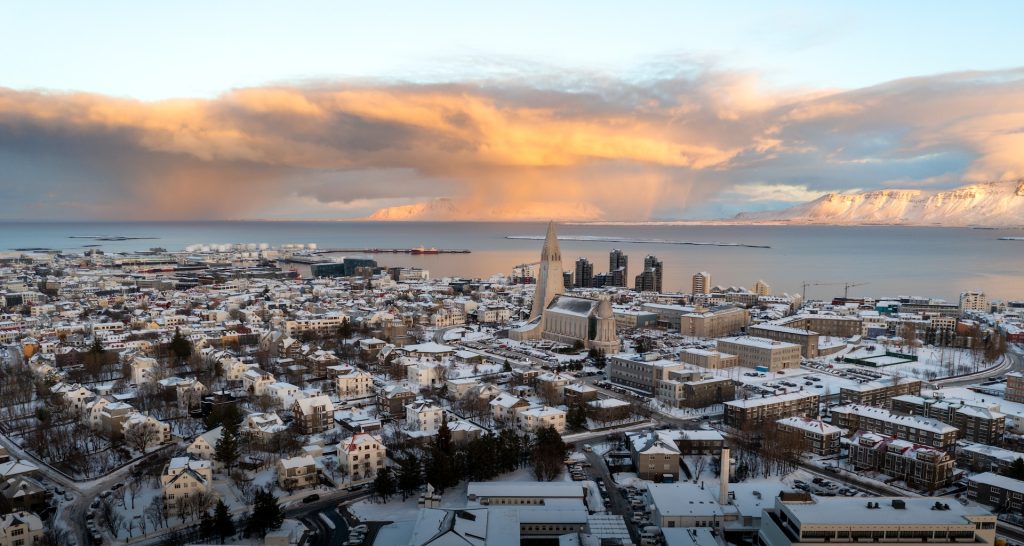 And it wouldn't be Iceland if trolls didn't make an appearance for the holiday season. Keep your eyes peeled for the mischievous Yule Lads who are said to cause mayhem around town starting on December 11th. These 13 cheeky troll brothers each have their distinct personalities, and children eagerly await their antics.
As you stroll through the streets, the twinkling Christmas lights, the warmth of the Icelandic people, and the festive atmosphere make December an enchanting time to visit. Be sure to call out"Gledileg jol!", which means 'Merry Christmas', to passersby during this festive time of year.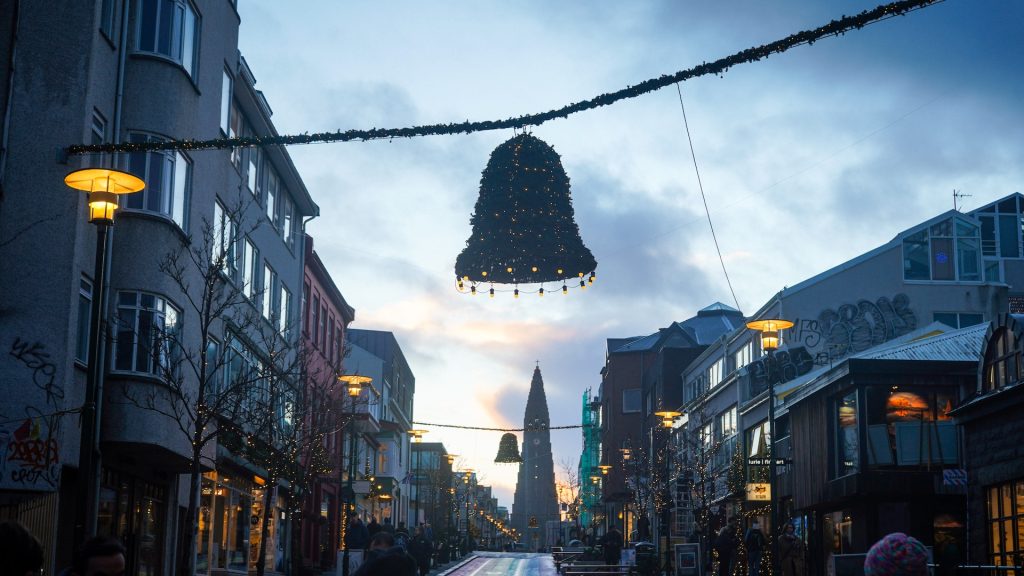 2. Glacier Hiking & Ice Caves
Winter in Iceland might get a bad rap for having wild weather but it's the only time of year you can experience the country's ice caves! Hike down into a slit in a nearby glacier to reveal a snowglobe of aqua colored icy caverns, carved by glacial streams during the summer months.
If you'd rather experience the glacier without going subterranean you can also add a glacier trek to your itinerary, only possible with a guide. With crampons and ice axes in hand, you'll have an incredible time picking your way across the Icelandic landscape.
3. Road Trip Route 1
Iceland's Route 1 is a circular loop around the country and the perfect road trip for those who rent their own set of wheels. Many of the popular attractions will be virtually deserted in the winter months. With only a few hours of daylight, hiring a rental car also means that you'll have the ability to see as many sights as possible within a small window of time.
The entirety of the Ring Road can be driven in 17 hours but you'll want to plan for at least a week if you intend to circumnavigate the entire island.
Limited daylight hours and intense winter weather means that driving around Iceland in December isn't for the faint of heart. While it's entirely possible to do so, you'll need a 4×4 vehicle as well as snow chains for added safety. Keep up to date on Iceland's weather conditions and road closures on their official website.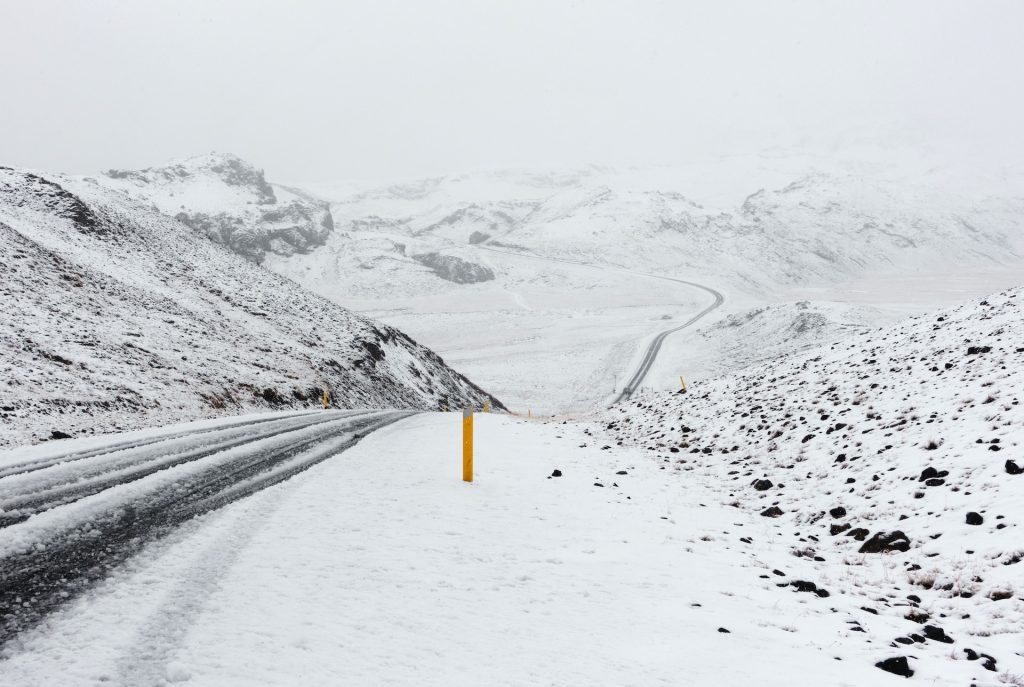 4. Relax in a Geothermal hot springs
After a chilly day of exploring, Iceland offers a plethora of rejuvenating geothermal experiences to warm you up. One of the most iconic and sought-after destinations is the Blue Lagoon. Nestled between Keflavik Airport and Reykjavik, this geothermal spa is renowned for its milky-blue waters, rich in minerals like silica and sulfur. Not only is it a perfect retreat for relaxation, but the mineral-rich waters are known to have healing properties, especially beneficial for the skin.
However, if you're looking to experience geothermal waters more like a local, then Reykjavik and other towns have numerous local swimming pools. Often heated with geothermal energy, these pools are not just for exercise but are a central part of Icelandic culture, a place where people come to socialize, relax, and unwind. Unlike the Blue Lagoon, these pools offer a more authentic experience, allowing you to mingle with locals and understand their way of life. Whether it's taking a dip in an outdoor heated pool while snowflakes gently descend from the sky or chatting with residents in a steamy hot tub, these local pools offer a unique and memorable Icelandic experience.
So, whether you opt for the luxurious ambiance of the Blue Lagoon or the local charm of community swimming pools, Iceland's geothermal waters are sure to provide a soothing antidote to the December cold.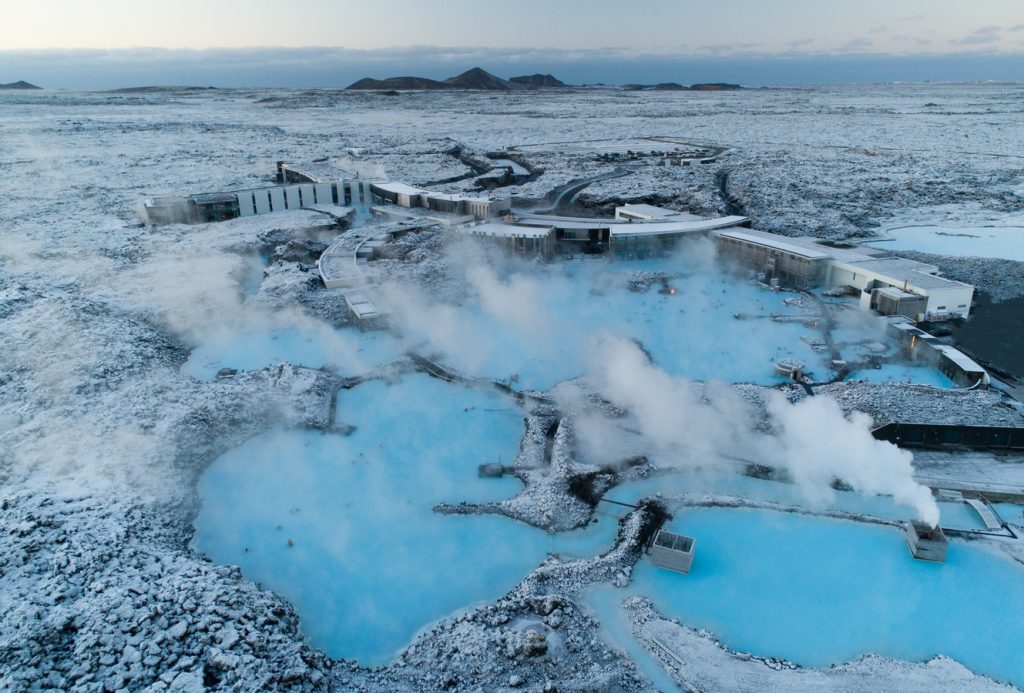 5 Explore the Golden Circle
One of the most iconic and recommended activities when visiting Iceland, especially in December, is exploring the Golden Circle. This popular route offers a spectacular showcase of the country's natural wonders and geological marvels, all within a day's drive from Reykjavik.
The first stop typically is Thingvellir National Park, one of Iceland's most significant national parks both historically and geographically. Not only is it the birthplace of the Icelandic parliament (established in 930 AD), but it's also where the North American and Eurasian tectonic plates meet. During December, the snow-covered landscapes of Thingvellir provide a picturesque setting, turning the park into a winter wonderland.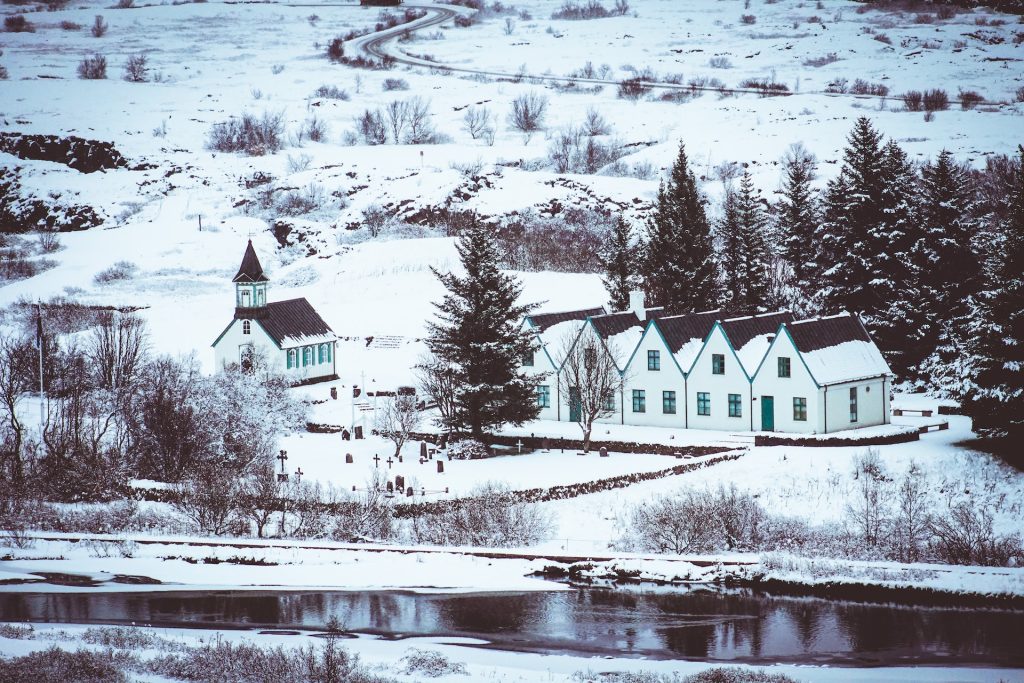 Next, travelers can marvel at the power and beauty of Gullfoss Waterfall. In the colder months, parts of this majestic waterfall might be frozen, giving it a unique, icy charm. The roaring waters cascading down the two-tiered falls with the surrounding snow creates a stark contrast and is truly a sight to behold.
The Golden Circle also features geothermal areas with bubbling mud pools and erupting geysers, offering a surreal experience against the backdrop of the December chill.
Embarking on a journey through the Golden Circle in December provides a unique perspective of these sites, as the snow and ice transform them into enchanting winter scenes. Plus, with fewer tourists during this time, you can enjoy a more serene and personal experience.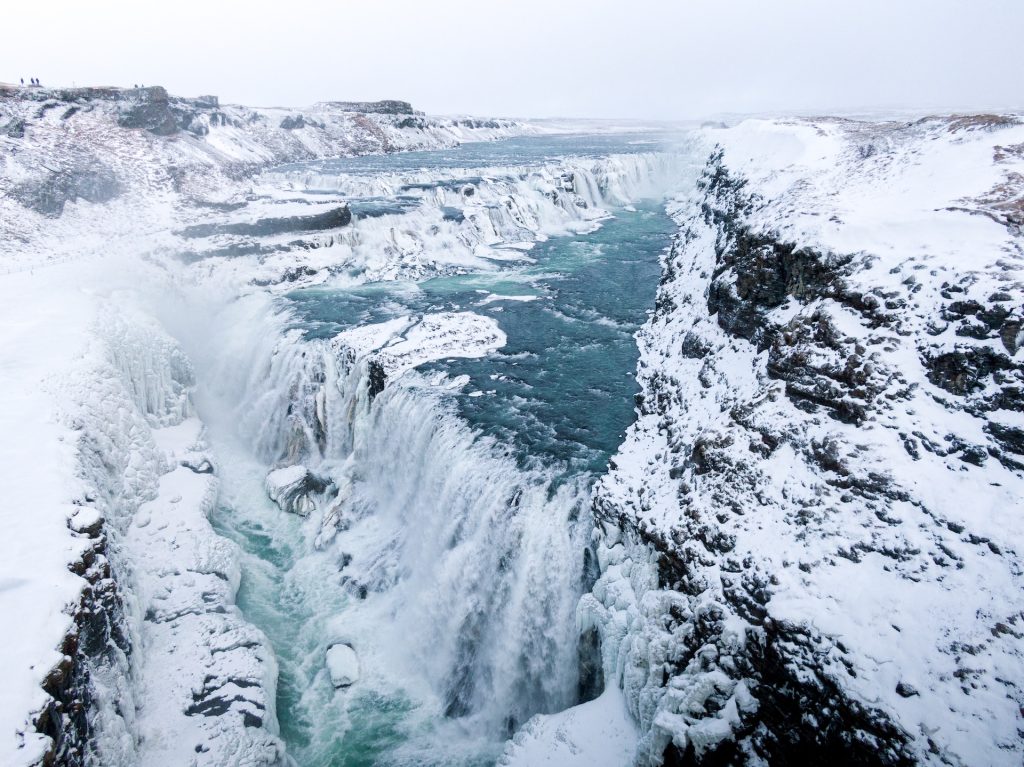 Iceland in December self-drive travel guide
Overall, December is a great time to visit Iceland. Christmas cheer is in the air and festivities are taking place and Iceland has thoroughly transformed into a winter wonderland. There's no better way to see Iceland, even in December, than by renting a car.
Not only will it afford you the freedom to utilize your few hours of daylight wisely but it can also be a great way to chase the northern lights. Book your rental car with Firefly Iceland Car Rentals for the best rates in the country.
Don't forget to plan Ahead!
If you're considering a self-drive trip, planning your routes in advance and checking daily weather and road conditions is crucial. While the freedom of a road trip is exhilarating, Iceland's winter weather can be unpredictable, so safety should always be a top priority.