In our previous blog we wrote about the Silfra Rift which is a great spot to go snorkelling in crystal clear water between tectonic plates, but this is also a common place to go scuba diving too. In this blog we will point out some places and tours that are great fun to scuba dive – some of which with an interesting twist that makes for a great afternoon.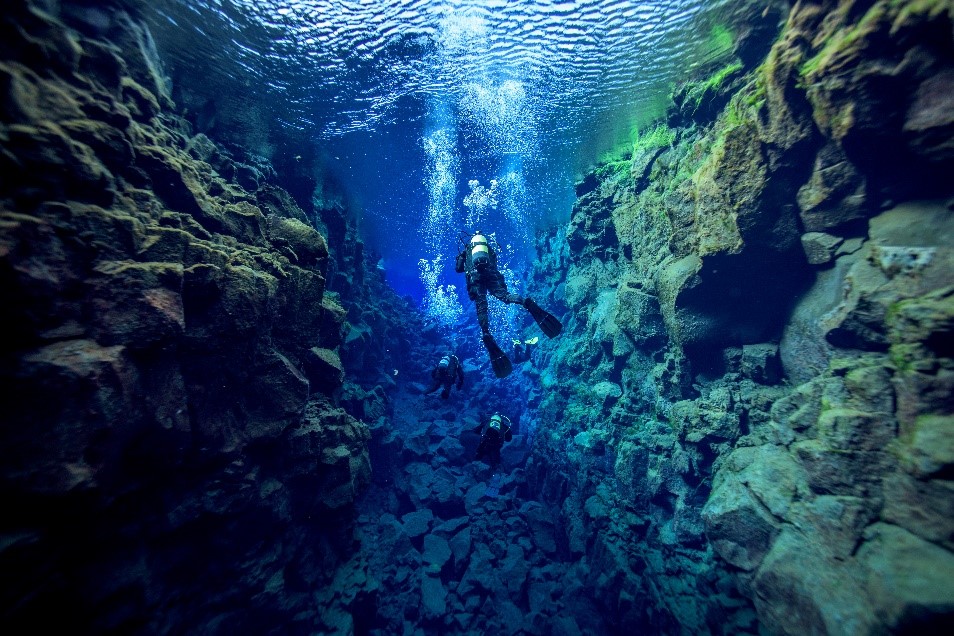 The Westfjords are well known for their fishing villages and the waters in this area are great for finding scallops, mussels and urchins. Dive Westfjords in Isafjöður offers gourmet tours in a choice of multiple locations such as Seyðisfjörður, Dýrafjörður, Arnarfjöður and Skutulsfjöður for you to collect a variety of these aquatic delicacies and then they will cook them barbeque style. If shellfish isn't to your taste then they will prepare a traditional Icelandic fish soup to warm you up after your cold water dive. For this tour no experience is required, other tours for more qualified divers with experience is available, one of which takes you under the Mjóifjöður bridge ending with a dip in a geothermal pool in Reykjanes.
In Seyðisfjöður there is a famous diving site to explore a shipwreck sunk by German fighter pilots in World War 2 called El Grillo. El Grillo was a British oil tanker sunk in 1944 on one of the few occasions that any fighting reached Iceland's shores, there were no casualties on the ship.
Arguably saving the best for last, there is the spectacular Strýtan geothermal vent. Right in the middle of Eyjafjörður fjord, near Akureyri, Strýtan is a unique limestone geothermal vent that has built a huge natural underwater tower over the past 11,000 years. It is a protected site and divers must, by law, have an official guide. But it's worth it!