When it comes to canyons, Iceland punches above its weight. These beautiful steep-sided valleys entice visitors away from the road and into the countryside – and with good reason. Often remote and unspoilt, sometimes fragile and always breathtaking, they lead to interesting rock formations and hidden waterfalls.
While many of Iceland's canyons are deserving highlights of a well-trodden tourist circuit, others – even in the popular south – are definitely what you'd describe as off the beaten track. They are easily reached in a rental car, with ample parking in most cases. When you're ready to lace up your walking boots and park up for a while, here's our guide to the best canyon trails if you're planning to go hiking in Iceland.
Stuðlagil
If Icelanders tell you Stuðlagil is a hidden canyon, they're almost being literal. This extraordinary gorge was invisible for many years, largely concealed beneath the water of the Jökulsá á Dal River. Then something happened which would alter the landscape forever. Upstream, engineers built a dam to facilitate a hydroelectric power station. The dam held the river back, leading to a significant drop in the water level further along its course. The sides of this newly revealed canyon are columnar basalt, whose rusty iron oxide coating enhances the charcoal grey beneath. But striking though the rocks are, it's the water itself that has the wow factor, thanks to the vivid turquoise hue you'll see almost all year.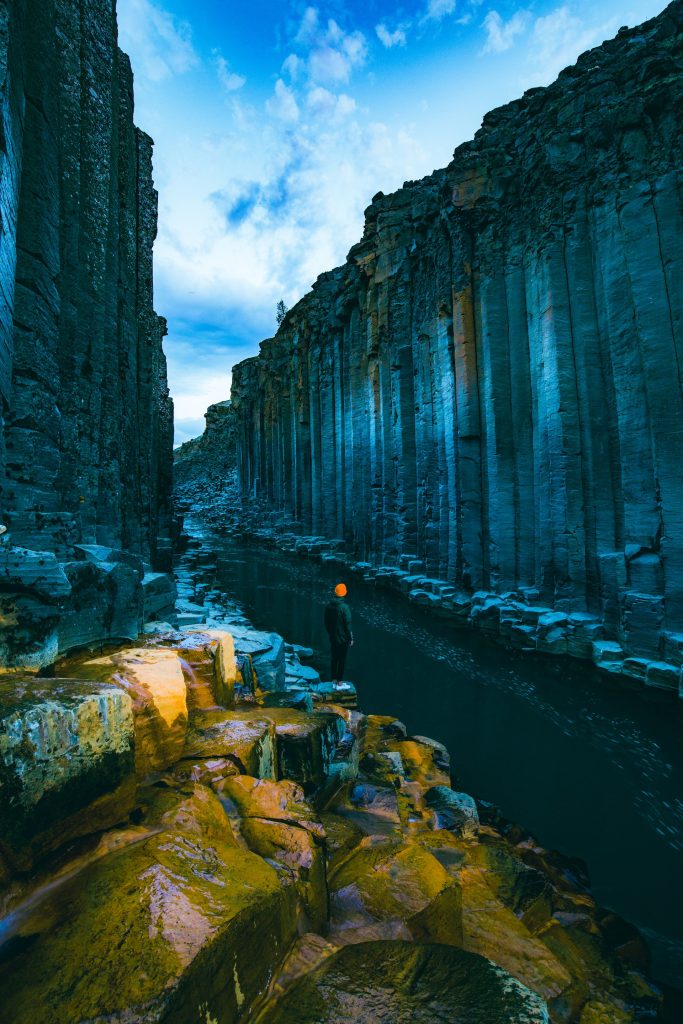 Hikers can see it from both sides. Option one is an easy stroll from the car park to a metal staircase and viewing platform on the west bank. However, if you're up for a longer hike, there's a car park a little closer to the main road. Cross the bridge; a gravel path leads gently uphill. After a while you'll need to ford a shallow stream caused by the Stuðlafoss waterfall but after that it's flat level ground across a grassy meadow. After a few kilometres, scramble down natural steps in the basalt to the water's edge. The water has eroded the hexagonal rocks into a makeshift platform, giving you a different perspective on this remarkable canyon. On a sunny day, there's no prettier canyon in the country, so make sure your camera battery is fully charged as you're going to want to take a lot of souvenir snaps.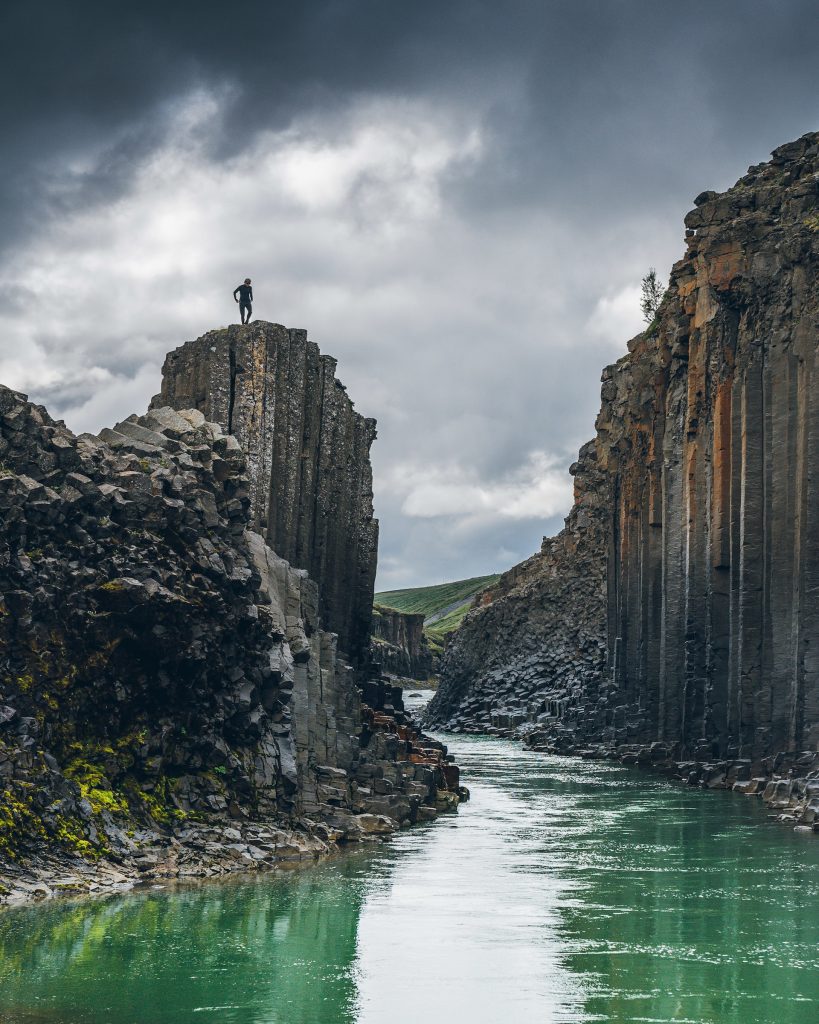 Almannagjá
Almannagjá is one of the most visited canyons in Iceland, though you might not know its name. In fact, it's the path you'd follow if you visit Thingvellir National Park. Though it's not hard to find a Golden Circle tour, driving yourself in your rental car gives you the freedom to spend as much time as you like here. This gorge forms part of the plate boundary that runs across Iceland from the south-west to the north-east. It's where two giant tectonic plates, the North American and the Eurasian, are creeping apart, though this happens at an imperceptible rate so you won't see or feel it happening beneath your feet. Nevertheless, the rift in the landscape is clear evidence that a great deal of movement has taken place in the past, while scientific monitoring proves such processes are ongoing.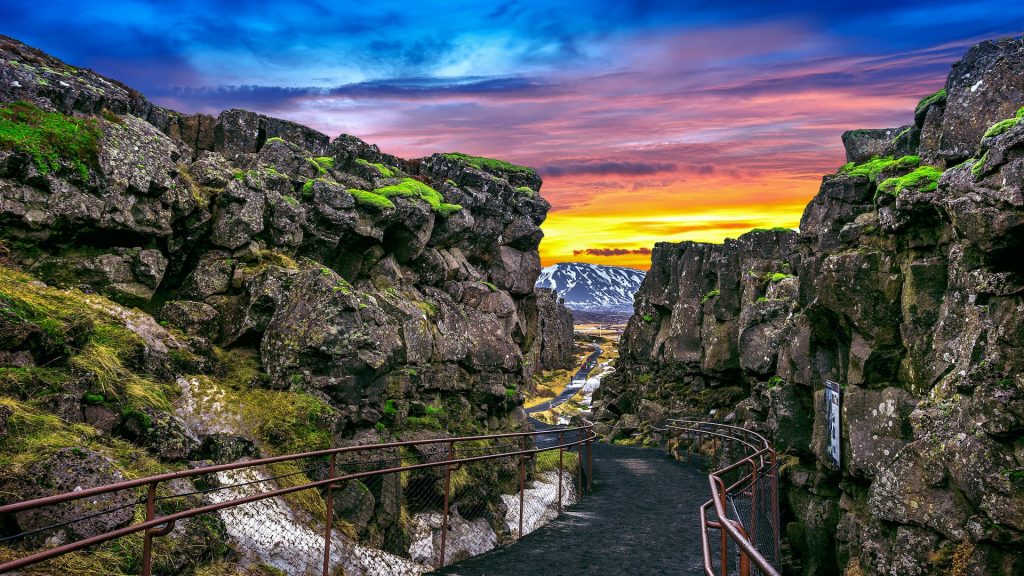 What you will see, however, is some of Iceland's most dramatic scenery as the west walls of the canyon tower beside you. To the east, the rocks aren't as high, and the magnificent view over the countryside below is one of the best in the country. As well as being an important place geologically, Almannagjá also has cultural significance. For hundreds of years, this was where the lawmakers of the Althing, Iceland's ancient parliament, met to steer the course of the country's history. Hike out and back along the canyon to visit Öxarárfoss, a small but impressive waterfall.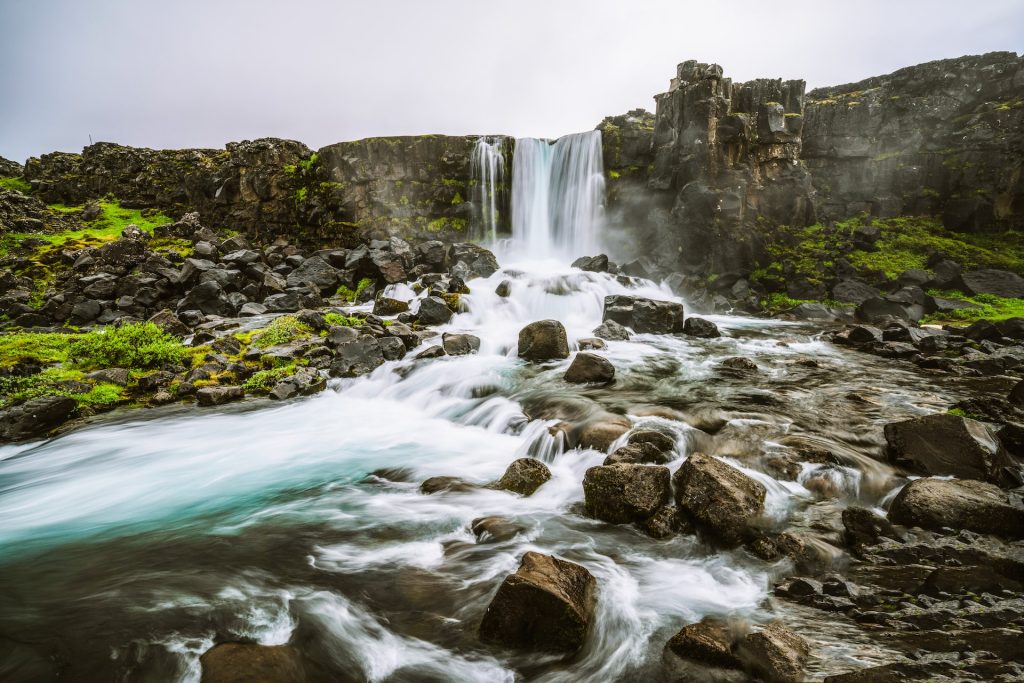 Fjaðrárgljúfur
Pop fans may know this as Justin Bieber Canyon after the Canadian star recorded a music video here a few years ago for a song called "I'll Show You". Located close to Kirkjubæjarklaustur in the south east of the country, it's an easy detour from the ring road on well maintained gravel. From the car park, a trail winds up the side of the canyon, offering a bird's eye view down to the snaking stream below. Hike far enough along the path and you'll come to a picturesque waterfall. Alternatively, walk down to the bridge where you can see along the canyon at water level.
This place owes its existence to ice, as glacial meltwater has eroded its tuff walls over many thousands of years. At their greatest, they rise over 100 metres above the canyon floor, creating an incredible cleft in the earth. The river winds in snake-like fashion around truncated spurs. Thanks in part to their moss-covered surface, often damp with rain or dew, this canyon looks like it belongs in a fairytale. However, the vegetation covering the rocks is extremely fragile and so this canyon closes periodically to allow nature time to regenerate.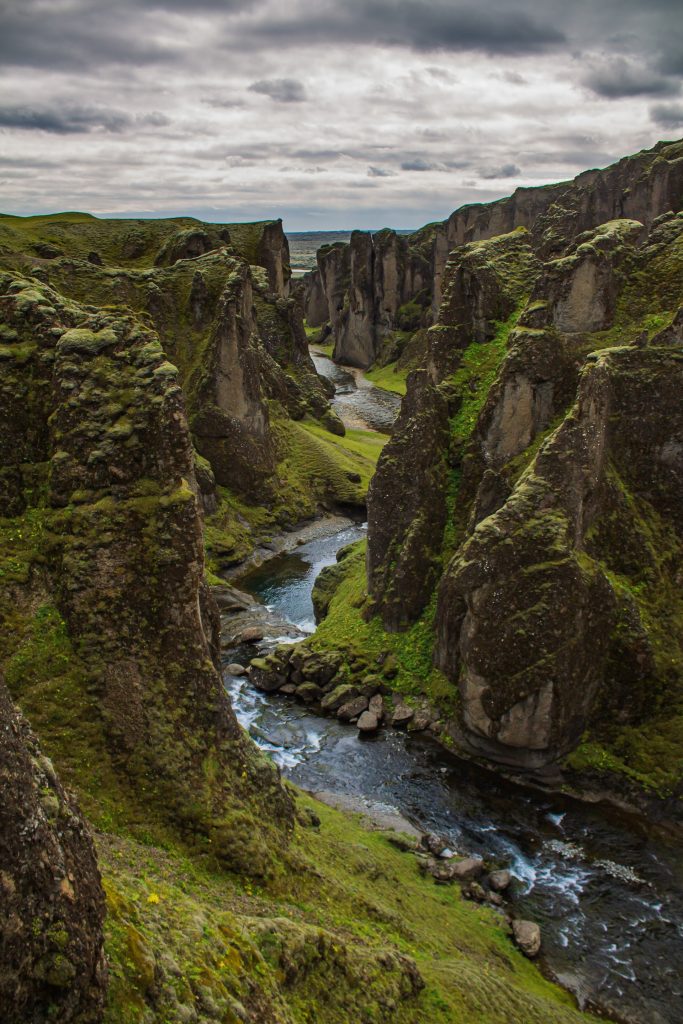 Sigöldugljúfur
Like Stuðlagil, Sigöldugljúfur is another canyon in Iceland that has been revealed as a result of hydroelectric power station construction. Here, a dam interrupts the flow of the Tungnaá River to create a reservoir that helps generate around 70% of Iceland's renewable energy. The result is a gorgeous canyon with multiple waterfalls tumbling over its steep walls. It's these multiple drops that give it the nickname Valley of Tears. The contrast between the bright turquoise of the water and the verdant green vegetation on the canyon's sloping sides is extraordinarily beautiful even by Icelandic standards.
Located in the highlands of Iceland, this canyon is accessible during the summer months when the interior's F-roads aren't off-limits. To reach it, you'll need a 4×4 as the road is uneven and gravelled in places. The out and back hike to the rim of the canyon takes only around half an hour but you'll most likely be keen to walk further to see a bit more. Hike towards the power plant to get a better view of Sigoldufoss, the main waterfall at the head of the gorge. Note that water is sometimes released along the gorge so hiking at river level isn't recommended. Jump back in the car and continue along the F208 if you want to combine your visit with Landmannalaugar.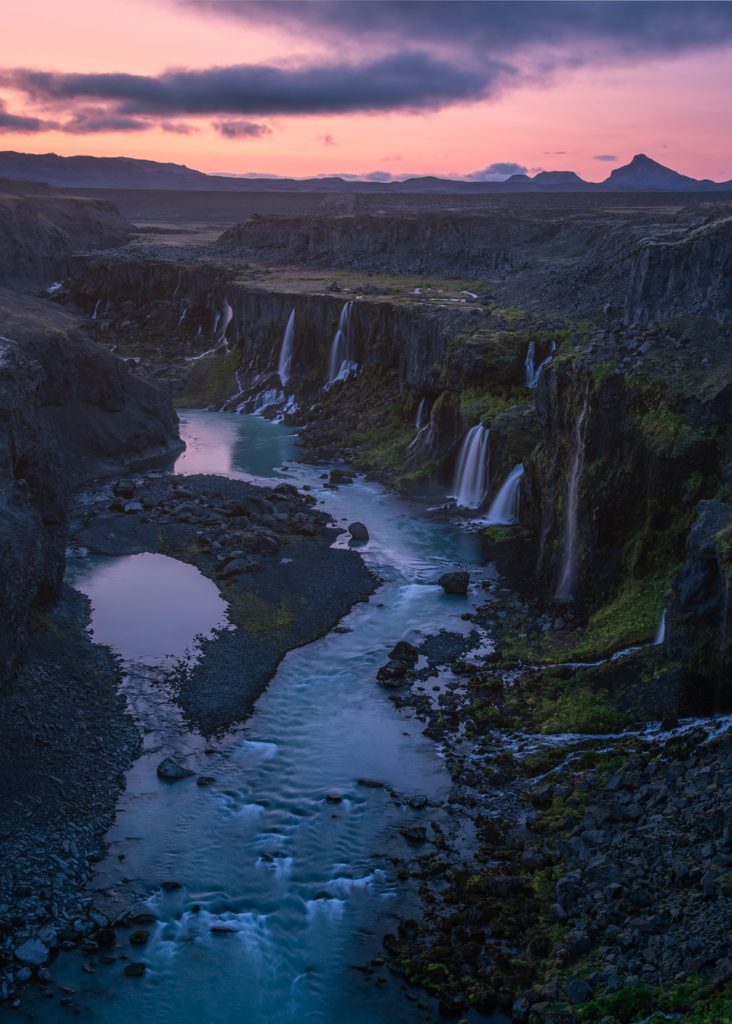 Stakkholtsgjá
Canyons in Iceland make photogenic filming locations, like this one that featured in the hit TV series Game of Thrones. Fans will recognise it as the place that Jon Snow tried to capture a Wight to prove the existence of the White Walkers. The film crew found working in this location quite tricky because of the wintry conditions but luckily, Stakkholtsgjá is just as breathtaking without a covering of snow and ice. It's one of the undisputed highlights of the Þórsmörk Nature Reserve.
Getting to this remote location, even in summer, requires a high clearance vehicle that can cope with the potentially treacherous river crossings you'll need to navigate along the way. Driving along this road, the F249 or Þórsmerkurvegur, isn't suitable for rental cars and should not be considered a self-drive excursion for safety reasons. Instead, tours depart from Reykjavik or the south coast, so meet your guide there. However, the hike itself isn't especially challenging, a relatively short 2 km trail that can be completed in a couple of hours each way. Much of it is flat enough to be family-friendly, though it can get very slippery so caution is advised. Towering palagonite cliffs covered with moss flank the canyon. Rising to a height of about 100 metres, they dwarf hikers as they pick their way alongside a tumbling stream. At the far end of the canyon, the path peters out, ending at a waterfall enclosed by a cave.
Related reading: Top 10 movie locations to visit on your Iceland self-drive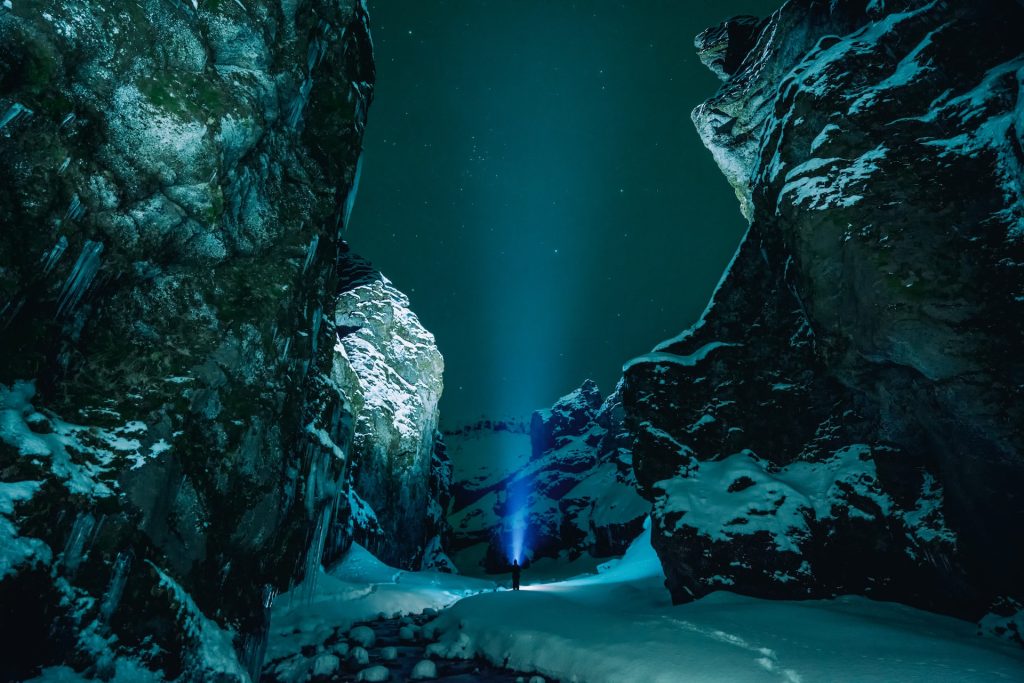 Nauthúsagil
In summer, equipped with a 4×4, it is possible to reach another of Þórsmörk's spectacular canyons – Iceland really does have them in abundance. Follow the same route along the 249 and then the F249 as you would have done for Stakkholtsgjá, but for Nauthúsagil, you'll park up before you have to cross any rivers making this an option for 4×4 self-drivers. The name of this place translates as Bull Shed Ravine, thought to be because it formed part of a farm in the 18th century where bulls were put out to pasture. Steep and narrow, some of its beauty comes from the rowan trees that arch over the rock, forming a kind of roof that provides dappled shade on a sunny day.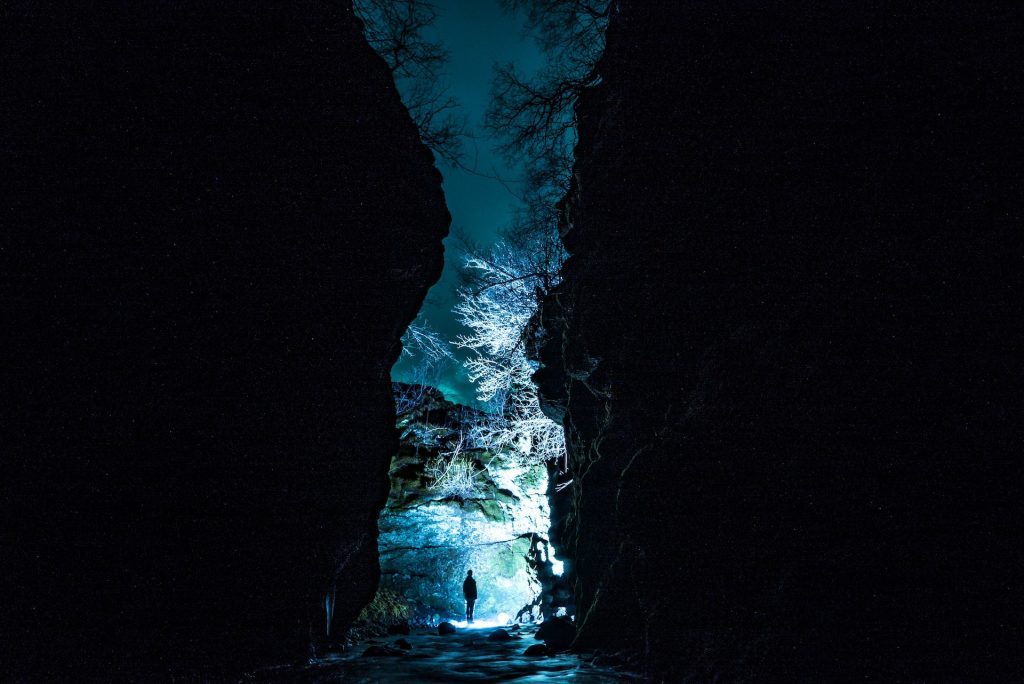 Jökulsárgljúfur (including Ásbyrgi)
This canyon isn't Iceland's most famous but chances are you'll have heard of at least one of its waterfalls. Jökulsárgljúfur is the gorge in which you'll find Dettifoss, the country's largest waterfall and by volume the second biggest in Europe. It's one of the standout attractions of North Iceland's Diamond Circle driving route. If you're looking for a great place to stretch your legs, this is the spot. Leave your rental in the car park on either side (or both) and make your way along the river bank on foot. The sight and sound of so much turbulent grey water is a jaw-dropping sight – no surprise when you realise that Vatnajökull's meltwater feeds the Jökulsá á Fjöllum River. There's another, smaller waterfall close by and so it's worth taking a walk over to Selfoss to see its own 11 metre drop.
If you're up for a mammoth hike, then arrive on foot. Follow the trail that connects Dettifoss to Ásbyrgi. This horseshoe shaped landmark is itself a must-see canyon. This unusual landform could be as much as 10 million years old and is thought to owe its existence to the erosion caused by floodwaters created by a volcanic eruption. Hike within its walls and explore a birch and willow forest home to Arctic foxes as well as its rocky centrepiece, Eyjan or The Island. Ásbyrgi is the starting point for a route which follows the Jökulsá River and its shallow tributary Stallá – hikers must wade across the latter – before following the Hafragil ravine to journey's end at Dettifoss. Even if you don't walk the whole length, it's worth setting your sights on Hjlóðaklettur, whose nickname is the Rock of Echoes. Located at the entrance to Vesturdalur, the columns and caves play around with the wind, carrying sound in a most unusual way.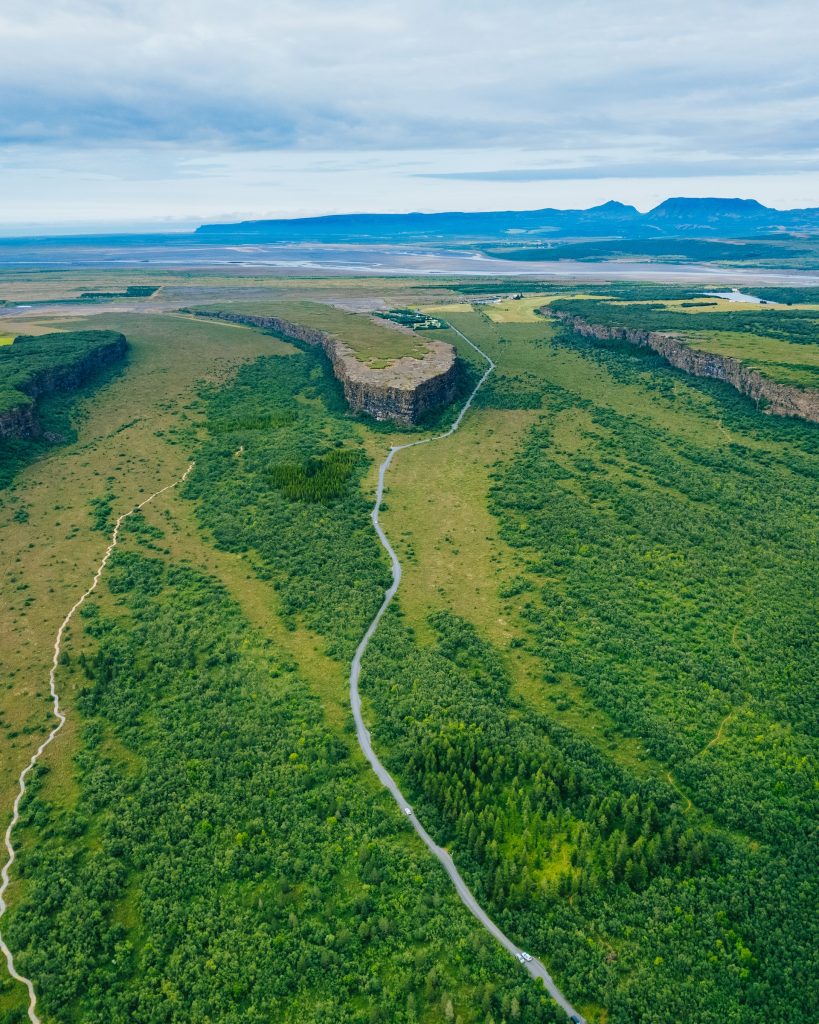 Múlagljúfur
Our final pick is Múlagljúfur, which you'll find in the south of the country close to Jökulsárlón and Fjallsárlón glacier lagoons. Pop it in your Sat Nav and pull off the ring road to follow a gravel road to the trailhead. The hike itself is a relatively easy 5 mile return trip on a poorly signed but clearly visible path. In theory you can knock it out in a couple of hours, but with scenery this impressive you'll need to allow plenty of time for stops.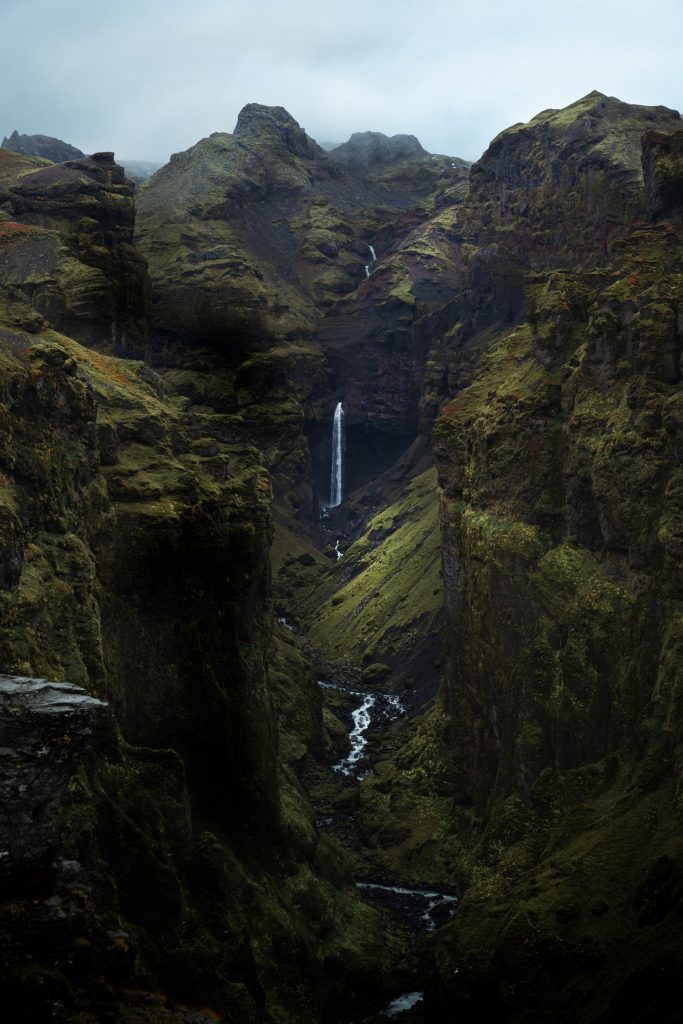 At the very least you should pause to admire Hangandifoss waterfall, where the tributary Hangandifosslækur crashes over the cliff's edge from a height of 123 metres to the canyon floor below. With Hangandifoss in front of you, look to your left along the valley to see another beautiful waterfall, this one called Múlafoss.