Tucked away on an isolated peninsula, jutting out into Borgarfjordur, Borgarnes, Iceland is a beautiful Icelandic town and the gateway to both Iceland's rugged West Fjords and the Snaefellsnes Peninsula. The city's stunning backdrop of the Hafnarfjall Mountains, mixed with the calm waters of the fjord, make it a truly peaceful slice of country. With a population of just over 3,800 people, it would be easy to pass through this tiny hamlet without thinking much of it, but it's well worth a visit of its own!
Only 75 kilometers from Reykjavik, the drive takes just over an hour along Iceland's Route 1, boa the second longest bridge in Iceland skirting along the ocean and diving beneath its surface in the Hvalfjörður Tunnel. (Without this tunnel it would take an extra 45 kilometers to reach this part of Iceland!)
The town has everything you'd expect of an Icelandic city, including a community swimming pool, soccer pitch, and a Bonús grocery store. You might even recognize Borgarnes from the movie, "The Secret Life of Walter Mitty" where the town bakery was disguised as a Papa John's.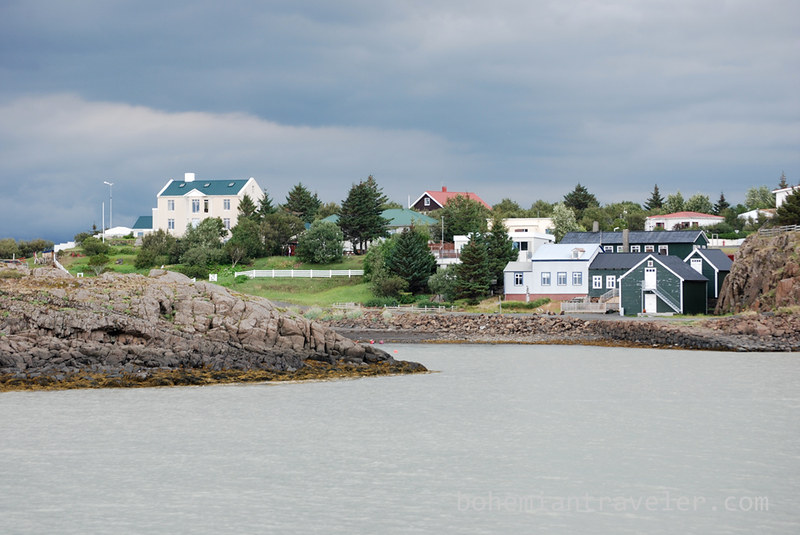 Photo credit: Stephen Bugno via Flickr
Icelandic History and Culture of Borgarnes
Borgarnes is perhaps best known as the setting for Egil's Saga, the story that both gave the town its name and put it on the map. As one of almost 40 Icelandic viking sagas, this is thought to be one of the most famous, detailing the story of Egill skallagrímsson through both poetry and episodic tales. The Settlement Centre, located along Borgarnes southern coast, is a museum dedicated to this very saga, as well as the first settlers of Iceland.
One of the only historic landmarks in town pays homage to its own flesh and blood viking hero, Skallagrímur Kveldúlfsson. The burial mound called Skallagrímsgarður Park, is thought to be his final resting place and a sacred space right in the center of Borgarnes.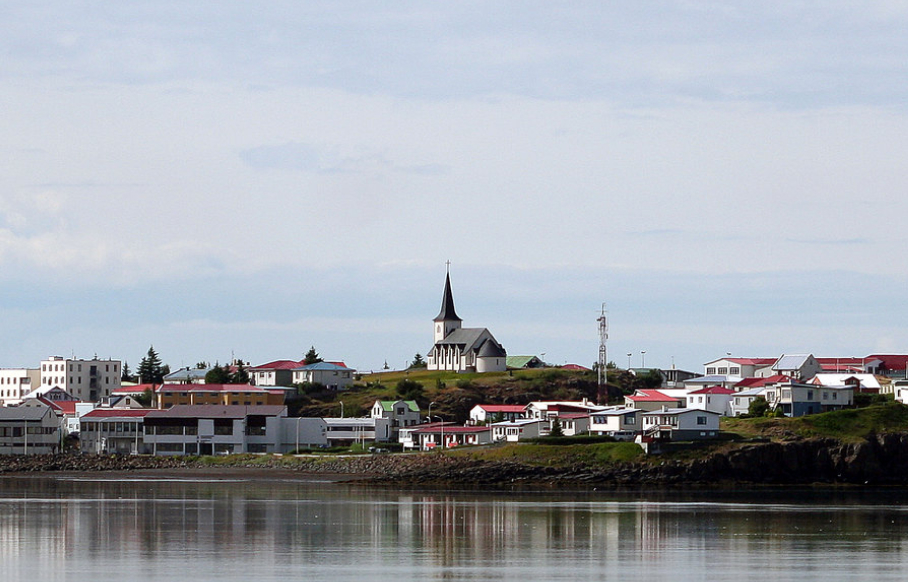 Photo credit/ Orly Orlyson via Flickr
How to Get to Borgarnes
Borgarnes is located in Western Iceland. If you're planning on making a trip out to the stunningly beautiful West Fjords or the mythical Snaefellsnes Peninsula, you'll almost certainly pass through Borgarnes along the way. No matter where you're coming from in Iceland, chances are you'll travel along the Ring Road, also known as Route 1, to reach Borgarnes.
Located at the crossroads of West Iceland and Greater Reykjavik, it's almost impossible to make your way to Western Iceland without passing through this little coastal city. The town is very easily reached from both Reykjavik, in just a little over an hour by car, and the Keflavik Airport in just 1.5 hours. Route 1 is your best option from either of these destinations.
If you're planning on visiting from further afield, Borgarnes is a 3 hour and 40 minute drive from Akureyri via the Ring Road (Route 1). Those who are on their way to Iceland's West Fjords region are just 4 hours and 30 minutes from the largest town of Ísafjörður.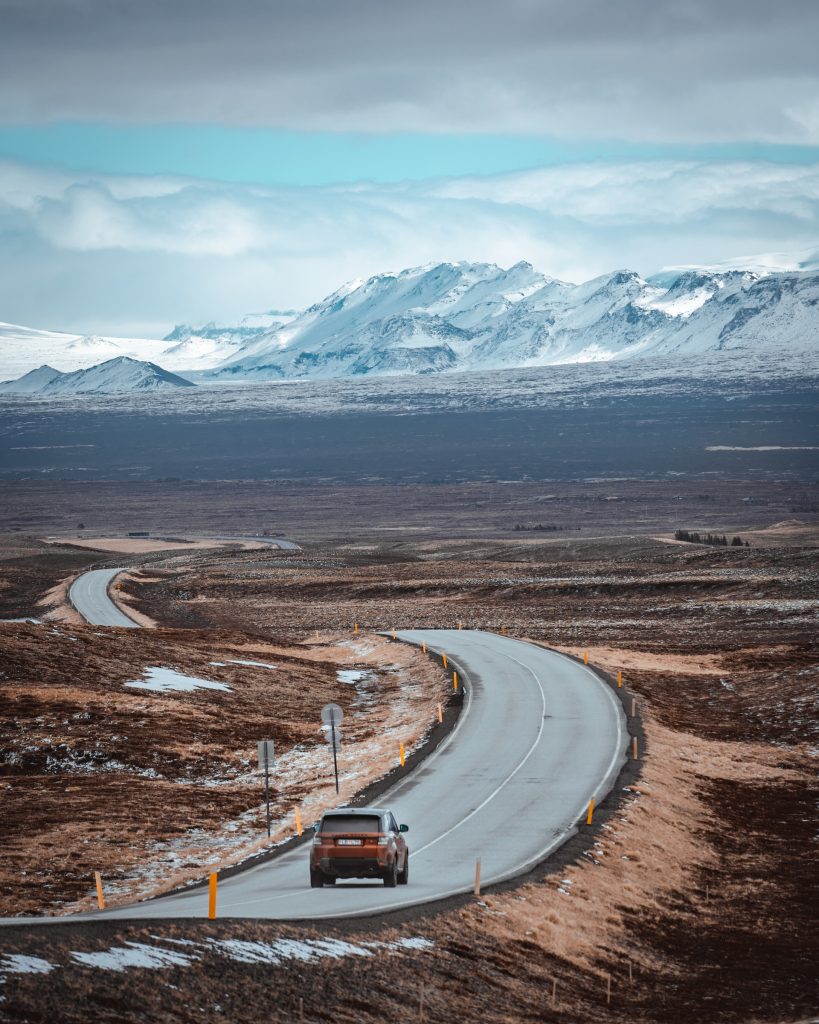 Natural Wonders in and around Borgarnes
Borgarnes is situated in a rugged part of Iceland that's close to plenty of beautiful – and fun – activities! You can't miss the Hafnarfjall Mountains, perched behind the city itself and a great place to get out in nature. Hiking trails crisscross this area, including the stunning vantage of Hafnarfjall itself. You'll need to be an experienced hiker if you want to complete this feat.
For those who aren't looking to traverse any mountains, visitors can also seek out the Eldborg Crater, located on the Snaefellsnes Peninsula and surrounded by a lava field. Hot springs lovers can also visit the most powerful hot spring in Europe at Deildartunguhver. While you can't take a dip here (temperatures hover around 200°F!), it's still a striking sight.
These very hot springs provide hot water for the entire town of Borgarnes and surrounding areas. For those that do want to take a dip, head over to the Krauma Natural Geothermal Baths where they use cooled water from Deildartunguhver. As all other geothermal baths in Iceland, you will find hot tubs, cold pool, steam baths, gift shop and other relaxation facilities inside Krauma.
A few extra nearby natural wonders include Hraunfossar, also known as the Lava Falls, or the vast Einkunnir Forest.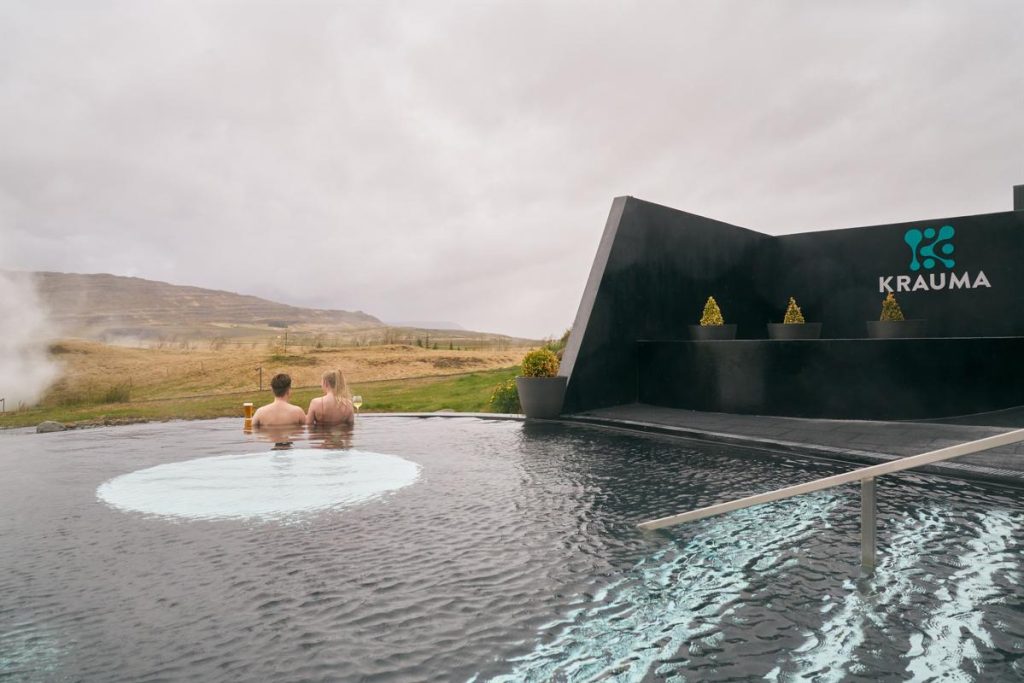 Food and Cuisine in Borgarnes
Traditional Icelandic Cuisine in Borgarnes
Borgarnes proximity to the sea means that fresh seafood is not only plentiful but fresh and delicious! Fish is at the center of Icelandic cuisine, caught both in mountain streams and along the coast. Lamb and sheep's head are another specialty and common in restaurants all over the country.
Look for dishes like plokkfiskur, fish stew, and Rúgbrauð, Icelandic hot spring bread, for a taste of truly traditional fare. For the more adventurous, seek out dishes like hakarl, fermented shark, or harðfiskur, dried fish.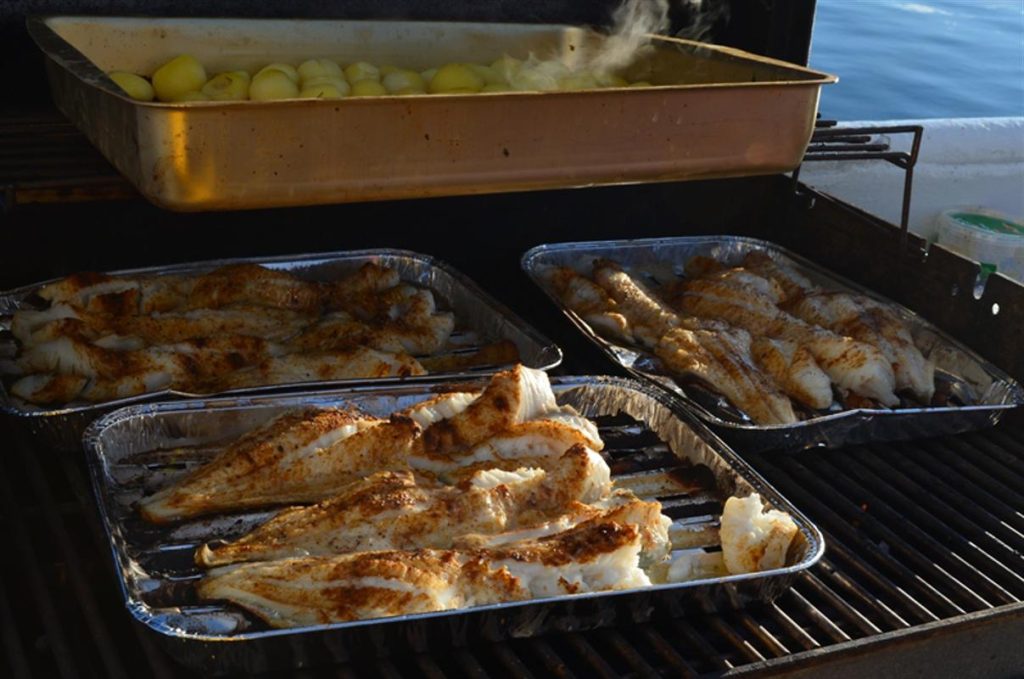 Top Restaurants in Borgarnes
Borgarnes, Iceland is a small town with just a few thousands people who call it home. Despite this small population, there are still some great restaurants in town! Pop in to Geirabakari, a delicious bakery, and famous from its appearance in "The Secret Life of Walter Mitty". Another great cafe and bakery, that doubles as a cozy B&B, is Kaffi Kyrrð, serving piping hot coffee and freshly baked pastries like snúður, Icelandic cinnamon buns!
Englendingavík is a fancier option in the center of town but offers true Icelandic fare like grilled trout and seafood soup. The Settlement Center's Restaurant also dishes up some seriously mouth-watering traditional dishes, like plokkfiskur, as well as a sprawling vegetarian buffet. La Colina Pizza is another great option if you're craving a taste of home while the same can be said for Bara Borgarnes which serves bar fare in a cozy atmosphere.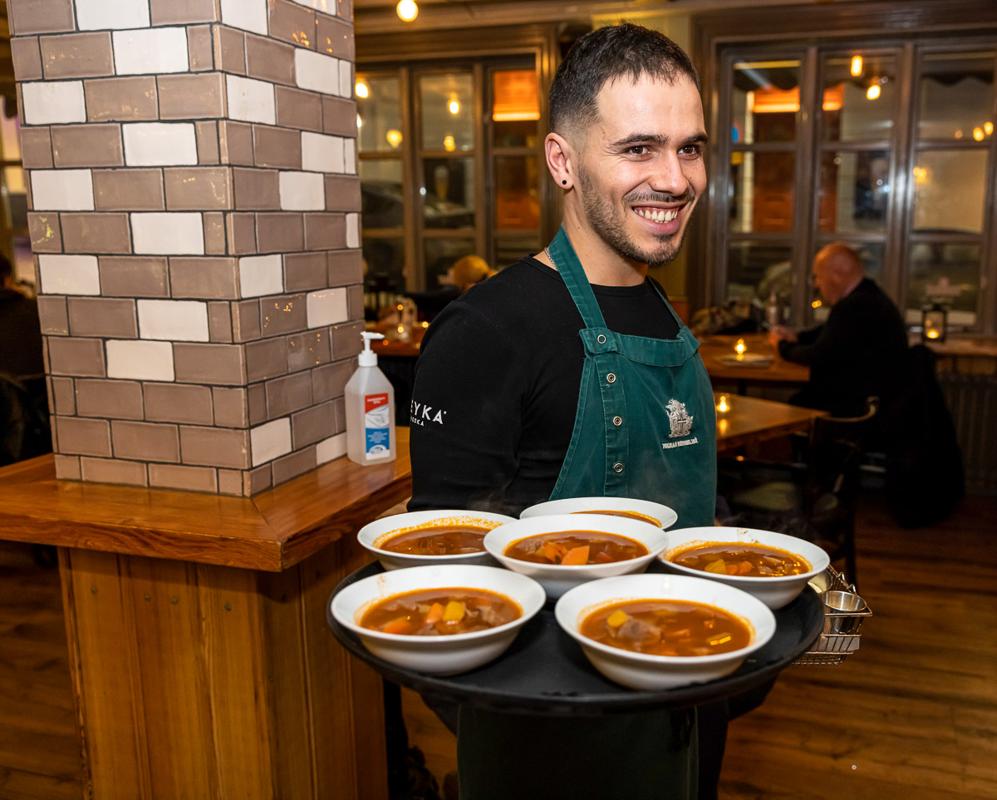 Accommodation in Borgarnes
Borgarnes is a great place to base yourself for a visit to the Snaefellsnes Peninsula, or just as a stopover on your way to the West Fjords or a Ring Road trip. There are a few different places to stay in town including hotels like the B59 Hotel, Hotel Borgarnes, and Hotel Hamar.
For an extra homey place to stay with locals you can also hole up at Blómasetrið, a small B&B in town with an adjoining cafe, or Bjarg Borgarnes, a family run guesthouse. AirBNB's have also become a popular option and there are plenty to choose from if you book well in advance.
If you're looking to camp, search no further than Granastaðir, located just outside town along Route 1. There are toilets and electricity on site and beautiful views to accompany these spartan but satisfactory amenities.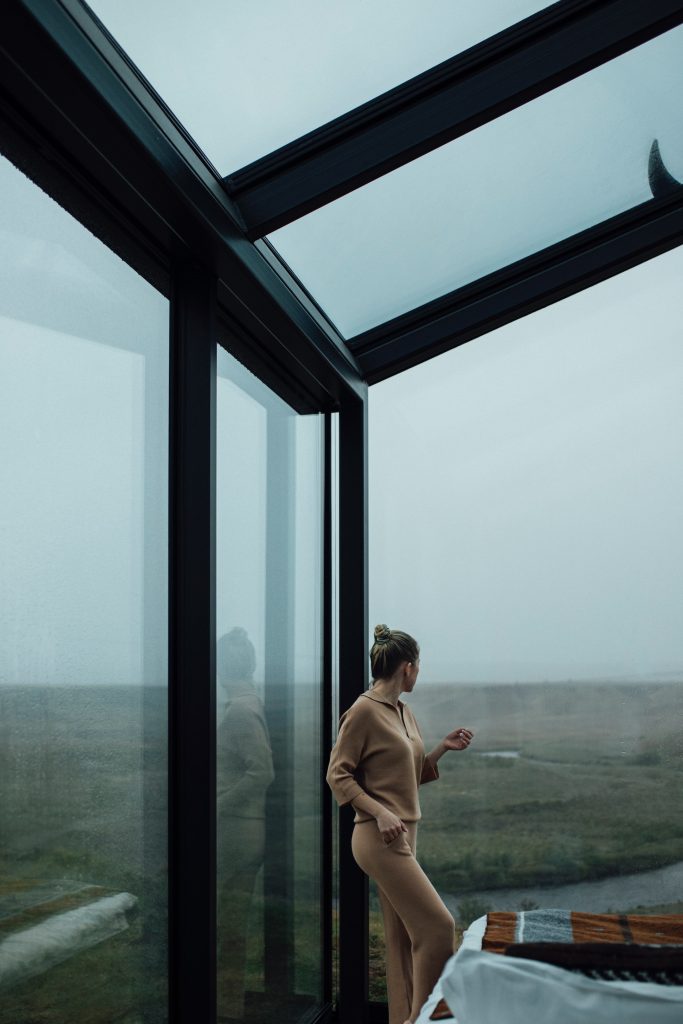 Conclusion
Borgarnes beautiful location and proximity to some of Iceland's most stunning scenery make it a wonderful place to visit, or base yourself, on your trip to the Land of Fire and Ice. One of the best ways to get to this tiny hamlet is by renting a car. Explore your options at Firefly Iceland Car Rental, the best budget rental car company in Iceland.