Iceland is an exceptional place to visit and is at the top of many adventure-seekers bucket lists. With otherworldly landscapes, interesting history, and delicious cuisine, it's not difficult to see why so many travelers are clamoring to visit the Land of Fire and Ice.
While researching your impending trip, you might be wondering, "What currency does Iceland use?" It's important to know ahead of time that Iceland does not use the Euro, instead, they have their own currency, the Icelandic króna. Here's your guide to all things Icelandic currency.
Iceland's Official Currency: Icelandic Krona
Although Iceland is a part of the EU, it still uses its own currency. The Icelandic króna (ISK) was introduced in 1918 after Iceland gained independence from Denmark. These colorful bills feature prominent Icelanders like Jón Sigurðsson, who fought for Icelandic independence, and Jónas Hallgrímsson, the most famous Icelandic poet, and come in denominations of 500, 1000, 2000, 5000, and 10,000. Icelandic króna also has coins that come in denominations of 1, 5, 10, 50, and 100.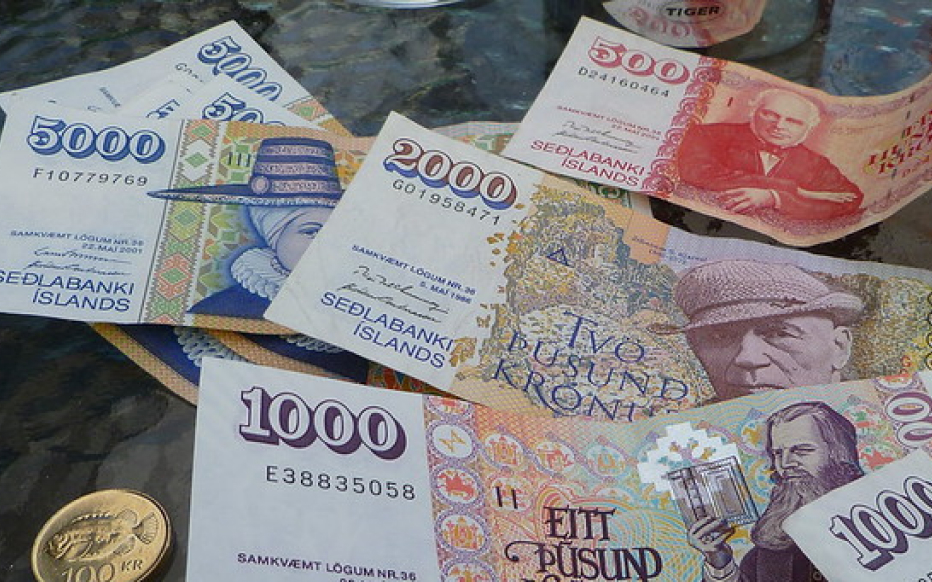 image via Flickr user: A.Currell
Can You Use Other Currencies in Iceland?
There are mixed reviews about whether or not other currencies are accepted in Iceland. While some sources say they are not, several others claim that some businesses will take USD and Euro. Overall, it seems like it is possible to use USD or Euro while traveling around Iceland but you should do this sparingly and certainly not rely on using foreign currency as many establishments won't accept it.
Some instances where foreign currency might be accepted are at large hotel chains and some stores. Generally, it's best to use either a credit card or Icelandic króna as exchange rates aren't great when using other currencies.
Average Costs: How Much Do Things Cost in Iceland?
Speaking of currency, you might also be wondering, "How much do things cost in Iceland?" It's no secret that Iceland is not always a budget-friendly destination, but well worth the trip nonetheless. As a general rule, here are a few estimates of what you can expect to spend in Iceland…
Hotels – approx $130 to $450, depending on the season.
Hostels – approx $30 to $90, depending on the season.
Sit-down Restaurants – approx $30 to $55 per meal, without alcohol.
Fast Food – approx $6 to $15 a meal.
Groceries – approx $10 to $20 a day, per person.
Golden Circle Tour – approx $70, per person.
Blue Lagoon -approx $150, per person.
Mid-sized Car Rental – approx $70 to $260 a day, depending on the season.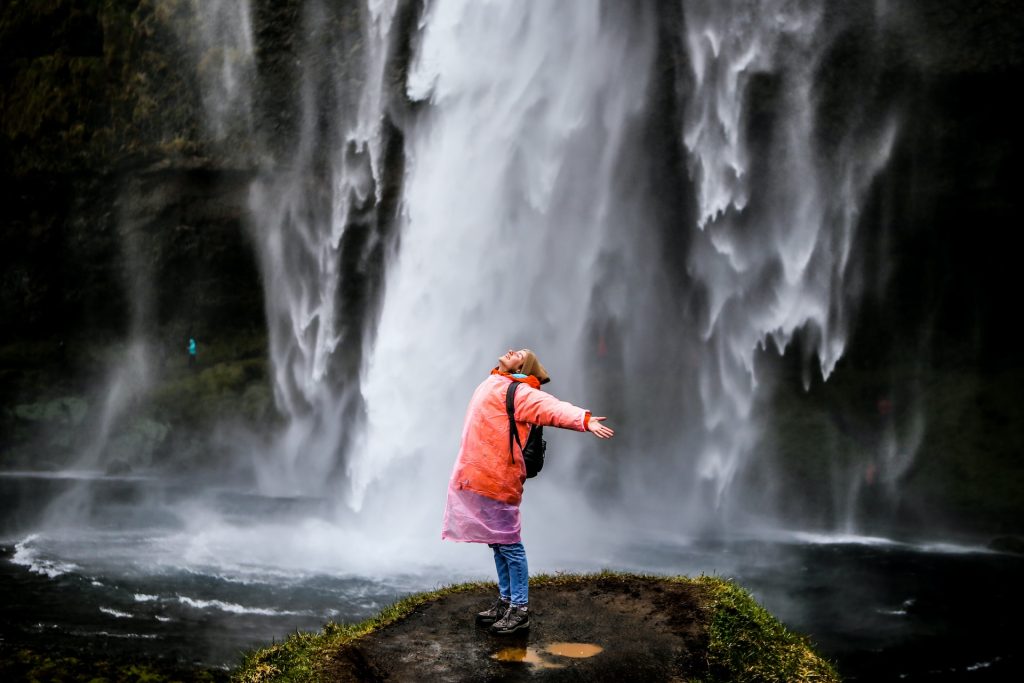 Money Exchange: Best Places to exchange Currency in Iceland
The best places to do currency exchange in Iceland are banks and local exchange centers, although it's also possible to do so at airports. You'll also be able to withdraw Icelandic króna from ATMs throughout the country which is another great option. Make sure to bring a credit card without foreign transaction fees to really capitalize on avoiding exchange fees.
Using Cash and Card in Iceland
Like many other progressive countries, you can use credit or debit cards almost anywhere in Iceland. In fact, you won't likely need to withdraw cash at all if you don't want to. For convenience purposes, having a small amount of Icelandic króna, around 10,000 ISK (about $70), is a good idea if you're traveling outside the capital of Reykjavik as there might be small things you'll need cash or coins for.
Keep in mind that American Express is not widely accepted in Iceland. If you plan to bring an AMEX card, have another Visa or Mastercard as backup. It's also important to know that many Icelandic credit card machines will only accept chip cards instead of swipe cards.
Tipping in Iceland
While tipping in Iceland isn't common, or expected, it can be a nice way to show your tour guide or waitstaff that their service was exceptional. Many restaurants already include service charges in the VAT and some also include gratuity as well.
At restaurants, 10-15% of your total bill is a great tip, although rounding up to the nearest whole number is also acceptable. For tour guides, 5-15% of your total tour cost is greatly appreciated. It's also common to not tip at all and you won't be seen negatively if you don't.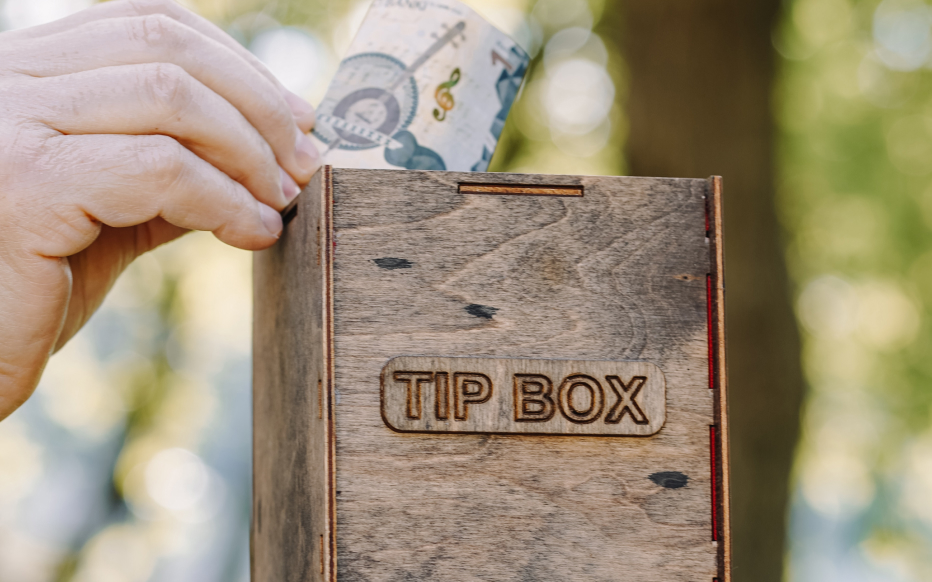 Maximize Your Savings: Iceland Money-Saving Tips
Some of the best ways to maximize your money in Iceland are…
● Booking in advance.
Tours, hotels, and car rentals can book up fast – especially in summer. Booking in advance ensures that you'll be able to do everything on your itinerary while also getting a better deal.
● Grocery Shopping
Eating out can be exorbitantly expensive in Iceland. Grocery shopping is a fun experience in a new country and much less costly. This is also a great option for those who are planning a road trip or day trip. Don't miss out on local favorites, like Icelandic skyr, that are easily found at discount grocery stores like Bónus.
● Buy alcohol and do tax free shopping at the airport airport
Alcohol can be really expensive in Iceland, whether you're eating out, going to a bar, or shopping for alcohol at a local liquor store. Believe it or not, the best place to purchase alcohol in Iceland is at the keflavík international airport. This is a great trick if you know you'll want a few beers, wine, or mixed drinks throughout your trip – without breaking the bank.
● Visit in the off-season.
If you don't mind the cold, visiting Iceland in the off-season can be a great opportunity to snag good deals on rental cars, hotels, and tours. And it's the best time of year to see the Northern Lights! The off-season in Iceland is generally from October to April.
● Rent a car with a discount company.
Firefly Iceland Car Rental is one company that utilizes older model cars to give customers discount prices on car rentals. These cars are still in wonderful condition yet they still offer great deals that will help you save money on your trip. After all, there's no better way to see Iceland than the freedom of a rental car.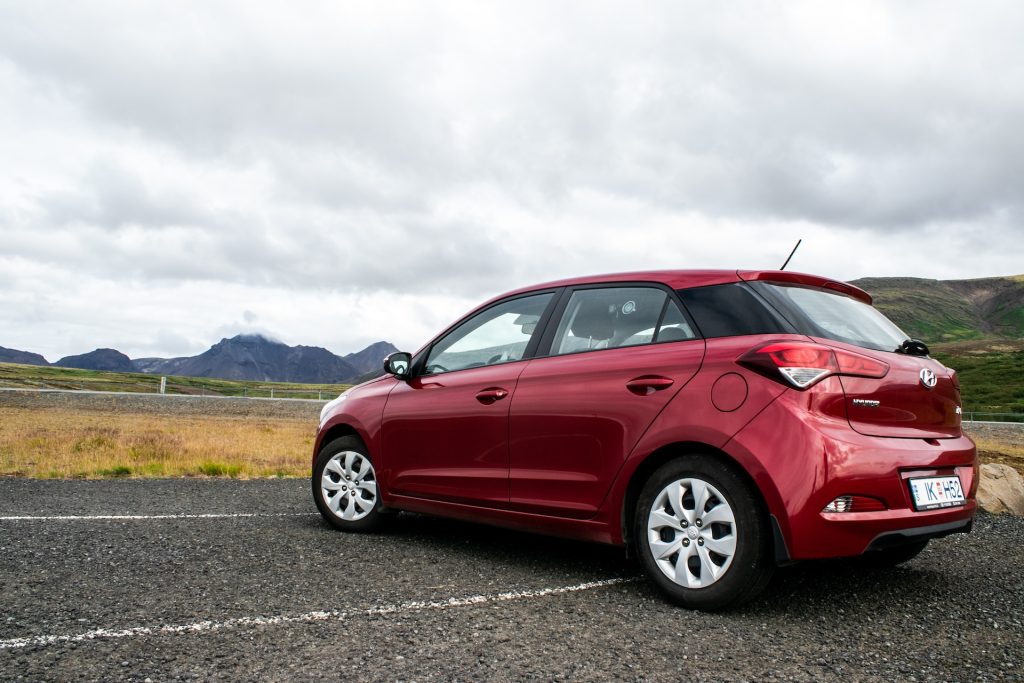 Conclusion
Overall, Icelandic currency is straightforward. Credit cards are the best method of payment and withdrawing Icelandic króna is easy at ATMs throughout the country.
Now that you're familiar with Iceland's currency, you're ready to plan the most fun part of your trip! Rent a cheap car in Iceland and drive the Ring Road, walk on top of a glacier, or witness puffins in their natural habitat. Whatever you decide to do, Iceland is one of the most rewarding vacation destinations in the world.