October begins to usher in the winter season in Iceland. Temperatures plummet, moody weather swirls in the skies, and Icelanders begin to brace for the long, dark days ahead. And yet, October may be one of the best months to visit the Land of Fire and Ice.
As a designated shoulder season, this month brings less expensive travel costs and far fewer crowds. Sounds like the perfect time for a road trip! Here are some things you should know about visiting Iceland in October – especially for those who want to rent a car.
Why Choose Iceland in October?
October in Iceland is a time of magic, setting itself apart from the bustling summer months. As the ethereal transition from autumn to winter unfolds, you're greeted with a blend of pastel skies, icy landscapes, and captivating ice caves.
The contrast between October's chill and the warmth of the summer months makes the Land of Fire and Ice even more enchanting. While the ice caves beckon with their crystalline allure, the black sand beaches shimmer, taking on a more mysterious hue under the autumnal light.
For those seeking a serene escape and the true essence of Iceland, choosing to visit in October provides a unique blend of its famed natural wonders.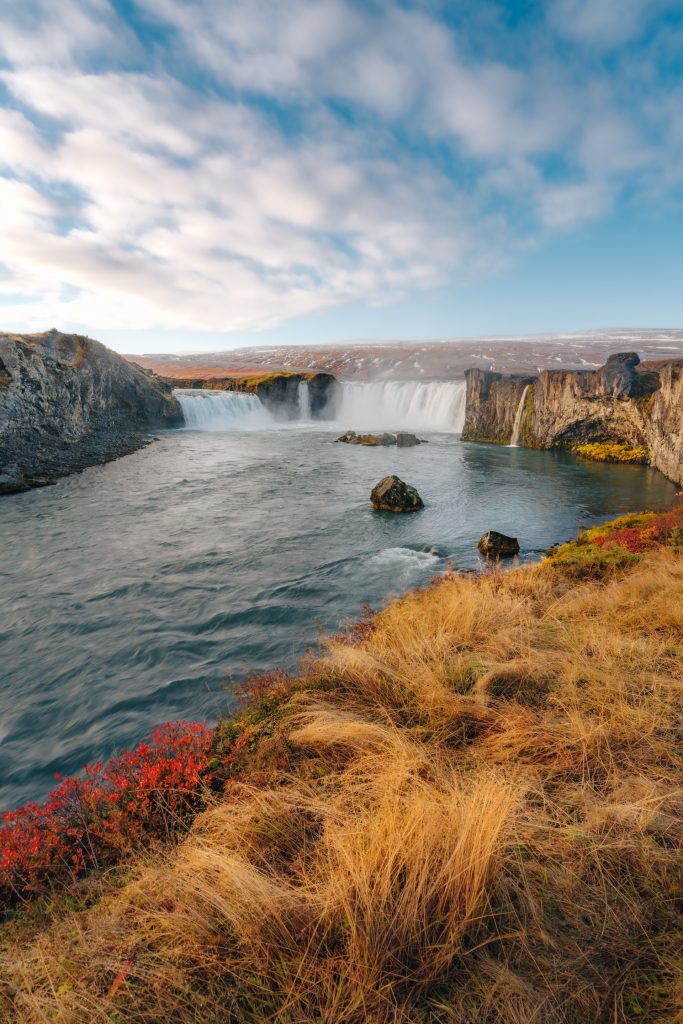 What is the weather like in Iceland in October?
While the weather in Iceland is always relatively unpredictable, October sees little snow and an average amount of rain coming in at about 3.5 inches throughout the month. The average temperature in October hovers around 45°F (7.2°C) as a high and dips down to 36°F (2.2°C) for a low.
The days are growing shorter, for sure, but it's not quite the polar night in Iceland just yet. October still sees about 10 hours of daylight a day with the sun setting around 7:00 pm (19:00) in Reykjavik. Keep in mind that the weather can turn on a dime almost any time of year but especially as the season begins to turn to winter.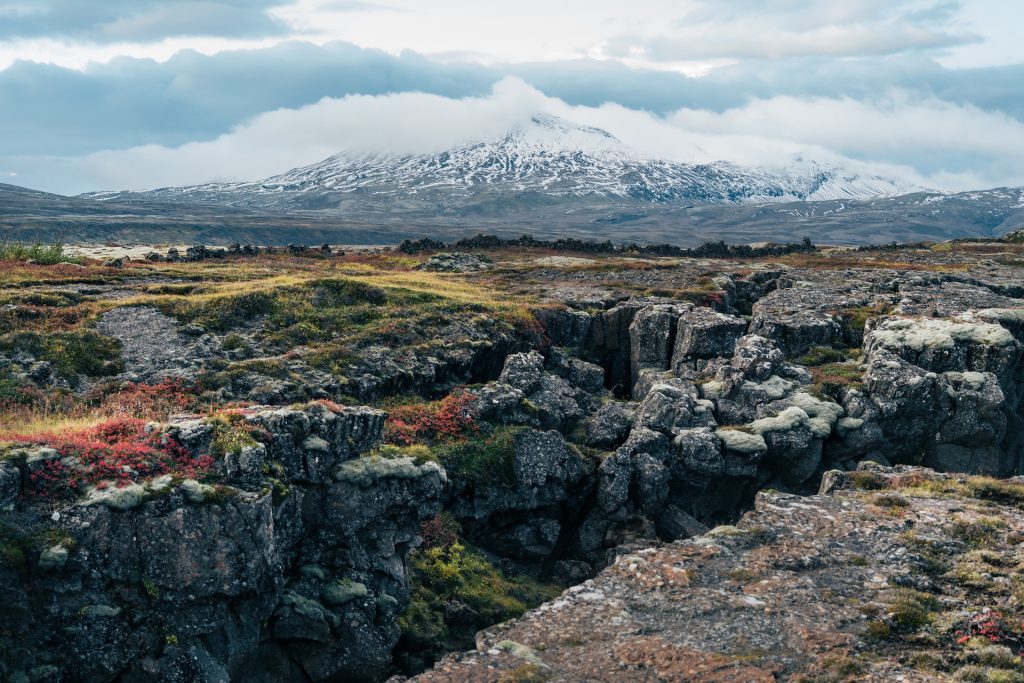 What to wear in Iceland in October
With temperatures just over freezing, October in Iceland will certainly require some cold-weather gear. The name of the game for what to wear in fall is to be sure to wear layers, just in case the temperature warms a bit during the day or turns freezing, which it often does!
Be sure to pack items like wool socks, a warm hat, gloves, rain gear, a winter coat, and comfortable, waterproof boots or trail runners. And don't forget to grab an authentic Icelandic sheep wool sweater to keep extra warm on your escapades.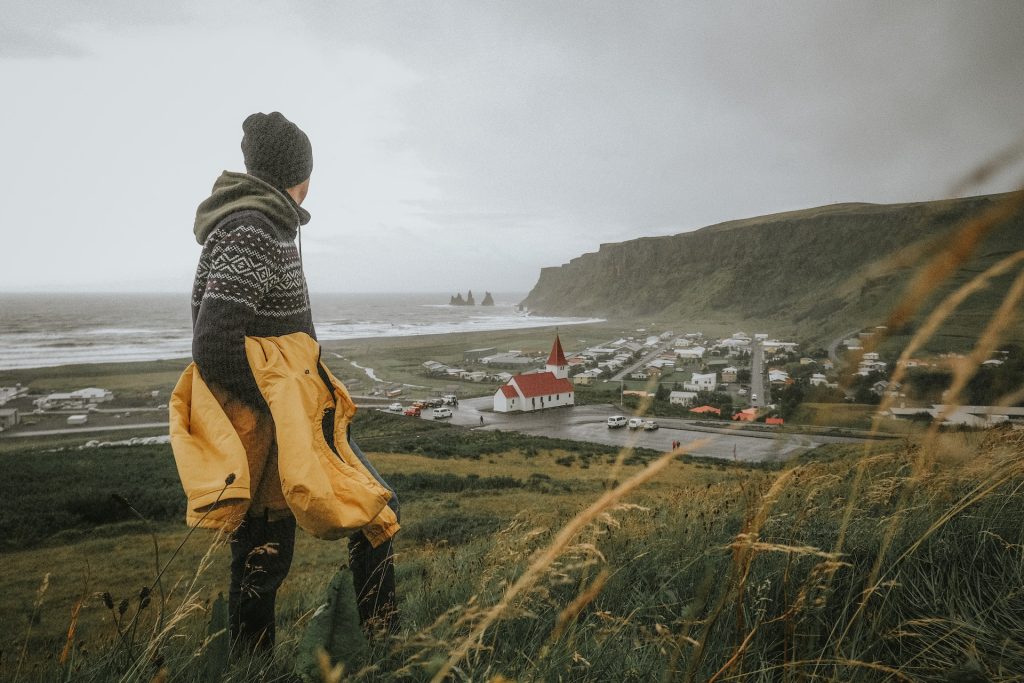 Can you see the northern lights in Iceland in October?
Many experts say that October is actually one of the best months to see the northern lights in Iceland! Pair this with more frequent fair weather and you have a match made in heaven.
Because October is on the cusp of the more intense winter weather, skies are more likely to be clear and perfect for viewing the aurora borealis. Back roads that are often closed due to icy conditions may remain open, especially in the first half of October. This means that you'll have an even better chance of avoiding light pollution and getting a crystal clear view of these verdant ribbons of green dancing through the sky.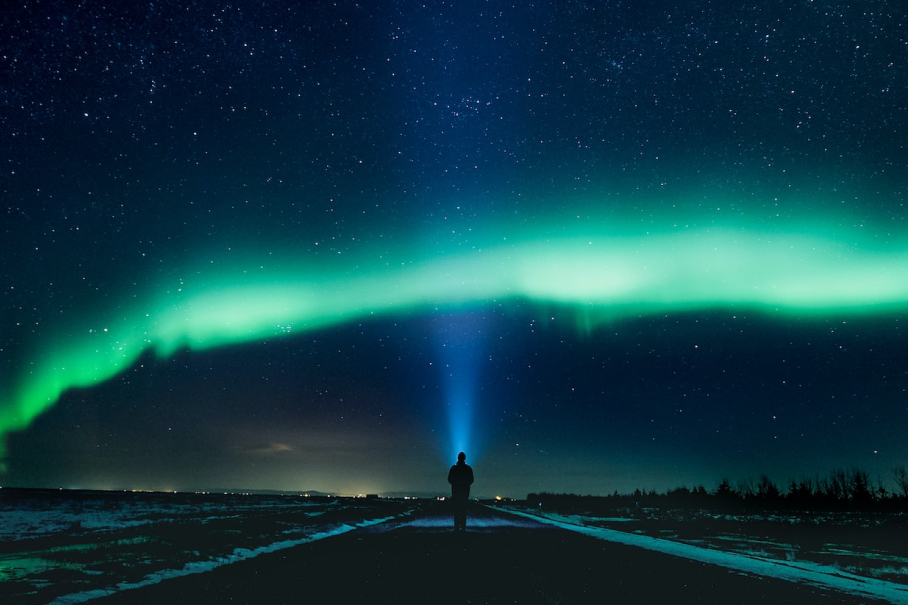 Driving in Iceland in October
When considering driving in Iceland in October, it's an experience unlike any other. The landscapes change rapidly, and the roads may present unexpected challenges. While October in Iceland is relatively mild compared to the deep winter months, it's essential for visitors, especially those planning to rent a car in Iceland, to be well-prepared.
Always check the weather forecast and road conditions before starting any journey. Iceland's Road and Coastal Administration offers real-time updates to ensure drivers have the latest information. The phrase "Iceland in October" may evoke a sense of gentleness, but remember that weather shifts can be swift. If you decide to rent a car in Iceland during this month, keep an emergency kit in your vehicle, inclusive of blankets, water, and some non-perishable snacks, ensuring a safe and enjoyable journey.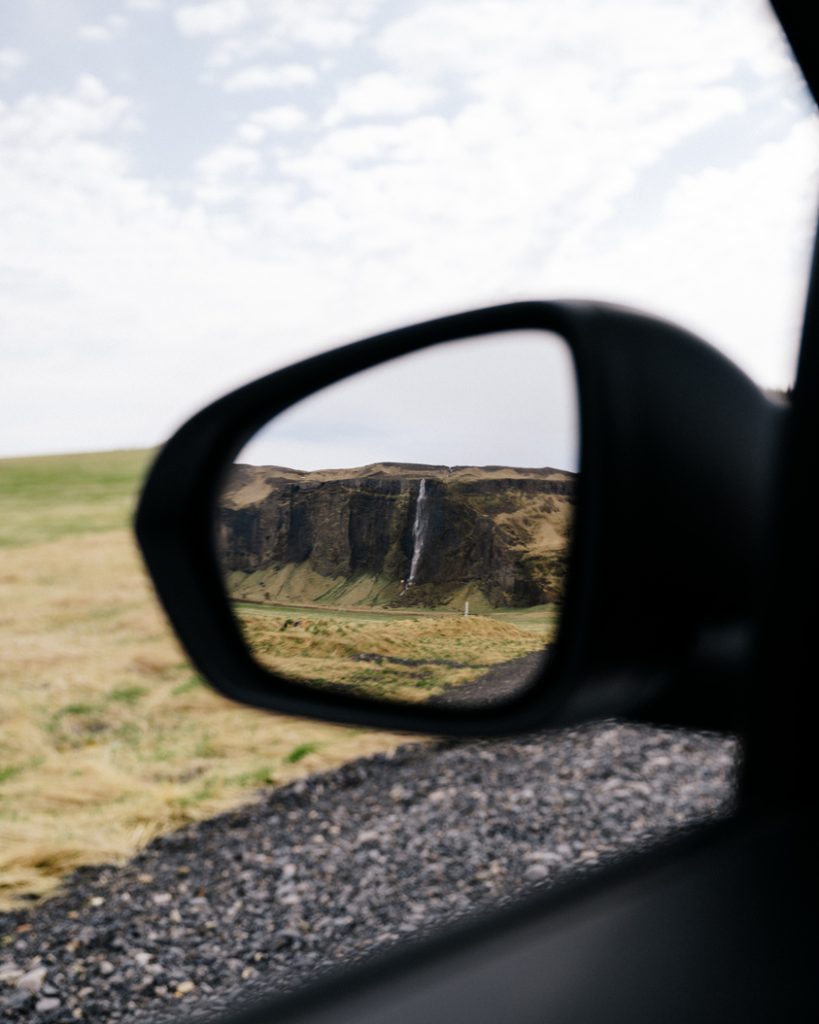 Best 6 Things to Do in Iceland in October
While there's no bad time to visit Iceland, October might just be one of the best months! From chasing after the elusive aurora borealis to witnessing the majesty of the humpback whale migration, there's no shortage of amazing things to do and you'll have some of the best weather to do them. Here are three of the best things to do in Iceland in October.
1. See the Northern lights
The northern lights in Iceland begin to reappear in the month of October as skies darken and temperatures plummet. Whether you're doing a self-guided road trip or want to take part in a tour group, your chances of catching a glimpse of the aurora borealis are good.
Keep in mind that weather conditions need to be perfect to see the northern lights. Solar activity needs to be high and the skies should be clear but the chase and anticipation is half the fun!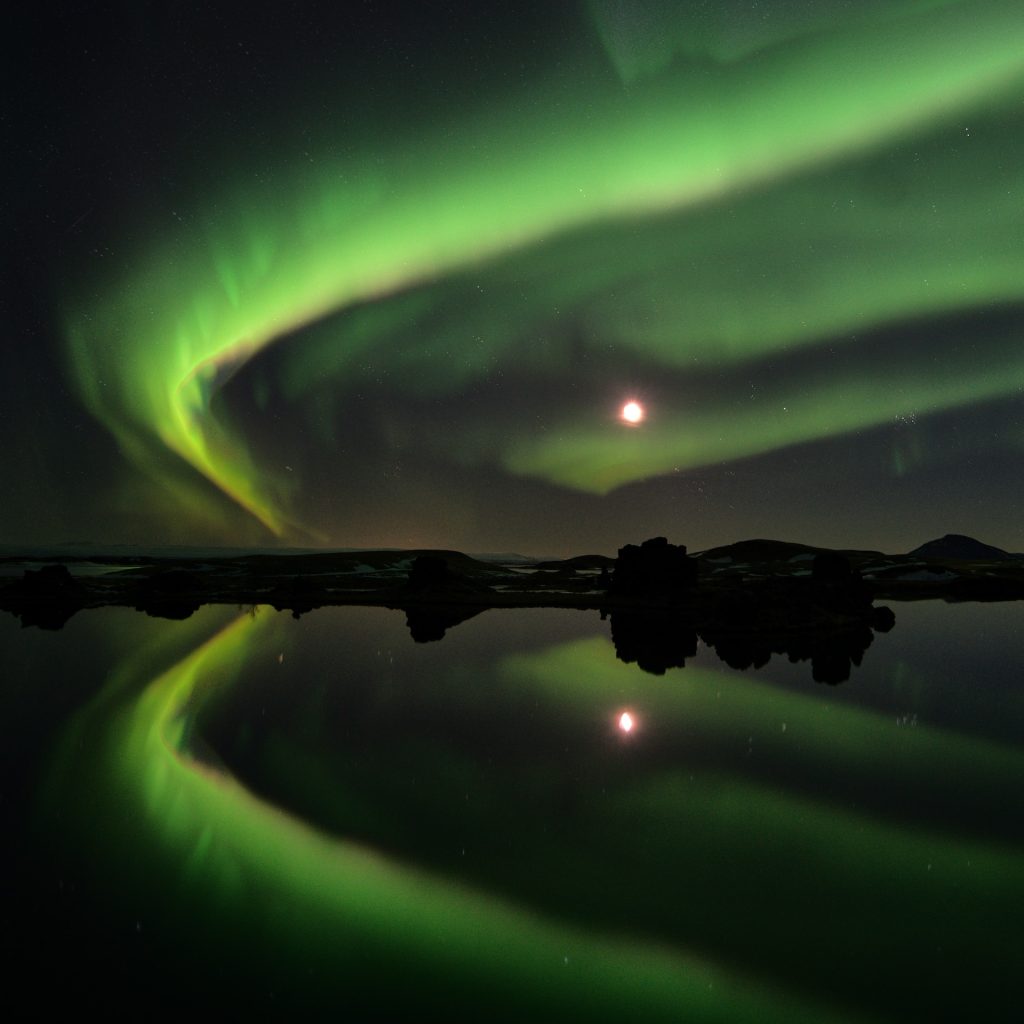 2. Go Whale Watching
The humpback whale migration winds its way right along Iceland's southern coast. October is one of the last months of the year to try and see these behemoth creatures as they make their way south for warmer waters. Join a whale watching tour or simply try to see a spout or two from southern beaches like the Snæfellsnes Peninsula, easily reached in a rental car.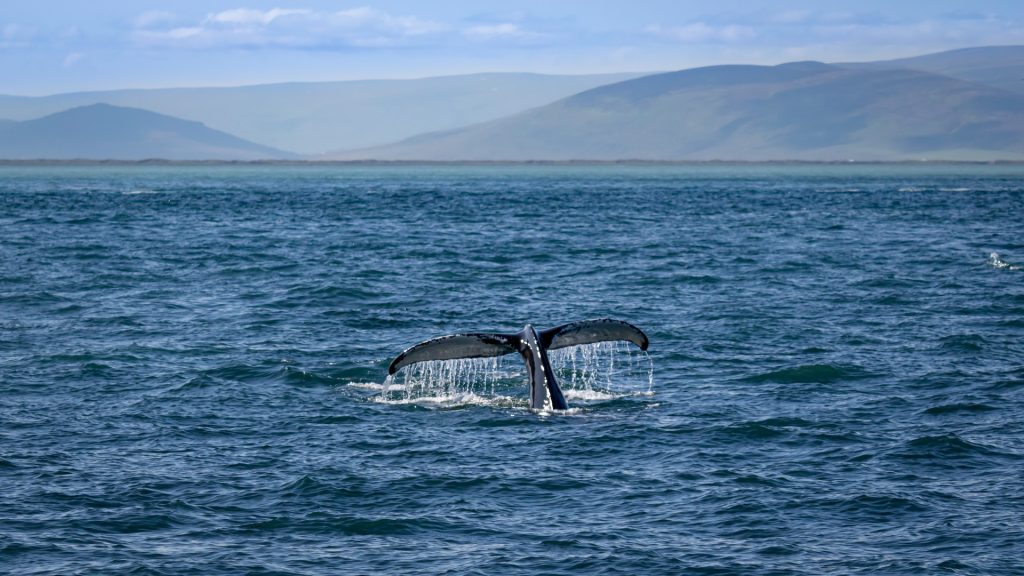 3. Road Trip Route 1
Spanning over 821 miles in a near-perfect circle around this island nation, Route 1 is the best way to road trip Iceland in October. The sometimes severe winter weather that makes driving difficult should hold off for most of the month, allowing you safe passage on the Ring Road. Some of the best stops along the way include Jökulsárlón Glacial Lagoon, Kirkjufell Waterfall, and Diamond Beach.
If you never stopped along the way, the route would take 17 hours to drive, but that would defeat the purpose of seeing all of Iceland's incredible sights! Most travelers plan for about a week so that they can take their time, stop to see the magnificent natural scenery, and spend a few days in the capital on either end.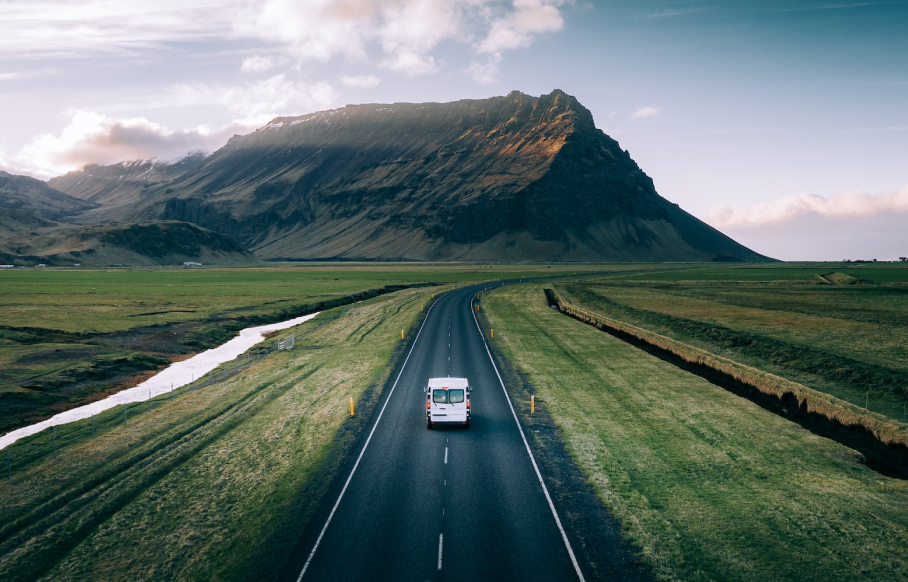 4. See Imagine Peace Tower lit in Iceland
The Imagine Peace Tower, conceptualized by Yoko Ono, stands as an enduring symbol of hope and unity in Viðey Island, near Reykjavik, Iceland. Dedicated to the memory of John Lennon, the tower emits a radiant beam of light into the sky, embodying Yoko Ono's vision of peace and harmony for the world.
This beacon has not only become an iconic landmark in Iceland but also serves as a poignant reminder of the power of imagination and the universal desire for a world at peace. Each year, visitors from around the globe are drawn to its mesmerizing luminance, reflecting on its profound message and the artistic legacy of Yoko Ono.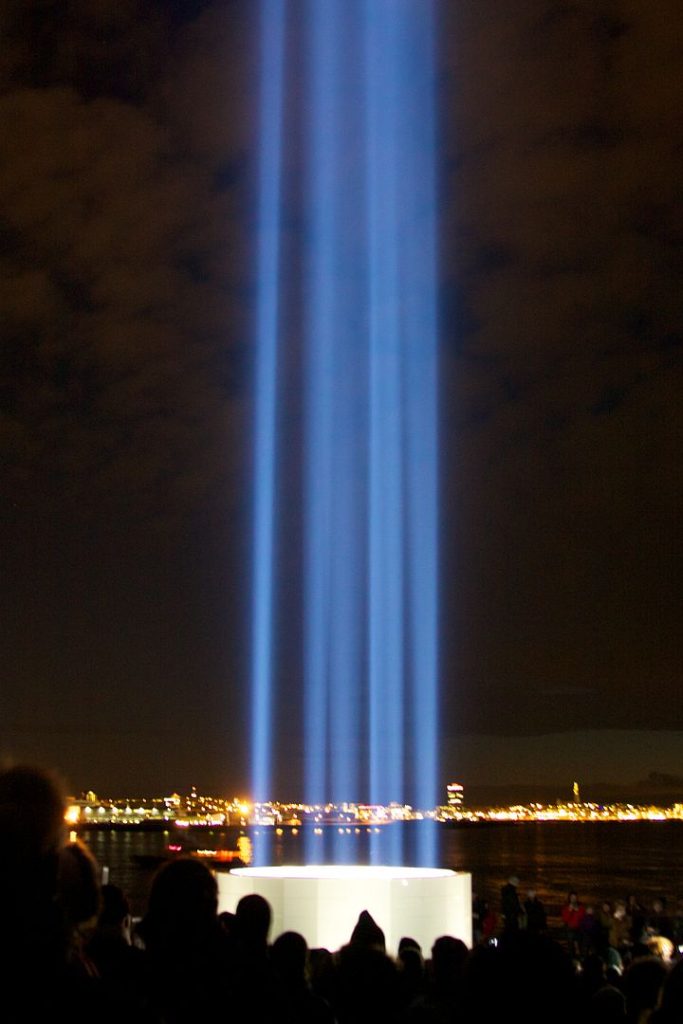 photo via Wikipedia/ by McKay Savage
5.Enjoy the Cultural Events and Festivals
October is also a month for celebrations. The Reykjavik International Film Festival (RIFF) takes place in late September and early October. Film enthusiasts can revel in screenings of both international and Icelandic films. Another must-visit is the Iceland Airwaves Music Festival, which usually graces early November but can have some pre-events in late October. It's a prime opportunity to immerse oneself in the vibrant local music scene and witness the magic of October Iceland under the backdrop of soul-stirring tunes.
6. Exploring the Natural Hot Springs
Apart from chasing the northern lights or embarking on a road trip, one of the most blissful experiences is soaking in Iceland's natural hot springs. October's crisp air juxtaposed against the warmth of geothermal pools provides an experience that's both invigorating and relaxing. Popular spots include the Blue Lagoon and the Myvatn Nature Baths. But for a more secluded experience, consider venturing out to the hidden gems like Landbrotalaug or Reykjadalur. These thermal baths provide a serene environment, with the steam rising into the chilly October air creating an ethereal ambiance.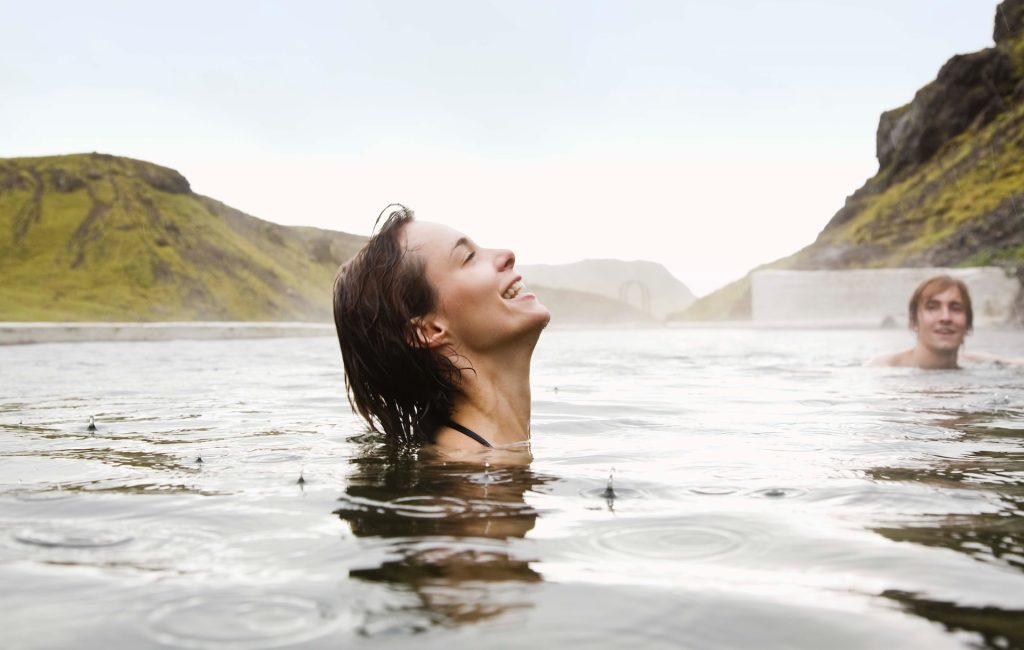 Guide to October Iceland
If we haven't convinced you already, October is one of the best months to visit Iceland and perfect for a scenic road trip. Book your rental car with Firefly Iceland for the cheapest rates and best customer service.