You won't have to spend very long researching your trip to Iceland before you figure out just how many hot springs and thermal baths there are in the country. Geothermal energy is a big deal here, and the ground's heat warms water for commercial, residential and leisure purposes.
It's no surprise, therefore, that there are geothermal baths all over the place, from tiny hot pots in remote rural places to fancy urban spa lagoons. One of the most unique places to experience geothermally heated water is at Reykjadalur Hot Springs. Reykjadalur means steams valley in English, it is one of the most favorable natural hot springs among the locals. Let's find out a little more about it with these seven things you need to know before visiting.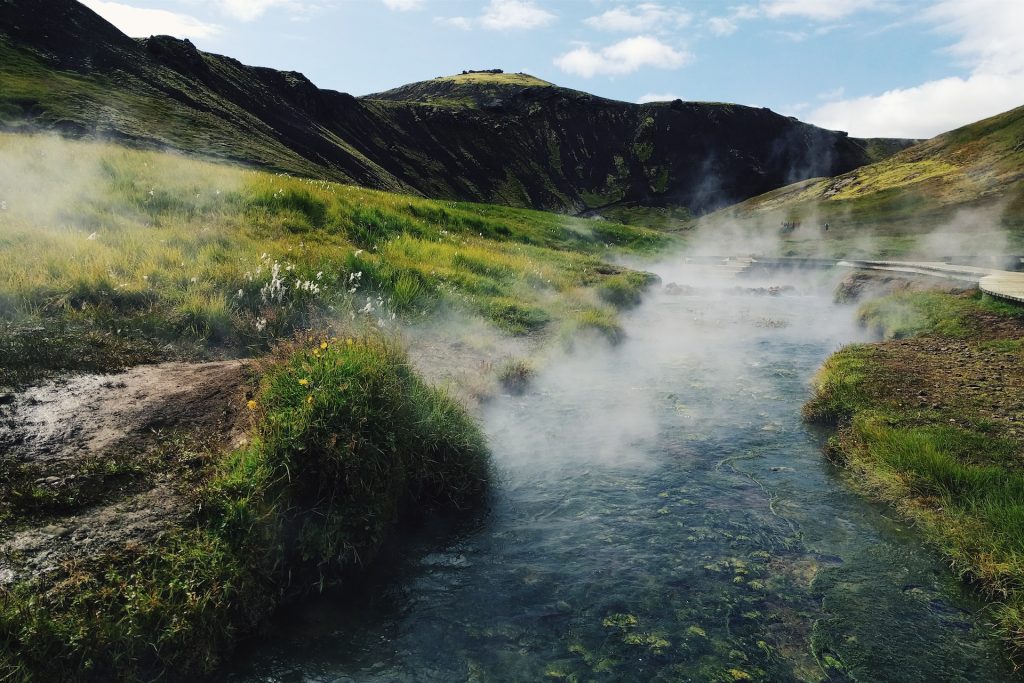 1. You'll quickly discover that it's an unparalleled outdoor experience
The easiest way to reach Reykjadalur Hot Springs is with your own wheels. Less than an hour's drive south east of downtown Reykjavik and close to the town of Hveragerði, you'll reach the Reykjadalur valley.
This proximity to the capital, the Golden Circle and the myriad attractions of the south coast makes it the ideal stop-off at the beginning or end of your road trip. You may well have already called in at the Blue Lagoon after you picked up your rental car from the airport, but that doesn't mean you should rule out a soak in some of the others.
What makes Reykjadalur particularly special is that you combine a breathtaking hike through a steamy valley with a dip in a hot water river whose temperature is just right for bathing – so long as you choose the right spot.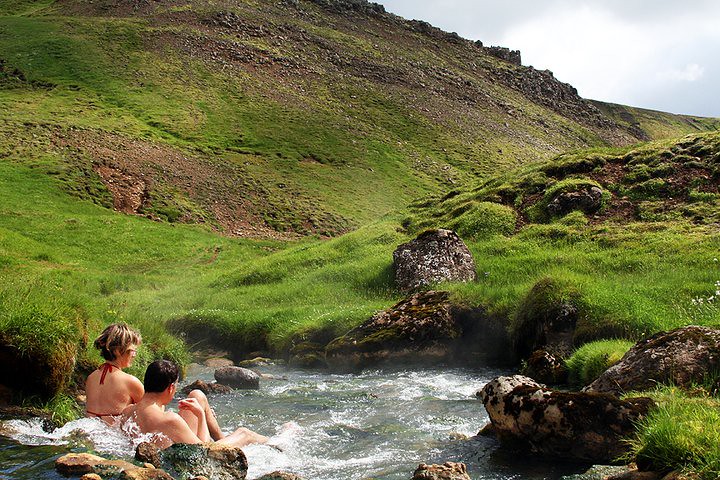 photo from flickr user/ Boreal Travel
2.You need to heed the warning signs before jumping in
As you hike along the valley, you'll see steam rising from the water. It can be really tempting to dip a toe in or at the very least, try the water temperature with your hand. But be aware of your surroundings before you do this. You should be aware that in places, the water is scalding hot and wholly unsuitable for bathing.
Safety's paramount: where you see pools of boiling water or steaming mud, give them a wide berth, as these are definitely too hot to bathe in. Check around you for signage – these markers feature pictures of thermometers, temperature warnings and often the Icelandic word hætta (which actually means hazard or danger rather than hot as you might have guessed).
If that's what you see, keep walking until you see some wooden boardwalks. This way you can be confident that you are at a good spot. If in doubt, continue on until you're sure or until you see where others are already in the water.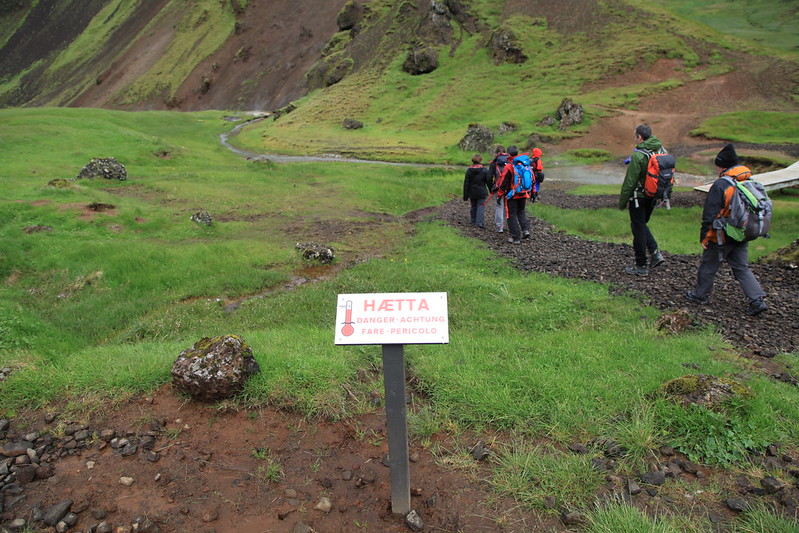 Photo from flickr user/Zaldun Urdina
3.You'll have the opportunity to bathe surrounded by nature
Compared to fancy spas like Sky Lagoon or Mývatn Nature Baths, enjoying a soak at Reykjadalur is a much more rustic experience. Surrounded by nature in the open air, this is one of the best places to truly appreciate the Icelandic landscape.
The heat comes from Hengill, a nearby volcanic system that last erupted about 150AD. Water flows through the Klambragil ravine and, still warm, into the Reykjadalsá River. The water has turned a pretty shade of light blue thanks to its mineral content. Flanked by colourful, mineral-rich hills and grassy pastures, it's already a jaw-dropping setting.
But factor in the magical sight of steam rising from the ground and it becomes even more stunning. Carefully placed rocks create mini lagoons which are perfect for relaxing in. Farmland surrounds the place and it's not unknown to find a sheep snoozing on the wooden platforms beside the river.
To bathe here you'll need to be comfortable with more basic facilities. Instead of deluxe changing rooms with lockers, hairdryers and fluffy towels, you'll find wooden boardwalks and screens erected to lean against while you change and to throw a towel over. They don't provide much privacy.
If you were hoping to preserve your modesty, you can forget it, although there's no reason to be shy as no one's going to take much notice of your body. Once you're done, you'll probably want to get out of your wet swimsuit as fast as possible, particularly if it's cold or windy. But fleeting discomfort is a small price to pay for being able to experience somewhere as amazing as this.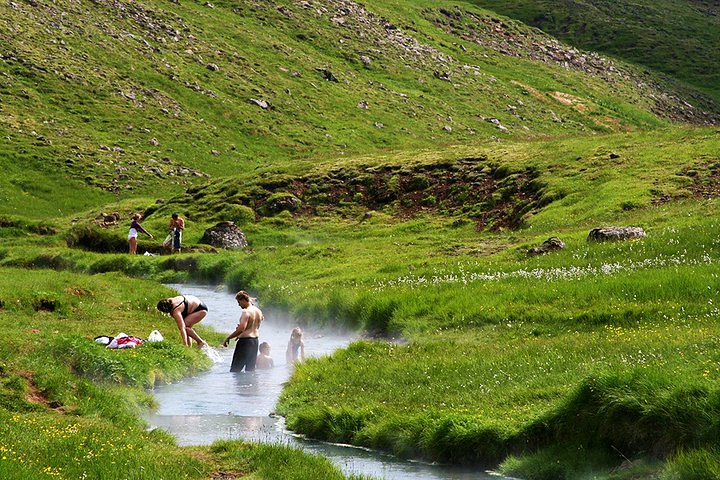 photo from flickr user/ Boreal Travel
4.You'll be pleased to learn it's a year-round attraction
As with all year-round attractions, there are pros and cons associated with different times of year. Reykjadalur Hot Spring is dreamy on a summer's day. Under a blue sky and in warm sunshine, it will be one of those places that remain in your mind long after you've headed home.
But of course, everyone is going to agree with you so you'll have to share the experience. In peak season, you have a choice. Embrace the crowds and enjoy this as a sociable activity, the chance to meet locals and other tourists. Alternatively, consider making the most of those extra hours of daylight, going early or late in the day to avoid the worst of them.
Conversely, in winter, the place is much less busy. However, there's a price to pay. The trail gets more challenging in icy or snowy conditions and it's vital if you are planning a hike at this time of year that you check the weather conditions meticulously and seek regular updates. There are a few other pointers to follow when hiking up to Reykjadalur in winter.
Carry a pair of rubber-soled flip flops in your day pack so that if the wooden boardwalk is slippery while you're getting changed you're less likely to take a tumble. Also try to avoid getting your hair wet if it's a cold day as it will freeze solid. Tie long hair back or tuck it under a hat to keep it dry. If there's a chance you will be hiking in poor light, use a head torch.
And don't forget, to wear a pair of proper hiking boots is essential for your hike to reykjadalur hot springs no matter visiting the hot spring in summer or winter.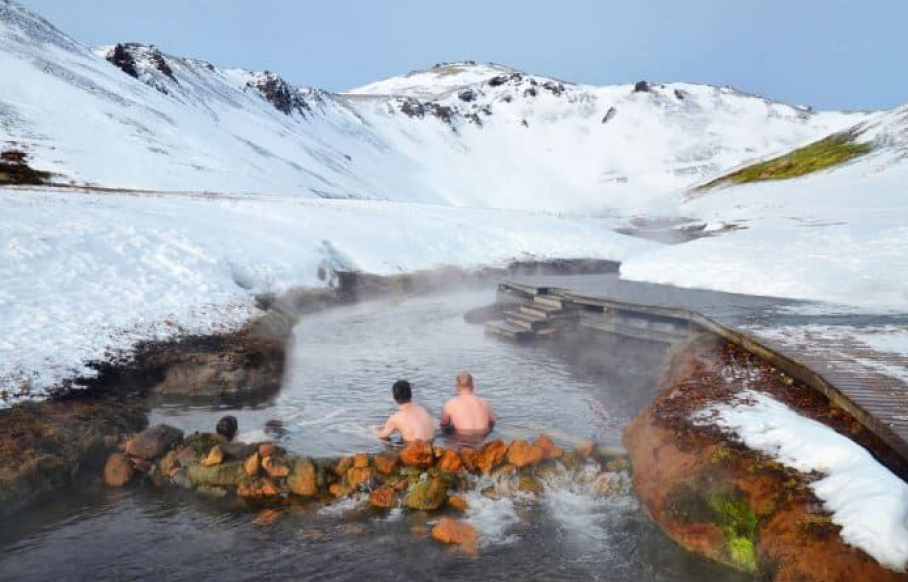 5.You should also know that where to bathe changes with the seasons
The section of the valley with wooden platforms and changing screens marks the part which is usually suitable for a dip. Nevertheless, you should be aware that the best parts of Reykjadalur Hot Springs for bathing do vary slightly from season to season. This is because of the weather – when temperatures fall, the colder air has an impact on anything it comes into contact with.
But also, the water itself varies in depth – shallower sections have more water exposed to the air. In summer, when there are lots of people there, it's fairly easy to see which parts of the river contain water at the most comfortable temperature as that's where everyone will congregate.
If there's a choice of spots, make the most of a warm sunny day and try to find a perch up against the rock walls, as these tend to be just right. In winter, you might find that the water, although still naturally heated, is a little chilly for sitting around in, particularly as your head and shoulders are likely to be out of the water.
If that's the case, hike a little further up the valley until you find a slightly warmer spot. Always be really careful though, especially as the hot and cold water doesn't always mix as thoroughly as it might do in your own bathtub.
photo by Flickr user/Geoff Alexander
6.You should definitely try other activities while you're in the valley
A visit to Reykjadalur isn't just a "drive up and take a bath" type of experience. Thanks to its location, you'll be adding on at least a hike. To reach the hot river on foot you're looking at around 45 minutes to an hour's walk from the parking lot.
Most of the trail is straightforward for anyone who's mobile and reasonably fit, but there are parts where it is a little steep and also places where it's narrow. Sights along the way such as lovely Djúpagilsfoss give you a boost if you're flagging and keep you motivated to push on. In summer, you're going to need insect repellent and good hiking shoes; be careful not to trample any vegetation as it is fragile and can take a long time to recover.
During the colder months, you'll feel the benefit of crampons too when the path gets slippery. Also, it's a good idea to check current conditions online before you set out as sometimes the path to Reykjadalur Hot Springs has to be closed for essential maintenance.
One of the most fun ways to explore the Reykjadalur valley is on a horseback tour. Riding is a popular excursion all over Iceland. Icelandic horses are beautiful creatures but also unique. Breeding is strictly controlled and so the horses' characteristics are preserved.
One of these is their ability to tölt. While elsewhere in the world, horses walk, trot, canter and gallop, here there's an extra gait. It's nicknamed flying pace and it's a fast but smooth ride. But of course, it takes breathtaking scenery to elevate a horse ride into something unforgettable, which is why you should consider parking up and arranging a ride here in the Reykjadalur valley.
If you're a relative novice, you'll be glad of the comfortable ride an Icelandic horse will give you as you ride along a pretty trail through the Hengill area to Reykjadalur. They'll rest as you enjoy a restorative soak before you set off back out of the valley again.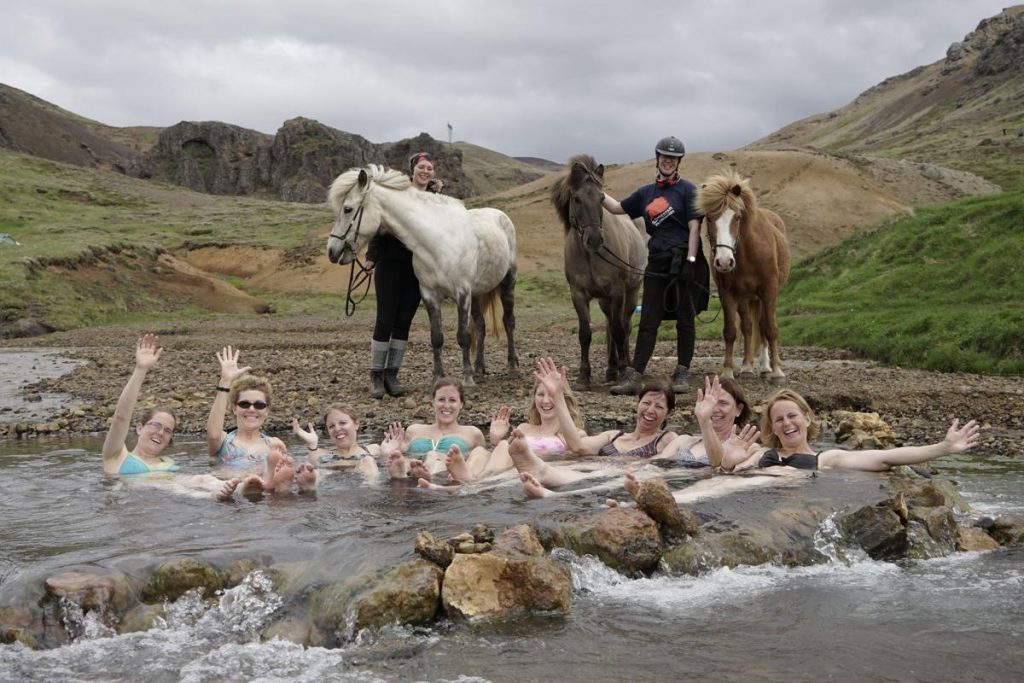 7.You'll be glad you rented a car from Firefly
While you can visit some geothermal baths on tours or by public bus, realistically you'll make better use of your time if you rent a car. That's definitely the case for Reykjadalur Hot Springs, where public transport only gets you as far as Hveragerði, doubling the length of time you'd need to walk to reach the river. For a reasonable fee, you can leave your car in the parking lot; use the Easy Park app and you'll only be charged for the time you spend here.
There's also a café here and toilets. But the main advantage of hiring a car to visit Reykjadalur Hot Springs is convenience. There's no need to keep checking your watch to make sure you catch the last bus back or don't keep others on the tour waiting.
Instead, rent a car with Firefly and you can set your own pace, stay as long as you like and leave only when you're ready. Now doesn't that sound like a better plan?