Relatively few road trippers make it to the beautiful Westfjords during their time in Iceland but those that do usually say that the region was one of the highlights of their trip. This comparatively remote and unspoilt part of Iceland boasts some of the most breathtaking views in the country.
Renting a car gives you the freedom to explore at your own pace. One place that should be a must for your itinerary is Hellulaug Hot Springs in Iceland. Here's what you need to know before you set out.
What's the view like?
As soon as you pull off the road you'll understand why people rave about this place. Hellulaug natural geothermal pools boasts one of the most spectacular views in the Westfjords – which is saying something in a region known for its extraordinary panoramas. It's located right beside the Vatnsfjörður and overlooks the top of fjord and beyond it, the ocean.
In front of you there's an unspoilt shingle beach; across the water low hills frame the view. But this seafront pool doesn't interrupt the view; in fact, it can't even be seen from the road. Instead, you'll need to look out for a small car park and pull off the road.
Follow the trail which leads down to the pool. On a sunny day, the combination of blue sky and the water of the fjord is striking, and this is why, despite its basic form, it's such a hit with intrepid travellers – it truly feels like a lucky find.

What's the pool like?
This isn't a natural landform as such: the water is pumped into the pool from a borehole. Its water maintains a constant temperature of between 37 and 38°C. This hot pool – for now at least – is off the beaten tourist trail, but it's very small.
The pool measures only about three or four metres across and less than a metre deep, so you still need to keep your fingers crossed that you aren't going to find it full of people. Secluded and natural, it boasts a line of rocks forming a barrier with a smaller body of water closer to the shoreline.
It nestles in a hollow, which is good if there's a wind blowing, though with the lack of changing facilities it's best to wear your swimsuit under your clothes and later, when you're done, change in your car.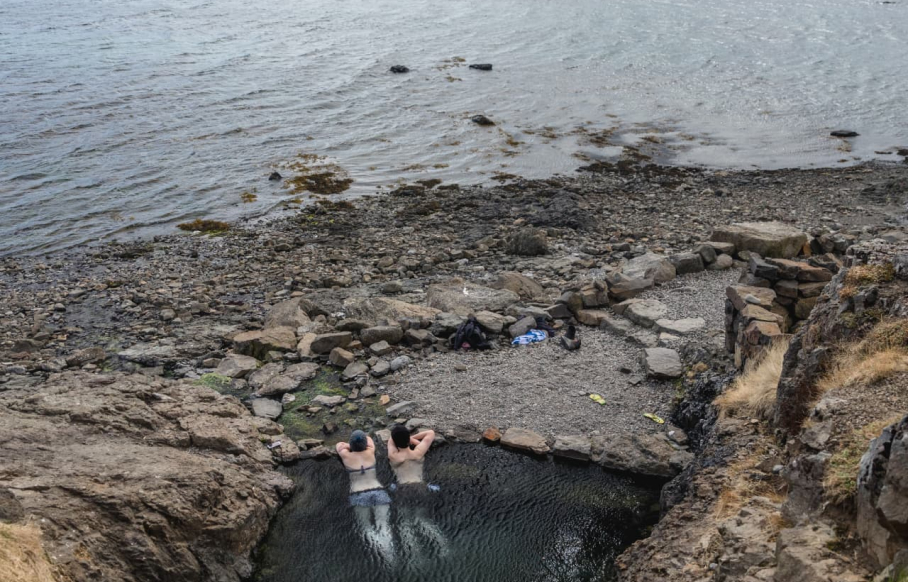 Photo from Visit Westfjords
What to bring
In a word: everything! This isn't a fancy spa – quite the opposite – so bring what you need and take it all with you when you're ready to leave. First, of course, you'll need a swimsuit and a towel. If the air's chilly or it's a windy day, you'll appreciate having a hat to put on.
Unlike some hot springs, you won't need hiking gear for this one as it is located very close to the road. However, pack some snacks or a picnic lunch, a flask of hot coffee and some warm clothes so that you can warm up again once you get back to the car – even though the water's warm while you're in it, as soon as you get out you'll feel chilly if you're damp.
How much does it cost to take a dip at Hellulaug?
Some geothermal baths in Iceland don't come cheap. Book a ticket for the Blue Lagoon, for instance, and you're looking at almost 10,000 ISK for the cheapest slot in low season. But Hellulaug isn't like the Blue Lagoon and other luxury natural hot springs.
It does not cost any entrance fee and it's free for one thing (although you are welcome to leave a donation which can be used for its upkeep, which will help ensure that the pool is keep clean and well-maintained for future users) and of course, it doesn't boast the same facilities.
In fact, it doesn't have any facilities at all. But if you're passing and you want to take a dip in warm, soothing water overlooking a fabulous view, then free activities in Iceland don't come much better than this.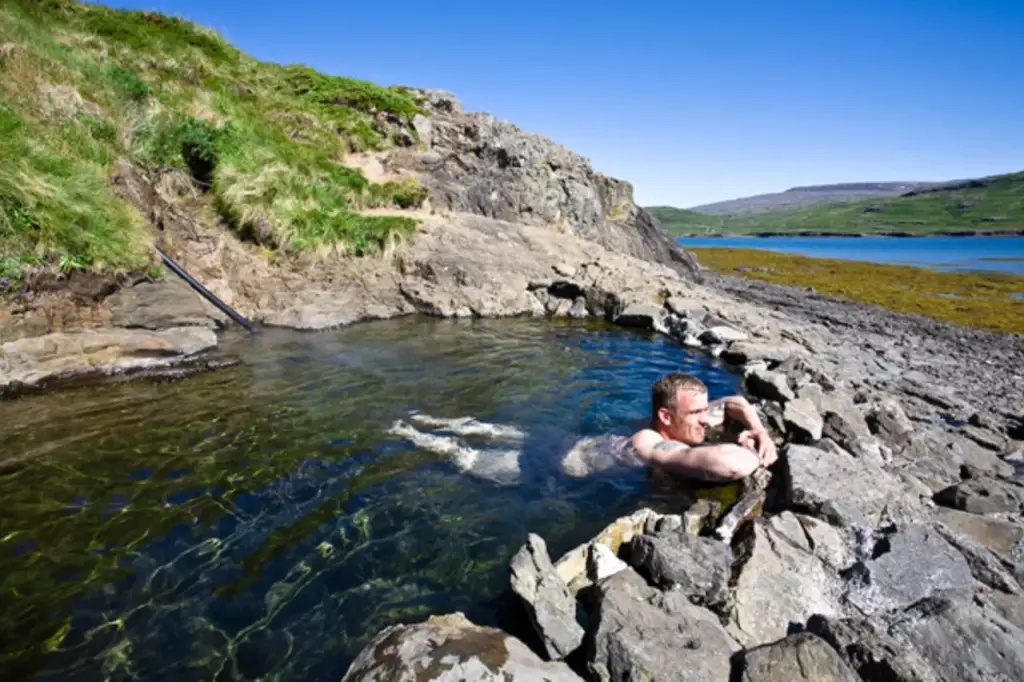 Getting there
Hellulaug hot spring is located at the south coast of the westfjords. It is truely the hidden gem or otherwise, Hellulaug is one of the most accessible sights in the Westfjords as it is located less than ten minutes by car from the Brjánslækur ferry, it will takes you approximately 4hr 25 mins driving from Reykjavik if you take the ring road northbound.
This means it is an easy first (or last) stop if you're coming from the Snaefellsnes Peninsula. Alternatively, if you're approaching from the ring road, this scenic hot pool in Iceland is located close to the junction where Route 60 meets Route 62. If you're coming from this direction, this is the most direct route to the southern Westfjords. Allow around three hours if you're driving and check road and weather conditions before setting out.
You can't see Hellulaug from the road which is why you'll often read that this hot pool is hard to find. Preparation is important, not least because, confusingly, Google has two Hellulaugs marked on the map, one on either side of the junction between the road 60 and 62.
Both places pinpointed overlook the water but the accurate position of the two is the one that's marked closest to the ring road. The photos you see of a circular pool accessed by steps are actually of Krosslaug, which you'll find further west along Route 62. So take a look at the Westfjords website and check out what it looks like so that when you find it, you'll know you have the right one. Maybe you want to try them both?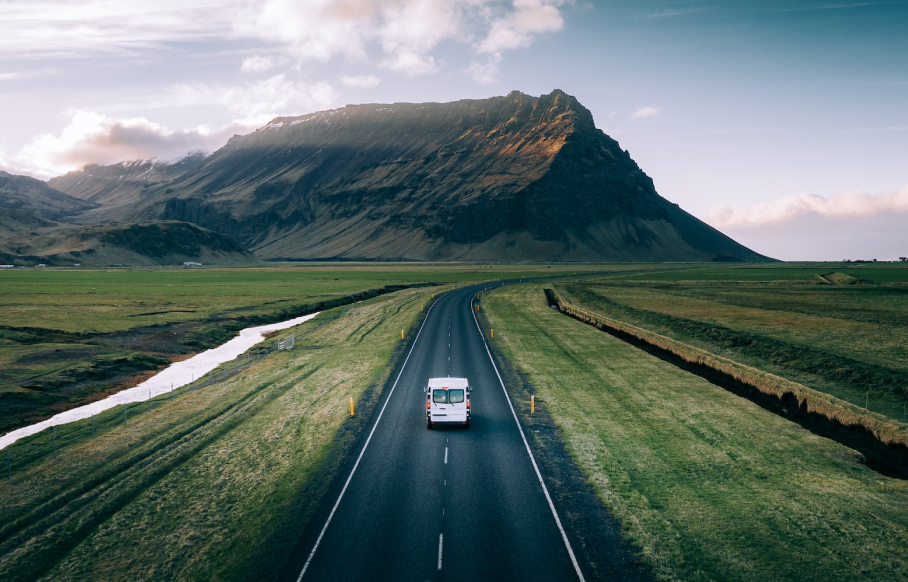 Other local attractions
Obviously you aren't going to drive all this way for a single hot pool, no matter how nice it is. Fortunately, this area isn't short of visitor attractions. After your pitstop at Hellulaug, you might choose to continue along the 62 and you'll first reach the gorgeous strip of sand that forms Barðastrandarsandur beach and then, eventually, the fishing village of Patreksfjördur.
Other must-sees include the jaw-dropping Dynjandi waterfall, probably the most famous in the region, which is just half an hour's drive north of Hellulaug. Also worth visiting is another remarkable beach, this one with red sand – Rauðisandur – an hour to the west. From there, continue on to Látrabjarg. To reach these spectacular bird cliffs from Hellulaug involves about a 90 minute drive.
As you can see, the Westfjords has plenty to offer for visitors planning a self-drive itinerary. Allow at least four or five days if you want to scratch the surface and plan your route so that the driving is manageable. Ideally, you'll spend even longer here.
But regardless, sort yourself out with a car from Firefly and make touring this overlooked corner of Iceland something you do sooner or later. As you immerse yourself in the warm water of Hellulaug and gaze out over that breathtakingly beautiful fjord, you'll realise just what a great decision that was.