So you only have five days to spend in Iceland? You're worried you won't get to see it all but you might be pleasantly surprised to know that Iceland's best sights are easily reached within a few days by car. You'll see the best of the Land of Fire and Ice on this incredible five-day Iceland itinerary through the heart of the country.
Walk in the footsteps of Vikings, stand at the base of mighty waterfalls, and soak away the road trip in the Blue Lagoon's thermal spa. The best part about this itinerary? All these destinations are completely free and able to access regardless of what time of year you visit Iceland! This is the best five-day Iceland itinerary for a self-drive tour of this magical country.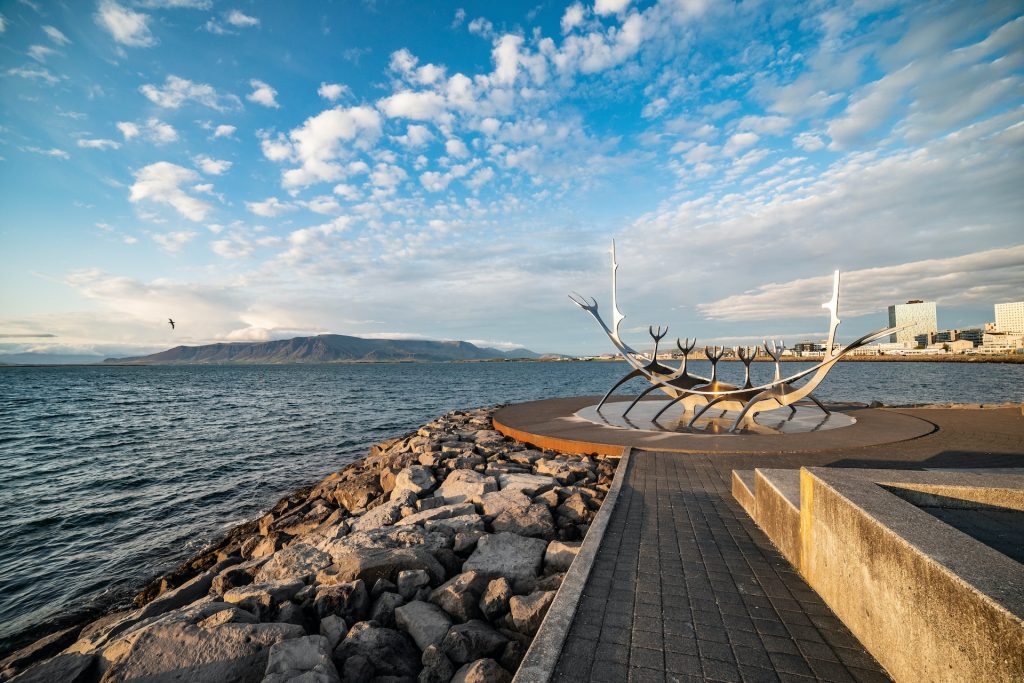 Iceland 5 Day Itinerary route Map
Day 1: Arrival + (Blue Lagoon) + Reykjavik
Congratulations on your decision to visit Iceland! It's your first day in this incredible land of lava fields and stunning vistas. Get ready to be amazed at the plethora of diverse landscapes and stunning vistas as you road trip your way through the country's vast wilderness. The first order of business is picking up your rental car with Firefly Car Rental at the Keflavik (KEF) airport.
If you have the time, now would be a great opportunity to kick off your trip with a bit of relaxation after the long flight. Pop in to the famed Blue Lagoon, only a 20 minute drive from the airport, and be transported to a world of peace, mist, and healing waters. If you would like to try something lesser known, the Secret Lagoon located inside Reykjavik city will be an excellent hot spring alternatives for day 1.
If you're eager to make it to Reykjavik you can always save the Blue Lagoon for right before your flight home! Stay in the capital city of Reykjavik tonight. Dine on fresh seafood, take a stroll around downtown, check out the most famous free tourists attractions like sun voyager sculpture, Hallgrimskirkja church and Harpa, or get acquainted with the locals at one of their energetic live music events.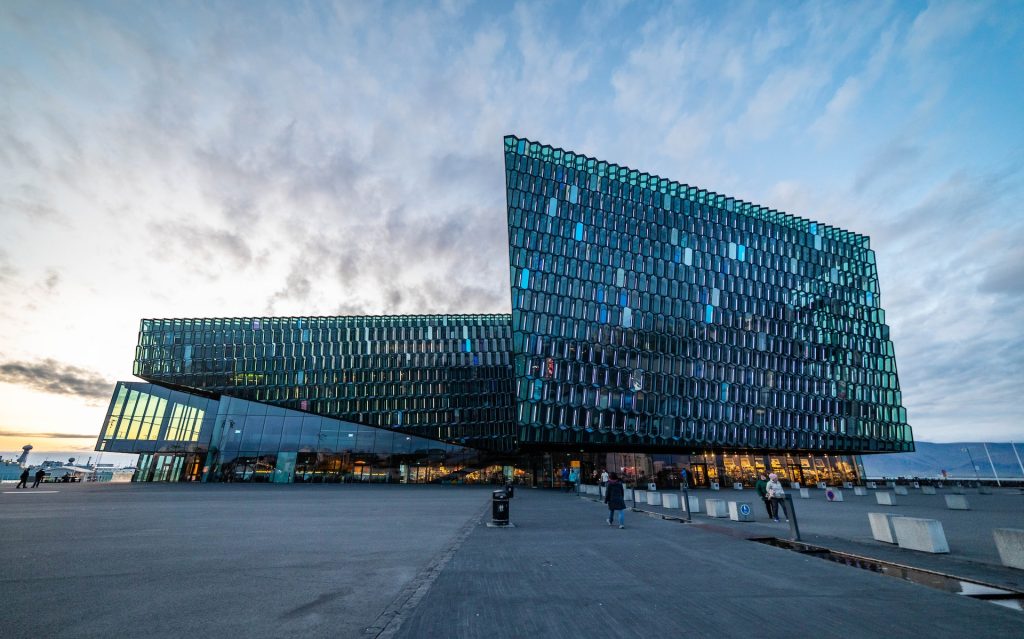 Day 2 : Golden Circle
It's day two of your five day road trip through Iceland and time to jump right into the heart of this island nation's sprawling wilderness and inspiring natural wonders. The Golden Circle is a 190-mile loop and one of the best "mini road trips" in Iceland. the golden circle tour is also one of the most popular day trips and must see for those who only have a day exploring the country.
First up is Thingvellir National Park, just under an hour from Reykjavik. Walk between tectonic plates, discover Viking heritage, or go for a hike in this UNESCO World Heritage Site. Keep in mind that the national park does charge for parking, ranging from $5.50 to $7.70 depending on car size. Don't forget to pay before exploring!
Not far from Þingvellir National Park is the legendary Geysir Geothermal Area. If the name sounds familiar, all other geysers in the world were named for this one. While Geysir itself is well known, the most impressive sight in this geothermal mecca is Strokkur, a geyser that soars 131 feet (40 meters) into the air, every 5 to 10 minutes.
As if that wasn't magnificent enough, end the day with a visit to Gullfoss Waterfall, one of Iceland's largest and only 10 minutes from Geysir. It's impressive both in summer and winter, when most of the waterfall is frozen. Head over to the Visitor's Center to try one of Iceland's culinary delights, lamb stew.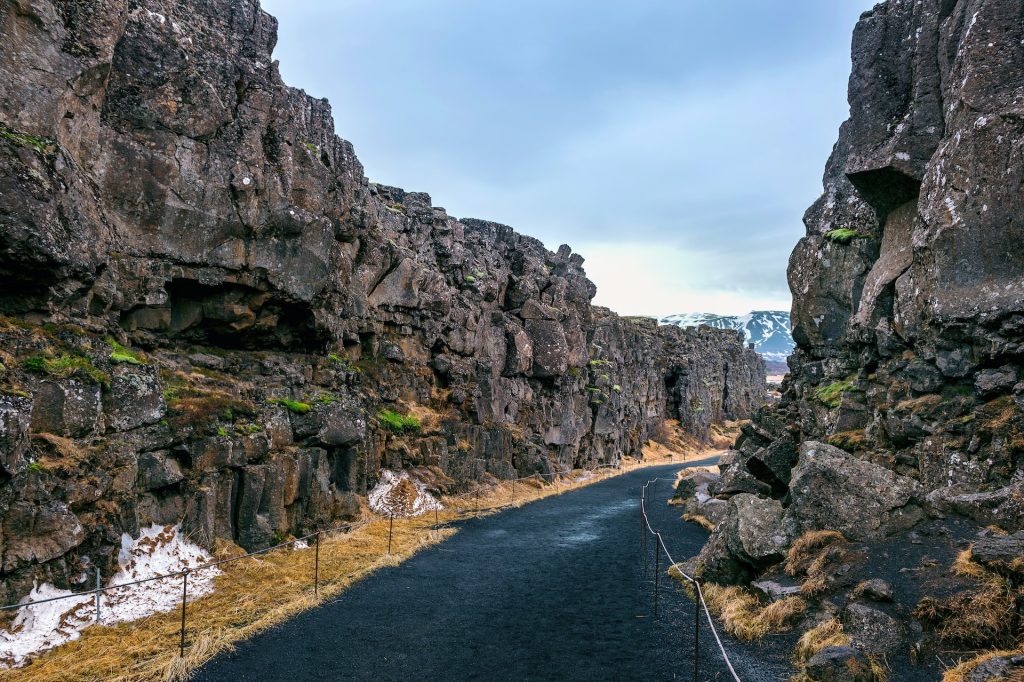 Day 3: Waterfalls + Black Sand Beach + Vik
Where there's volcanoes, there's black sand, and you're headed there today! Day three of your road trip is all about immersing yourself in the stark beauty of Iceland's famous black sand beaches.
Begin your journey by driving south, where the roads wind through landscapes of jagged lava fields, leading you towards the southern coast. Here, you'll encounter two of the most beautiful waterfalls in Iceland, Seljalandsfoss and Skógafoss, nestled only 30 minutes apart. As you approach them, you'll hear the roar of the cascades echoing in the air, their mist painting rainbows in the sunlight. While both waterfalls are a sight to behold, each has its unique charm. Seljalandsfoss offers a rare chance to walk behind the waterfall curtain, while Skógafoss is known for its sheer power and broad curtain of water.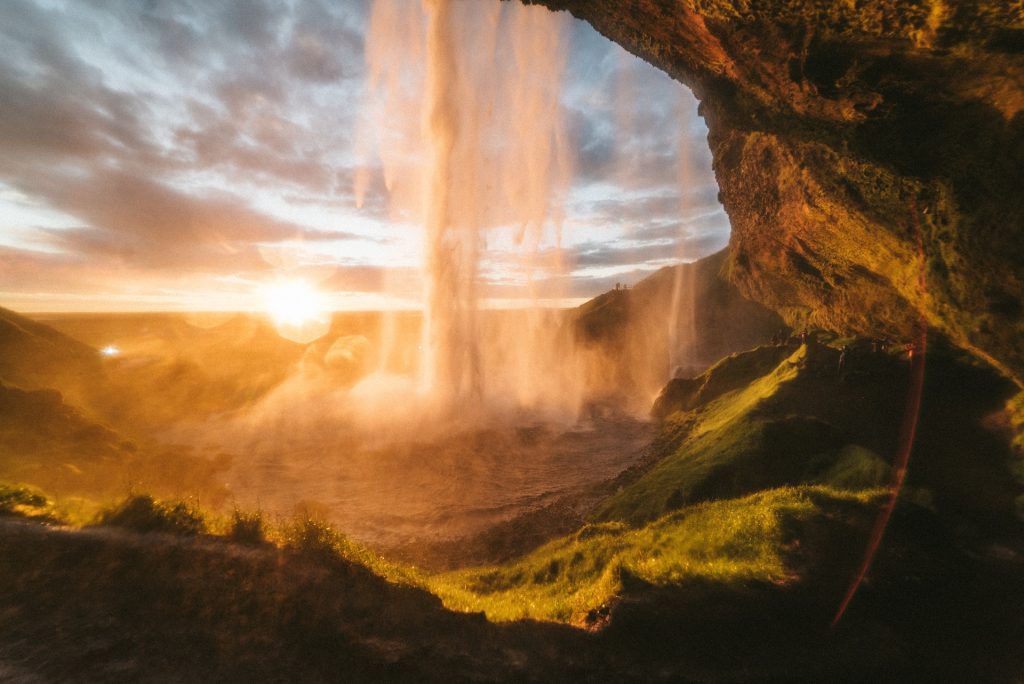 Seljalandsfoss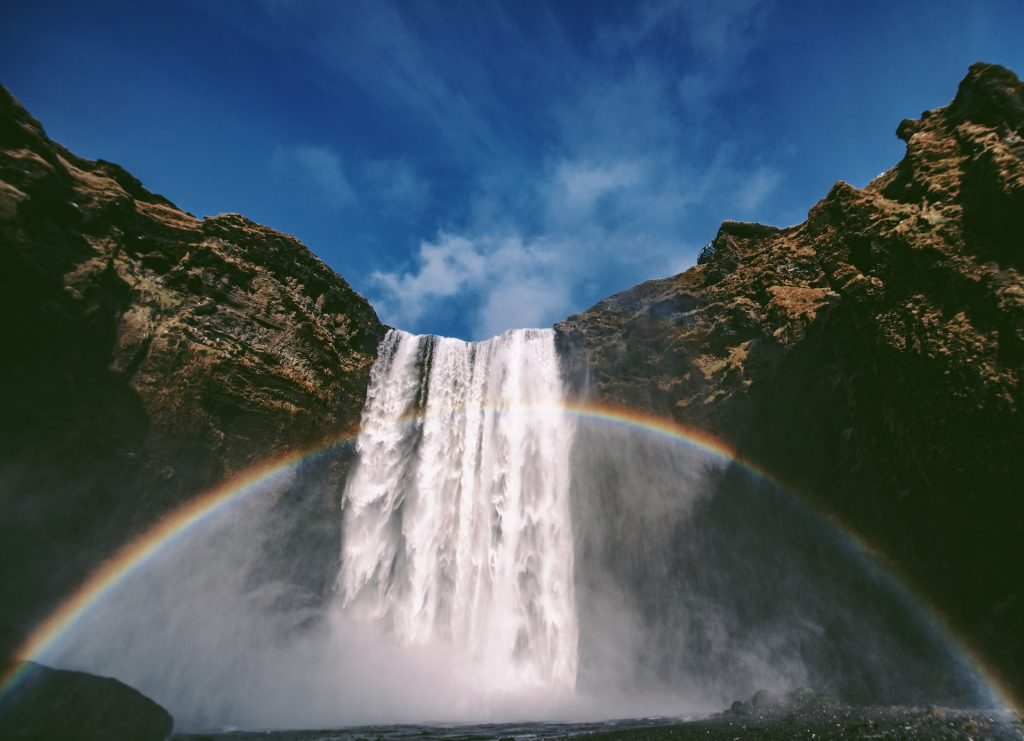 Skogafoss
Continuing along the coast, your next destination is the dramatic Dyrhólaey arch. This enormous natural arch, sculpted by the relentless power of the Atlantic Ocean, juts out into the ocean, presenting a perfect opportunity for stunning photographs. The real star of the show today though? Reynisfjara, the iconic black sand beach, situated near the town of Vik.
Vik, with its quaint streets and small-town charm, serves as the gateway to Reynisfjara. After wandering around Vik's quaint streets, make your way to Reynisfjara Beach itself but beware; the waves here are notoriously dangerous. Known as "sneaker waves" they have been known to drown unsuspecting visitors. After seeing the tumultuous ocean up close, head back to Vik for Black Crust Pizza, a slice as midnight as the sand.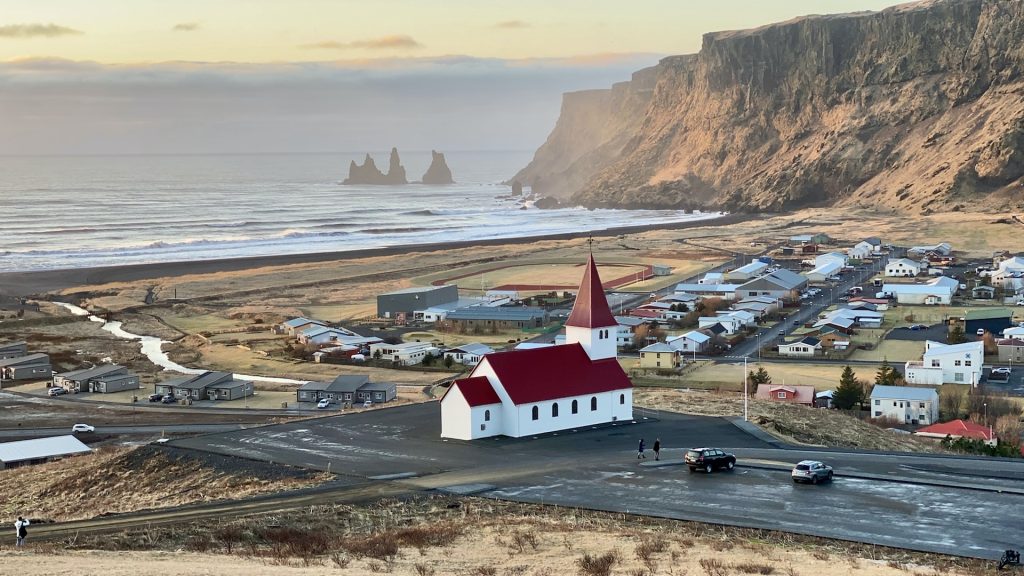 Note that the Seljalandsfoss Waterfall does have a parking fee of around $5.Furthermore, if your spirit of adventure is still high, you can also consider booking a guided tour of the Sólheimajökull Glacier. Located near the start of today's itinerary, it offers an exciting glimpse into Iceland's glacial landscapes and the chance to tread on an actual glacier, a thrilling end to an already fantastic day.
Day 4: Skaftafell + Jökulsárlón glacier lagoon + Diamond Black Sand Beach + Heading back to Reykjavik
Kick off your last full day on the road with a visit to the gorgeous Skaftafell Nature Reserve, a portion of Vatnajökull National Park. Home to the largest glacier in Iceland, for which the park was named, and itself residing within the largest national park in all of Europe, this section of Iceland's wilderness is unparalleled in its rugged beauty.
Explore the Skaftafell Glacier through a guided tour or the glacier blue ice caves if you are visiting during winter then, continue chasing waterfalls at Svartifoss, or take a short hike through the tundra. The park is also home to the famous Jökulsarlon ice lagoon and the stunning Diamond Beach, littered with glittering shards of the glacier itself. Keep your eyes peeled for the Local Langoustine food truck that parks nearby!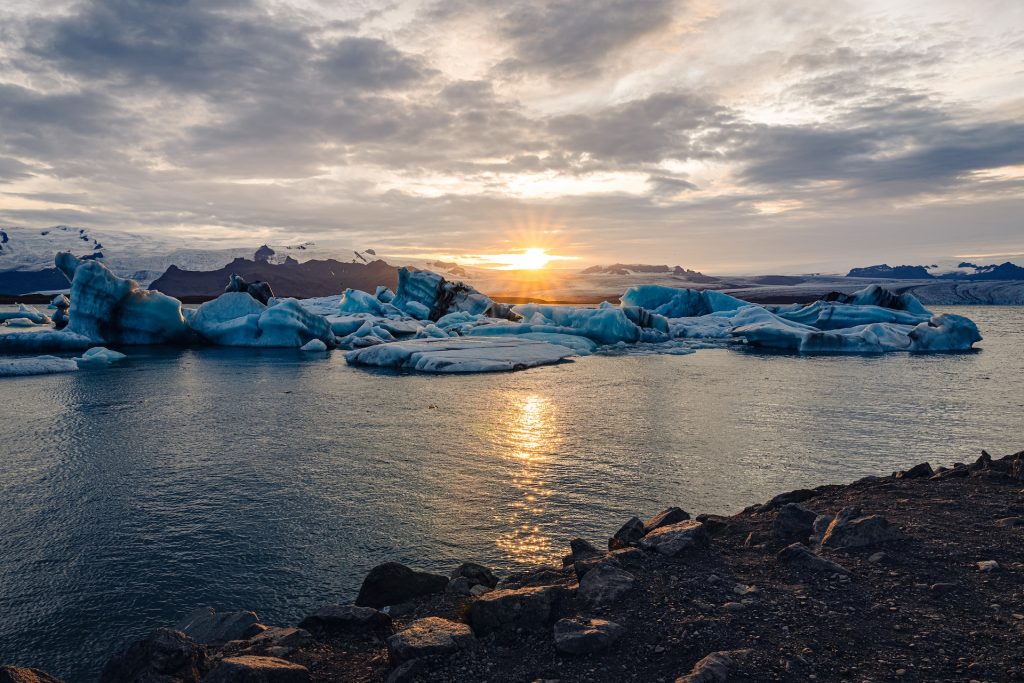 This evening, head back to Iceland's capital, Reykjavik, for the night. It's almost a five hour drive back and you'll want to get started well before nightfall.
Quick tips if you are planning a trip to Iceland during winter months: You will also have a chance to see the northern lights if you are visiting the country during Iceland's northern light season (between September and April), Day 3 and 4 of this itinerary will offer you the best chance to see the northern light — as you will be staying in the area far from light pollution. If the weather condition is good for the time you are visiting, don't forget to watch out for the aurora!
Day 5: Departure Day (+Blue Lagoon)
It's your final day of this epic five-day road trip through Iceland! Spend some time back in the capital of Reykjavik and check off any of the landmarks you missed the first time or foods you're still wanting to try. Don't forget to grab a traditional Icelandic sweater as a souvenir.
Before heading back to the airport, this is another great time to reflect on your trip with a rejuvenating experience at the Blue Lagoon. Plan in advance as the Blue Lagoon is 45 minutes away from downtown Reykjavik and 20 minutes from the Keflavik Airport.
Return your car to Firefly Car Rental at KEF and you're good to go! Wave farewell to Iceland and her majestic scenery from the clouds as you journey home or onward.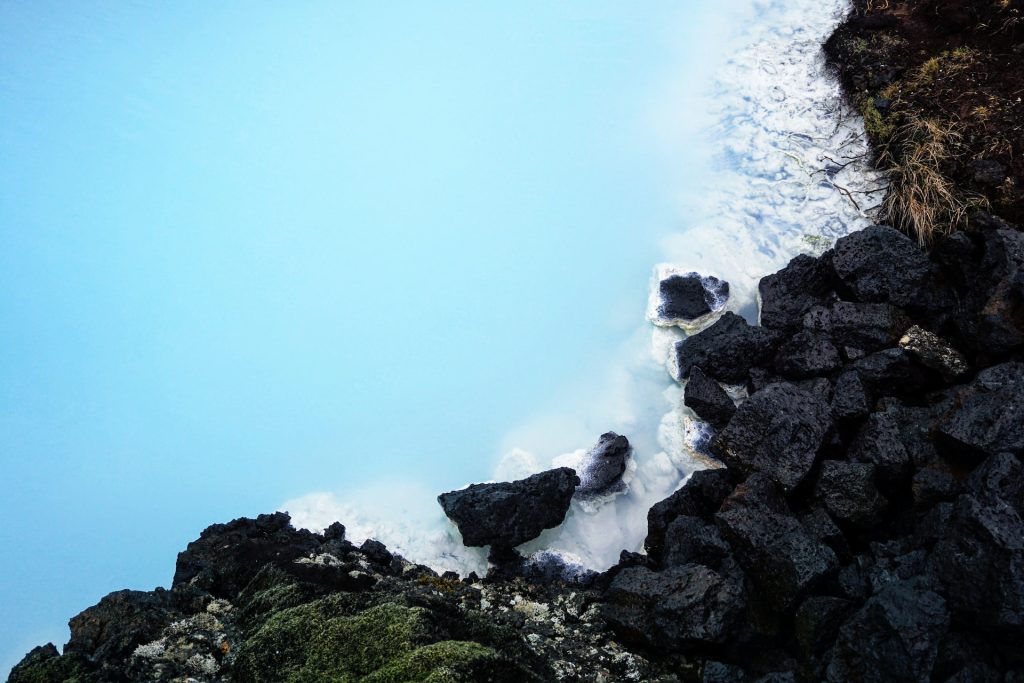 Quick Tips to Prepare For The Perfect Self- Drive Trip in Iceland
Iceland isn't a difficult country to travel but there are a few tips that will help make your trip perfect.
1. Start planning early!
○ Book your rental car, accommodation and flights at least a few months in advance. In general, the earlier you book the less expensive it will be. You'll have better and more varied options, especially if you're planning to visit in the busy summer season.
2. Rent a car in Iceland that will suit your needs.
○ Be sure to rent a car that's right for where and when you want to go! If you're visiting in winter, you'll most likely need to rent a 4×4 vehicle, especially if you're traveling the Ring Road. In summer, you can generally get by with a compact car unless you plan to trek into the interior.
3. Learn as much as you can about driving in Iceland, including the driving rules, before you arrive.
○ Read up on the rules of the road before arriving in Iceland. Know that you must stick to designated roads at all times. Icelanders drive on the right side of the road and road conditions can change rapidly due to inclement weather. Check road.is for an up to date report on current conditions.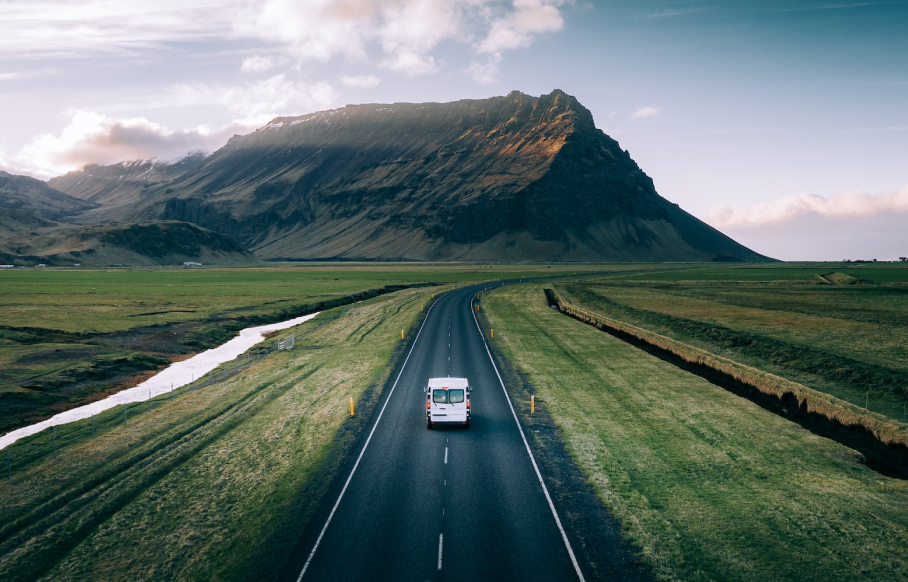 Book Your Trip Well In Advance
Inspired to spend your next vacation doing a road trip around Iceland? We hope this five day itinerary for Iceland makes you excited to get out on the open road and explore this beautiful country. From glacial lagoons, to epic waterfalls, and everything in between, a trip to the Land of Fire and Ice is always unforgettable.
No matter what your car rental needs may be in Iceland, from hefty 4×4's for safe winter travels to a compact sedan, we've got the budget options you're looking for! Book your rental car through Firefly Car Rental Iceland for the best deals.